Guangdong Cuisine
Cantonese cuisine specifically refers to the cooking styles of the speakers of Cantonese, who live mainly in Guangdong, Macau and Hong Kong. There was time when most of the Chinese who immigrated abroad and set up restaurants are Cantonese, so overseas Chinese restaurants serve largely Cantonese dishes, which makes Cantonese cuisine a representative of Chinese food in Western countries. Let's go deep to check out this popular cuisine.
General Features of Cantonese Cuisine
Flavors: Mild and Fresh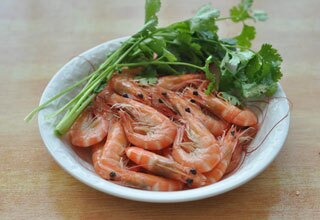 Cantonese cuisine pursues the original flavor and umami taste of dishes so it is cooked lightly with mild and fresh flavors - contrary to the spicy and oily Sichuan cuisine. Cantonese chefs highlight food's freshness and they use very little seasonings in cooking. You can barely find a spicy dish on a Cantonese menu.
Ingredients: Beyond Your Imagination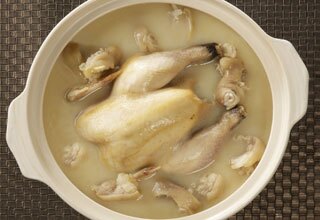 Cantonese cuisine has the widest range of ingredients among various styles of cooking in the country. In addition to the commonly used meat like chicken and seafood, there are many food materials that are unfamiliar to most foreigners in Cantonese dishes, such as snakes, dogs, cats and rats.
Keep the above in mind before you want to order something with a strange name on a Cantonese menu.
Cooking Methods: Steam and Stir-Fry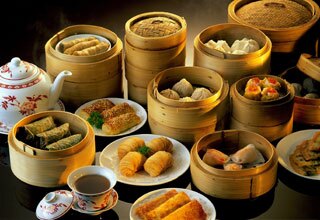 In order to preserve the original flavors of food, cooking methods of Cantonese cuisine are mainly steaming and stir-frying, with the use of lots of vegetables. Its seasonings include lemon juice, butter, chestnut powder, custard powder, and all kinds of sauces (soy, oyster, fish…), which are used less or not at all in other Chinese cuisines.
Besides, Cantonese love to boil soups according to seasonal changes - they believe it is good for health. Roasted meats and sautéed food are also Cantonese options.
6 Cantonese Dishes You Should Try
1. Char Siu (Barbecued Pork)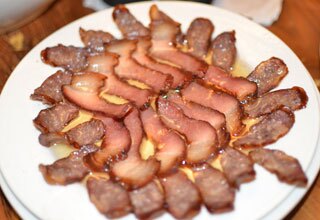 Char Siu, the most important dish in Cantonese cuisine, is actually pickled lean pork which has been grilled on the stove. It is often barbecued with plum sauce and honey for a slightly sweet flavor.
Char Siu can also be minced as stuffing and make Char Siu Bao (Barbecued Pork Buns), which is a classic dim sum meal had with morning tea in Canton area.
2. White Cut Chicken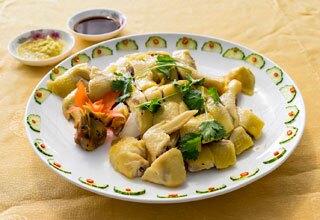 White Cut Chicken is a typical Cantonese dish. It gets its name from its simple cooking without seasoning. With smooth meat and mild flavor, the chicken is served with a small bowl of sauce and is very popular in Southeast China, especially Guangdong, Hong Kong and Macau.
3. Roast Goose
Roast Goose is a traditional Cantonese dish. Marinated in a sauce of ginger, garlic, honey, cooking wine and soy sauce, an ideal piece of roast goose is supposed to have a crispy skin and juicy meat. It will be more flavorful if served with plum sauce.
4. Roast Suckling Pig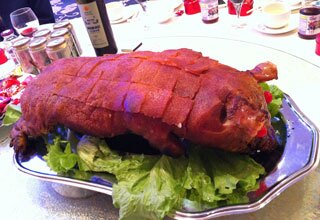 Roast Suckling Pig, another barbecued meat, is a must-eat dish when Cantonese offer sacrifices to their ancestors during the Ching Ming Festival (Tomb Sweeping Day).
In normal days, Roast Suckling Pig is still a high-end dish and you can only find it at authentic fancy Cantonese restaurants. The price, of course, will be higher than average.
5. Cheong Fun (Rice Noodle Rolls)
Cheong Fun is rice noodle rolls stuffed with lettuce, egg, shrimp, beef or pork. They are steamed to be white and always served with soy sauce.
Do you want to explore Guangzhou in a local way? Contact us and create your trip with us!
6. Claypot Rice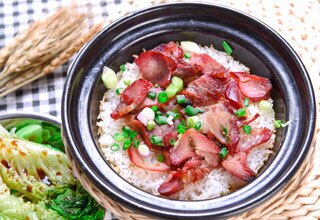 Put rice into a clay pot and boil with water until it gets medium well; top the rice with some ingredients such as Chinese sausage, mushroom, beef and egg, and this crispy rice dish is complete. It needs roughly 20-30 minutes to cook.
Do not forget the crunchy golden base on the bottom of the pot when eating Claypot Rice. You will get surprised by its smoky flavor and aroma.
Locations to Eat Cantonese Dishes in Guangzhou/HK
Tim Ho Wan (Central)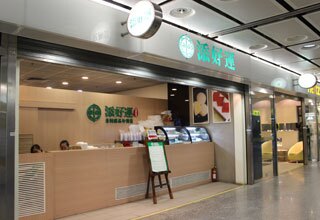 Hong Kong Tim Ho Wan Restaurant
Chinese: 添好運
Address: Shop 12A, Hong Kong Station Podium Level 1, IFC Mall, Central, Hong Kong
Lung King Heen (Michelin Star-Rated)
Chinese: 龙景轩
Address: 8 Finance St, Central Podium 4, Four Seasons Hotel, Hong Kong
Dian Dou De (Ju Fu Lou)
Chinese: 點都德
Address: 470 Huifu East Rd, Yuexiu District, Guangzhou
Bingsheng Pinwei Restaurant (Tianhe)
Chinese: 炳胜品味
Address: 1-2/F Shipai Hotel, 168 Tianhe East Rd, Tianhe District, Guangzhou
Further Reading
Experience A Cantonese Food Tour with Us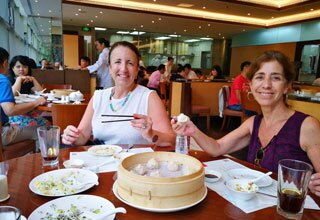 Our Customers Tasting Cantonese Food
Guangzhou, Shenzhen, Macau and Hong Kong are top destinations to eat authentic Cantonese cuisine. Below are three sample tours we hand-pick for your travel inspiration:
For an authentic travel experience, contact one of our travel advisors. Our local experts are always ready to create a hassle-free tour for you.