Hunan Cuisine
Hunan Cuisine is sometimes called Xiang Cuisine after the area's river of the same name. Often compared with Sichuan cuisine, it's taste is less numbing,  and features spicy-hot and sour flavors.
General Characteristics of Hunan Cuisine
1. Flavors: Spicy and Sour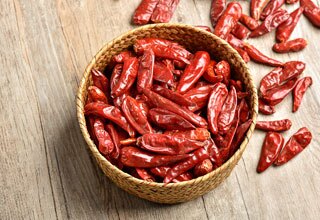 Affected by the humid climate, Hunan has sweltering summers and cold, damp winters, so people love to eat all kinds of chilies and peppers to warm up and expel dampness, and sour condiments to stimulate their appetite.
The seasonings of Hunan cuisine involve fresh peppers, garlic, fermented soybeans, pickled chilies, pickled long beans, etc.
The distinct difference between Hunan cuisine and Sichuan cuisine is that the latter is spicy and numbing (flavored with dried chilies to produce a "tingly-numbing" sensation in your mouth) and the former is spicy and hot (seasoned with fresh or pickled peppers to get a bitterly pure spicy).
2. Ingredients: Storable and Fresh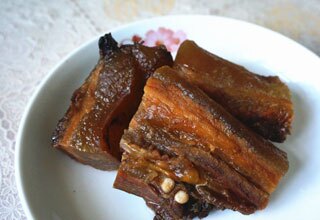 Smoked and Cured Meat: Hunan cuisine in the Dongting Lake area mainly uses freshwater fish, like "Steamed Fish Head with Chopped Chilies", while in western Hunan areas like Zhangjiajie, food is characterized by smoked and cured goods in its dishes, like "Steamed Cured Meat".
Fresh Vegetables: Hunan is abundant in plenty kinds of vegetables so its cuisine also stresses the use of the freshest raw ingredients in cooking.
Staples: Half of Hunan lies in the Yangtze Plain, the so-called "land of fish and rice" in the province, so white rice and rice noodles are the staple foods of Hunan cuisine.
3. Cooking Methods: Steam and Stir-Fry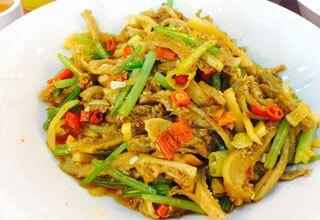 The chefs of Hunan cuisine pride themselves on culinary perfection when it comes to the harmony of sight, smell, taste and texture. Their most favorite cooking skills are steaming and stir-frying, with strong flavors featuring a liberal use of hot chilies, scallions and garlic, of course.
3 Must-Try Hunan Dishes
1. Steamed Fish Head with Diced Red Chilies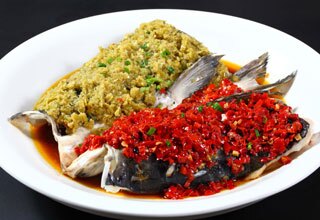 Double-Flavored Steamed Fish Head
Chinese: 剁椒鱼头
Ingredients: fish head, fresh diced red chilies, soy sauce, ginger, garlic, scallion, cooking wine, oil, salt
This is the most famous and representative sample dish of Hunan cuisine. First, preserve a whole fresh fish head with salt, cooking wine and soy sauce, and then heat a pan and stir-fry the fresh diced red chilies with oil, minced ginger and garlic into a fragrant chili sauce; top the fish head with the stir-fried sauce and steam for 12 minutes. Finally, sprinkle some shredded scallion on it, and you can enjoy your work now.
2. Steamed Cured Meat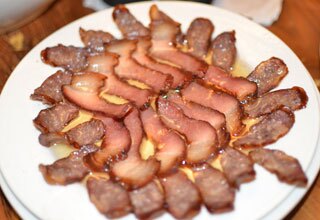 Chinese: 腊味合蒸
Ingredients: cured meat (pork, fish, chicken or duck), red peppers, cooking wine, fermented black soybeans, ginger
Steamed Cured Meat is a characteristic dish of the western Hunan style. Slice some cured pork, fish and chicken on a plate, top with red peppers, cooking wine, fermented black soybeans and sliced ginger, and steam for 40 minutes, this simple but delicious dish is complete.
Fenghuang Ancient Town is a great place to taste this authentic dish of western Hunan style. What's more, its beautiful scenery and unique minority ethnic charms will off you perfect cuisine and a visual feast: Zhangjiajie & Fenghuang Tour from Shanghai.
3. Tasty Crawfish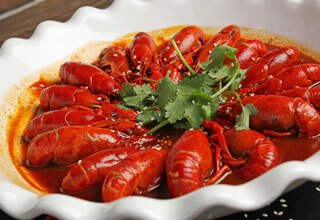 Chinese: 口味虾
Ingredients: crawfish, bottled beer, dried red peppers, Sichuan pepper, oil, salt, oyster sauce, ginger, garlic, scallion, anise, cassia, vinegar, cooking wine
Tasty Crawfish is actually spicy and juicy crawfish. It is a nationally known dish in Changsha, Hunan, and highly recommended by many Chinese celebrities.
Parboil some crawfish in clean water with garlic and sliced ginger and pick them up when they turn red. Heat a wok and stir-fry peppers with oil, salt, ginger, garlic, scallion, anise, and cassia. After ten seconds, put the prepared crawfish into the wok and stir-fry them with the seasonings for half minute. Add some water, beer, oyster sauce and cooking wine, and braise for 25 minutes, and you will have a wok of spicy and juicy crawfish.
Places to Eat Hunan Cuisine in Changsha
Fire Palace Restaurant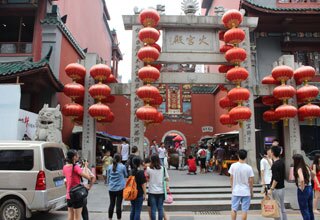 Chinese: Huo Gong Dian, 火宫殿
Address: 127 Pozi Street, Tianxin District, Changsha    
It is the most famous traditional restaurant in Changsha. The building was built in 1747 and was used as a temple for the God of Fire (Qianyuan Palace). It now serves Hunan dishes and local snacks.
West Lake Pavilion Restaurant
Chinese: Xi Hu Lou, 西湖楼
Address: Jinma Food City, Hongshan Tourism District, Changsha
As the biggest restaurant in China, it is decorated in the style of imperial palace and serves local meals. There are also performances presenting the Hunan culture while dining.
Experience A Landscape and Food Tour in Zhangjiajie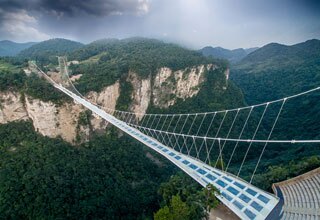 Hunan is known for delicacies, as well as its natural landscapes. In recent years, Zhangjiajie has become world-renowned for its Avatar Hallelujah Mountains, with hundreds of giant pillar-like quartz sandstone rocks guarding the region like soldiers from another planet.
Below are three sample tours we hand-pick for your travel inspiration:
For an authentic travel experience, contact one of our travel advisors. Our local experts are always ready to create a hassle-free tour for you.