Lusheng Festival of Miao Ethnic People
Lusheng Festival is the grandest festival in the Miao and Dong ethnic areas of Guizhou province.  It is held once a year from the 27th day to the 29th day of the 9th Chinese month. People from the cities and villages nearby get together to celebrate the good harvest and to greet the New Year. Lusheng is a reed-pipe wind instrument that is popular in the Miao, Yao and Dong ethnic minorities of Southwest China.
Activities of Lusheng Festival
Many folk events are held during the festival including a Lusheng dance competition, buffalo fighting, and so on. The Lusheng is a sign and symbol of Miao ethnic culture. There are a lot of opportunities for visitors to take photos and enjoy the colorful minority customs. Dressing up in a lot of ornamental silver jewelry and wearing traditional costumes, thousands of girls and women go down from the villages to sing and dance. This festival provides opportunities for some youngsters to express their admiration for the one they love. The largest Lusheng Festival is held in Kaili. Peoplecall it the Kaili International Lusheng Festival and has been held annually since 1999.
Recommended Tour
Take a 6 Days Sisters Meal Festival in Guizhou Tour from USD $1,019 per person
Lusheng Festival of Miao People
Food in Kaili
The food here is sour and spicy and the weather here is cold and humid. Most visitors in Kaili will taste Sour Fish soup with chili and pepper. It is an exclusive dish of the Miao Ethnic people in Kaili. Stewed Congjiang mini pig with sour sauce is another dish representative of Kaili.
Recommended Tour
Take a 9 Day Exotic Yunnan and Guizhou Tour from USD $1,019 per person
The Origin of the Lusheng Festival
The Lusheng Festival has evolved over many years from the Miao people's farming and agriculturalcustoms. It represents ancient sacrificial culture and carries significant historical and cultural information of the Miao ethnic minority.  The Lusheng instruments are made of bamboo of different sizes, with the largest one reaching 3 meters long and smaller ones 30 centimeters long. It is said that Zhuge Liang or Kongming, an outstanding strategist in the Three Kingdoms of ancient China, taught Miao people how to make Lusheng tubes. So, Miao people also call Lusheng tubes as Kongming tubes. As early as the Tang Dynasty, the Lusheng was widely made and played by ethnic people in southwest China.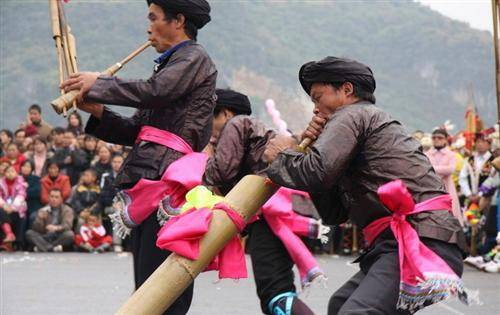 Playing Lusheng
Top Places to Enjoy Lusheng Festival
Southeast Guizhou
Southeast Guizhou, specifically Qiandongnan Miao and Dong Autonomous Prefecture, enjoys a long history and rich ethnic culture. It is home to 38 minority group. Miao, Yao, Dong ethnic people are the largest 3 groups. The Lusheng Festival is a traditional festival in Southeast Guizhou. During the Lusheng Festival, visitors go to Southeast Guizhou to celebrate with local people who are friendly and hospitable. Although getting to Southeast Guizhou is a little tough it will not stop visitors. There are a lot of cities in Southeast Guizhou attracting visitors to come and celebrate Lusheng Festival. Among them, Kaili is the most popular.
Zhouxi Town in the Suburb of Kaili City
The Lusheng Festivals held in the Gulong Village of Huangping County and Zhouxi Town is the grandest. Zhouxi Town is 16 kilometers from Kaili City. Zhouxi Lusheng Festival will be held from the 16th day to the 20th day of the first Chinese month.. Zhouxi Town is knownas the town of dancing and singing.  Silk brocade and the Lusheng are the two treasures of Zhouxi Town. Ganangxiang Lusheng Hall in Zhouxi, was built during the Ming (CE 1368-1644) Dynasty. Ganangxiang Lusheng Hall is not only the largest such hall in Guizhou Province, it is also the most popular venue for the Lusheng Festival in the entire region.
Recommended Tour
Take a 6-day Sisters Meal Festival in Guizhou Tour from USD $1,014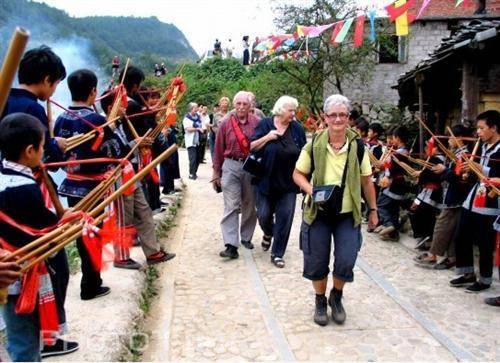 Warmly Welcomed Visitors
Gulong Village of Huangping County in Southeast Guizhou
Gulong Lusheng Festival will be held from November18th to November 20th, 2014.
The people in Gulong village are all Miao people. Gulong village has a history of more than 400 years. Located in the southeast of Huangping, Gulong village is 28 kilometers from Kaili. The folk customs there are rich and strong.
Tips
The local people get drunk and they will try very hard to make all the guests get drunk as well. They'll even hold the cup of whisky up to visitors' mouth and grab visitors' ear at the same time til visitors drink it.
Our local experts are always ready to create you a hassle-free tour. Get an authentic experience by contacting one of our travel advisors.