Moon Cakes
Moon cakes are a traditional Chinese food eaten around the time of the Mid-Autumn Festival – usually sometime in September or October. Mid-Autumn is the second most important festival for family reunion in China, after Spring Festival. But why do Chinese people eat moon cakes at the Mid-Autumn Festival?
Round Moon Cakes Symbolize Happiness and Reunion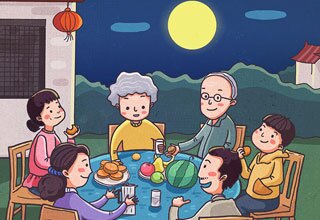 Shaped like the surface of the moon, moon cakes are round and stuffed with all kinds of ingredients. They were originally offered as sacrifices to the moon and later eaten when families gathered together, carrying candle lanterns and enjoying the beauty of the full and bright moon.
The Mid-Autumn Festival celebration nowadays is not complete without eating the round-shaped moon cakes, which convey people's desires for luck, happiness, and family reunion.
Varieties of Flavors for Moon Cakes
The flavors of Chinese moon cakes today can be divided into two categories, according to whether they are native to China or relatively new, combining Chinese and western tastes:
Traditional Flavors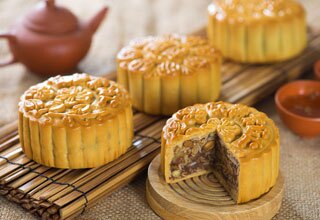 Five Kernel and BBQ Pork Mooncakes
1. Five Kernel and BBQ Pork – This is the most famous traditional flavor in China. Its filling consists of roast pork and 5 types of chopped nuts and seeds which vary according to the region but commonly include walnuts, peanuts, pumpkin seeds, dried winter melon seeds, sesame seeds or almonds.
2. Lotus Seed Paste with Yolk – This is made of dried lotus seeds with one round salted duck egg. This kind of moon cake is considered by some to be the most delicious, and possibly the most luxurious as well.
3. Sweet Bean Paste – There are several types of bean paste for this kind of filling – including red bean paste, mung bean paste and black bean paste. Red bean paste is the most common.
Modern New Flavors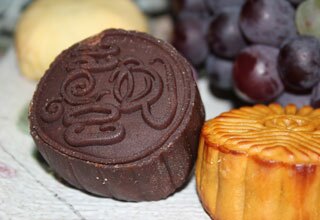 1. Snow Skin Moon Cakes – Chilled rather than baked, these are named after their translucent skin. They have become increasingly popular in recent years among young adults, kids and westerners.
2. Ice Cream Moon Cakes – Once a novelty, now a favorite among many people, these chocolate-coated, ice-cream-stuffed cakes have established themselves as a must for Mid-Autumn Festival.
3. Chocolate Moon Cakes – Chocolate-covered, chocolate-dipped and chocolate-stuffed moon cakes.
4. Green Tea Moon Cakes – These are ideal for those who want their desert to have health benefits. They are popular amongst those who can't quite stomach the sweetness of candy coverings.
5. Vegetarian Moon Cakes – These moon cakes are stuffed with all kinds of fruit and vegetables such as durian, pineapple, strawberry, taro paste, etc.
Regional Styles of Moon Cake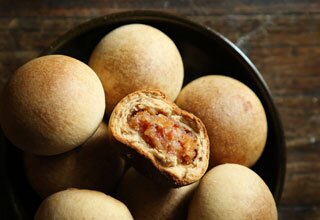 The form, texture, and method of baking moon cakes all vary throughout the country. They come in different local styles.
Cantonese-Style Moon Cakes: tender and rich, with thin crusts and thick fillings.
Chaoshan-Style Moon Cakes: crisp skin and fine fillings, sweet and oily, but not greasy.
Beijing-Style Moon Cakes: crispy outside and soft inside, not too sweet as a whole, using much sesame oil and a 2:3 proportion of crust and filling.
Suzhou-Style Moon Cakes: crispy skin and soft layers, heavy oil but not greasy, with stuffing that is sweet and a bit salty.
Yunnan-Style Moon Cakes: crispy skin and sweet flavors with a taste of salt, with fillings of ham and flowers.
Why Are Moon Cakes So Expensive?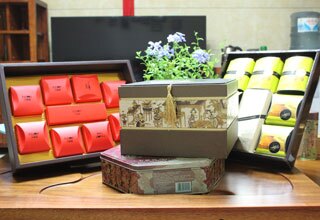 As a compulsory festive food, moon cakes are always a best-seller around the time of the Mid-Autumn Festival in China. Most are intended as gifts for friends and relatives, with luxurious and exquisite packaging. It's a bit ridiculous but true that sometimes the gift boxes are even more expensive than the moon cakes themselves!
On the other hand, moon cakes may cost a lot to make, when for example they have costly ingredients like seafood or high-quality tea, or use special baking methods, like snow skin moon cakes.
Sample Moon Cake Recipe
Don't want to pay the high price for moon cakes? Learn to make them at home!
Ingredients and Preparations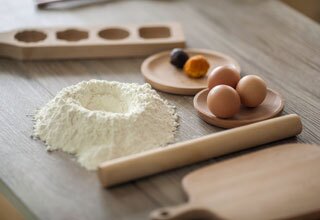 To make 12 sweet bean paste moon cakes, you'll need: 350g self-raising flour, 3 teaspoons baking powder, 150g sugar, 180ml vegetable oil, 3 eggs (cracked into a bowl and lightly beaten), and about 175ml cold water
Plus: oil or butter for greasing the baking tray, about 450g sweet red bean paste, 1 egg (cracked into a bowl and beaten for brushing)
How to make red bean paste: red azuki beans are boiled, then pureed and sweetened.
Making Moon Cakes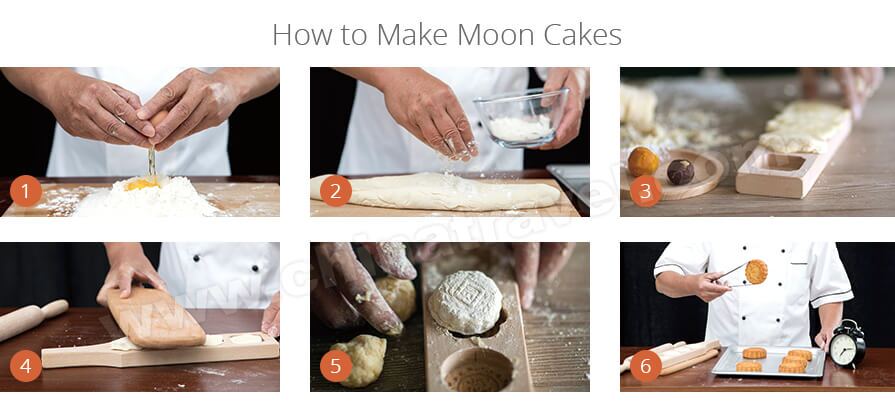 Step 1. Hold a large sieve over a bowl, tip in the flour, and shake gently so the flour falls into the bowl. Add the sugar, oil and eggs.
Step 2. Knead everything with your hands or with the kneading hooks of a mixer. The dough should hold together but not be sticky. Add a little water, until it holds well together.
Step3. Put a little oil or butter on to a kitchen towel and grease a muffin tray (or another different shape of mold). Take a piece of dough the size of a table tennis ball. Dust your work area with flour, and then roll out the dough with a rolling pin to make a 100-125mm circle.
Step 4. Place each circle in a hollow in the muffin tray so it overhangs. Put 1 tablespoon of bean paste in each one. Brush the pastry edges with water.
Step 5. Heat the oven to 200℃ (gas mark 6). Make 12 walnut-sized balls and roll them out to make 50-75mm circles. Put the smaller circles on top of the paste in the larger ones. Gently press all around the "lid" to close in the paste.
Step 6. Brush the top of the moon cakes with the beaten egg. Bake them for about 25 minutes.
Would you like to learn to make moon cakes from locals, when traveling in China? Contact us and we can customize a moon cake class for you!
Further Reading
China Mid-Autumn Festival Tours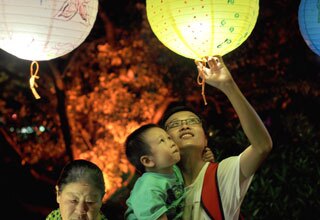 Guilin Mid-autumn Lantern Exhibition
The hotspot of China's autumn is not only its moon cakes, but also its charming landscapes. From the golden terraced fields in Longji, Guilin to the colorful leaves in Beijing, you can enjoy yourself in a world of autumn hues.
8-Day China Experience (Beijing, Xi'an, Shanghai)
11-Day Glories of China (Beijing, Xi'an, Guilin, Yangshuo, Shanghai)
11-Day Impressions of China (Beijing, Xi'an, Chongqing, Yangtze, Yichang, Shanghai)
For an authentic travel experience, contact one of our travel advisors. Our local experts are always ready to create a hassle-free tour for you.