Teahouse Culture in China
Teahouse has been ranked as the public place for drinking tea, relaxation and entertainment since ancient times, acting as a vivid epitome of Chinese tea culture and Chinese people's leisure lives. Besides providing a place for drinking tea, Chinese teahouses constantly launch new varieties in order to meet different needs of various people. In winter, tonics with the effectiveness of keeping bodies warm are added into the tea. In summer, something with the effectiveness of driving away summer heat is added in the tea. Besides, in summer, some cold drinks are also sold in teahouses, such as sweet bean paste, cocoribe, stewed plum water and papaya juice. As for tea sets, there are custom-made tea sets varying from different kinds of tea, revealing the reach and long-standing culture of teahouses in China.
Chinese teahouse culture prospered in the Song Dynasty, with teahouses all over cities and villages, when teahouses were as many as restaurants. In the Ming and Qing dynasties, the number of the teahouses exceeded that of restaurants, becoming more popular and famous. The owners of teahouses in the Song Dynasty preferred to decorate their teahouses with calligraphy and painting of celebrities and various rare and precious plants, in order to attracting customers. In the Qing Dynasty, with the acculturation of western culture, teahouses of China took on new look. Teahouses could be found in the beautiful suburb, by the pool and in the vineyard, providing a peace and quiet place for drinking tea as well as enjoying the natural scenery in every season. Besides, some magnificent western-style teahouses occurred during that period.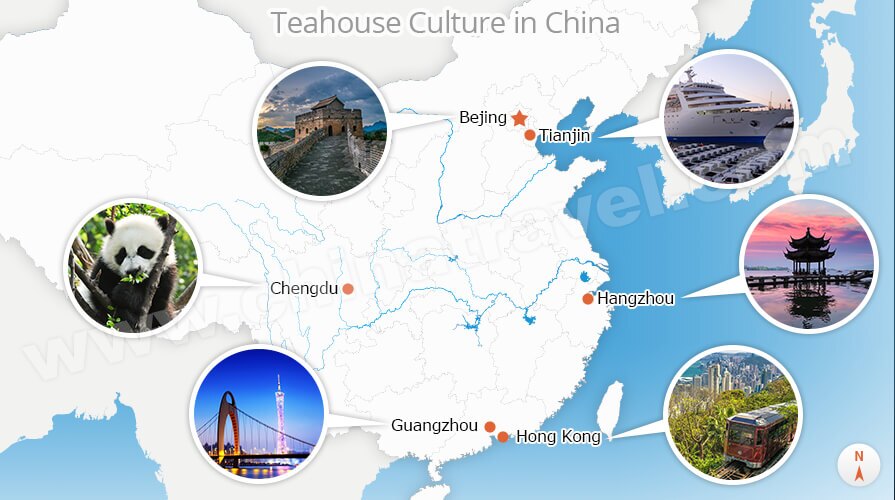 History
Chinese teahouses enjoy a long-standing history, dating back to the Tang and Song dynasties. Chinese teahouses originated in the Western Jin Dynasty, took shape in the Tang Dynasty and developed and completed in the Song, Yuan, Ming and Qing dynasties. It became prosperous in the modern times and early years after liberation. In the contemporary era, it becomes glorious. The developing courses of teahouse reveal the developing condition of economy, society and culture in certain period.
After reform and opening-up, with the rapid development of economy and improvement of people's living standards, teahouses flourished in China. According to the statistics, there have been more than 25,000 teahouses in China, with the employees of over 2,500,000.
Tea Houses in Major Cities
Teahouses of Beijing boasts high grade, among which, there are teahouses with the minimum charge of 1,000 Yuan per person; while Shanghai teahouses feature large quantity.
Beijing Teahouses
There is a great variety of teahouses in Beijing, including Big Teahouse, Qing Teahouse, Storytelling Teahouse and Wild Teahouse. In the ancient times in Beijing, there were a number of storytelling teahouses, where listening to the storytelling is the main purpose. The famed teahouses in Beijing are arranged and decorated fastidiously, creating the atmosphere for listening to storytelling.
In Qing teahouses of Beijing, pergolas are built outside the gate, where customers can chat and enjoy tea in every season except winter. Qing teahouses are deeply fond of by the old. In addition, in Beijing, there are also Chess Teahouses suitable for playing chess.
Beijing is always a top destination for visitors throughout the world. After climbing the marvelous Great Wall and the magnificent Forbidden City, just throw yourself in a local old teahouse, you'll find a totally different world: 4-Day Beijing Discovery Tour.
Hangzhou Teahouses
The teahouse culture in Hangzhou originated from the Southern Song Dynasty. Though there are not so many teahouses in Hangzhou as that of Sichuan, the culture atmosphere of teahouses in Hangzhou is full-bodied. Hangzhou teahouses are particular about culture, environment, internationalization and marketization. People in Hangzhou mainly drink West Lake Longjing Tea. According to the present condition, Hangzhou is universally acknowledged as the city managing teahouses best. Every year, during the National Tea Expo Fair and The West Lake International Tea Party held in Hangzhou, participants from everywhere speak highly of Hangzhou teahouses.
According to statistics, there are more than 700 teahouses in Hangzhou at present. Some boast tea ceremony, such as Tai Chi Teahouse; some feature tea cakes and relaxation, such as Qingteng Teahouse; some boast ecological environment; some integrate aesthetic enjoyment and tea-tasting, such as Ziyige(紫艺阁) Teahouse and Heji (和记)Teahouse.
In addition to West Lake, Hangzhou is also famous for its Longjing Tea, hence being commonly regarded as the best city managing teahouses. Our 2-Day Hangzhou Tour from Shanghai will be a great experience for you to escape from the busy world and enjoy a slow and peaceful tea culture trip.
Tianjin Teahouses
The teahouses of Tianjin are just like the teahouse of Beijing, containing tea, snacks, singing opera arias (without makeup and acting) and storytelling. However, its culture atmosphere is not outstanding. In China, the famous cross talk, which is deeply loved by many Chinese people, was originated from teahouses of Tianjin. These years, listening to a cross talk in a teahouse of Tianjin has become a fashion and unmissable experience. Audiences burst their sides with laughter at the cross talk. A number of audiences from other areas flock to Tianjin to listening to teahouse cross talk, spending a day of relaxation in peals of laughter.
Guangdong Teahouses
The teahouses of Guangdong feature magnificent appearance and they are decorated gorgeously, with rich cultural atmosphere. There are thousands of teahouses in Guangzhou, including professional teahouses and hotel teahouses. Guangdong teahouses are also served as the restaurants for having meals. There are over 60 varieties of delicate refreshments. In Guangzhou, people having a date, holding family reunion parties and having business negotiations are all usually held in teahouses.
Chengdu Teahouses
People of Sichuan Province have been keeping the habit of drinking tea. Drinking tea in teahouses is the typical tea activity of Sichuan. In Chengdu, teahouses and tearooms of different sizes spread all over cities. Some are decorated with calligraphy, painting, flowers and miniascape, creating a beautiful and quiet environment.
More about Chinese Tea
For an authentic travel experience, contact one of our travel advisors. Our local experts are always ready to create a hassle-free tour for you.