Top 8 Food Cities in China
Which is the best city for food in China? Different cities have different local food. You will never get a satisfying answer because there is no such thing as "the best". Actually, Chinese food has magic power beyond description, so maybe you should take your time in China, go to different cities and draw your own food map.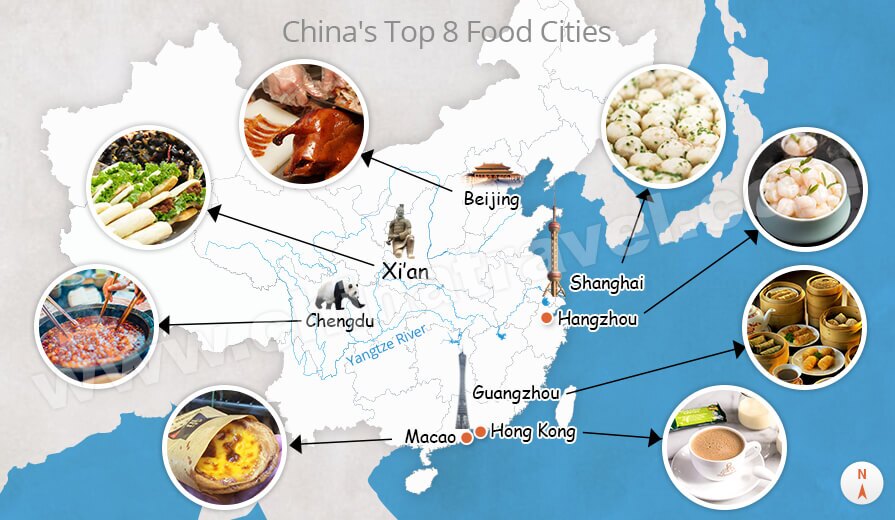 Shanghai – Comprehensive and Contemporary
Culinary style: local Ben Bang Cai (Shanghai local home-grown dishes), Chinese and Western fusion
Must-try foods: Shanghai-style Braised Pork Belly, Sweet and Sour Spare Ribs, Pan-Fried Pork Buns, Soup Dumplings
Recommended restaurants: Jin Xuan Chinese Restaurant (the Ritz-Carlton Shanghai, Pudong), Din Tai Fung (Nanjing West Road)
Carefree tour with us: Shanghai Night Street Snack Food Adventure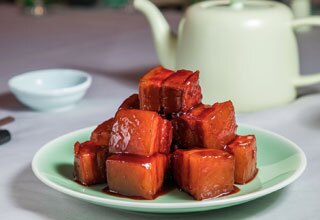 Shanghai-style Braised Pork Belly
Shanghai is a metropolis called "Mo Du (魔都)" by Chinese people, which means modern and ambition; from local home-grown dishes to international fusion cuisines, from casual street food to Michelin-star fine dining, all kinds of food and restaurants are blooming in every corner of Shanghai. In this city, any picky eater can find a destination and the desire for food can be satisfied.
Hong Kong – Moderate and Local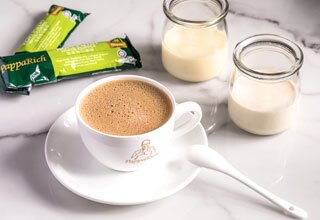 Hong Kong is a paradise for not only shopaholics but also foodies. Influenced by Cantonese cuisine and British cuisine, the food in Hong Kong boasts the best in east-meets-west flavor, with various delicious types of Chinese cooking.
What makes Hong Kong stand out as a "Gourmet Paradise" is undoubtedly its local dishes, especially dim sum such as chicken's feet, har gow (Cantonese shrimp dumplings), fish balls, chueng fun (rice noodle roll)… There are four areas packed with food streets in Hong Kong, Cauzeway Bay, Mong Kok, Central and Tsim Sha Tsui.
Macau – Portuguese and Macanese
Culinary style: Chinese-meets-Portuguese Macanese cuisine, Cantonese cuisine, fusion cuisine
Must-try foods: African chicken, pork chop bun, minchi, bacalhau, egg tarts
Recommended restaurants: Antonio Restaurant, Riquexó Café
Carefree tour with us: 2-Day Macau & Hong Kong Seat-in-Coach Tour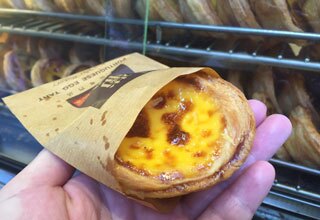 As a former Portuguese colony, and also close to the Cantonese area, Macau is renowned for its unique fusion cuisine. There are two types of Portuguese cuisines: the authentic and the Macanese. The former is very salty, sour and sweet, with strong flavors and tastes, while the latter features mixing the essence of Portuguese, African, Indian, Thai, Malaysia and Cantonese dishes, and is more suitable for the palate of the Chinese.
In 2017, Macau was listed as a Creative City of Gastronomy by UNESCO.
Guangzhou – Dim Sum and Morning Tea
Culinary style: Cantonese cuisine
Must-try foods: dim sum, White Cut Chicken, Char Siu
Recommended restaurants: Dian Dou De (Ju Fu Lou), Bingsheng Pinwei Restaurant (Tianhe)
Carefree tour with us: 4-Day Guangzhou & Shenzhen Tour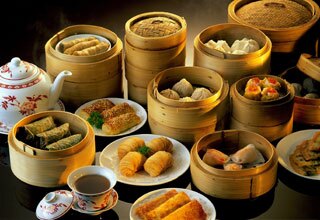 Chinese people often say "eating in Guangzhou" (actually means "go to Guangzhou when you don't know where to eat"), indicating how important Guangzhou is for food lovers. Guangzhou is a city nationally famous for its dining culture and morning tea.
Morning tea is a local tradition to group up with friends or families at a restaurant, enjoying various dim sum and drinking tea. It actually serves as the Cantonese's breakfast or brunch.
Beijing – Imperial and Ethnic
Culinary style: Beijing cuisine, Manchu and Mongolian cuisine
Must-try foods: Peking Duck, Instant-boiled Mutton Hotpot, Beijing-style cakes
Recommended restaurants: Siji Minfu Roast Duck Restaurant, Mei Mansion Family Feast Restaurant, Huguosi Snack Street
Carefree tour with us: Night Tour- Quanjude Roast Duck & Kungfu Show in Red Theatre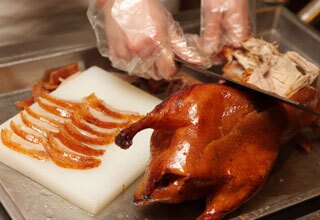 What is the food that best represents Beijing? Peking Duck of course! Beijing, the capital of China is a great city to gorge yourself on many varieties of other Chinese food. Based on China's northern cuisine, Beijing cuisine consists of local home-made dishes, halal dishes, as well as Manchu and Mongolian dishes. Travelers can get a bite of fusion cuisine in Beijing as well.
Chengdu – Meet Your Spicy Needs
Culinary style: Sichuan cuisine
Must-try foods: Kung Pao Chicken, Mapo Tofu, long chao shou (Sichuan wontons), hot pot
Recommended restaurants: Huang Cheng Lao Ma Hotpot Restaurant, Lixuan Chinese Restaurant (the Ritz-Carlton, Chengdu), Jinli Street
Carefree tour with us: Chengdu Night View & Food Tour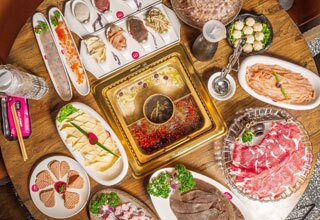 Chengdu, a "City of Gastronomy" recognized by UNESCO in 2010, is the home of the hot and spicy Sichuan cuisine, China's most popular cuisine. Hot pot, kung pao chicken, mapo tofu…the food in Chengdu can satisfy any chili-head.
Hangzhou – Freshwater Cuisine
Culinary style: Zhejiang cuisine, Hang Bang Cai
Must-try foods: Dongpo Pork, Shrimp Meat with Longjing Tea, Fish Cooked in Vinegar Gravy
Recommended restaurants: Hyatt 28, Louwailou Restaurant (Gushan Road)
Carefree tour with us: 5-Day Hangzhou and Wuzhen Tour from Shanghai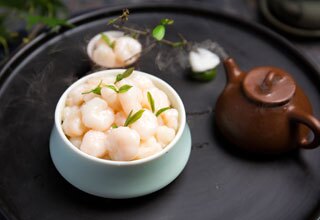 Shrimp Meat with Longjing Tea
The local dishes in Hangzhou are called "Hang Bang Cai", with salty and slightly sweet flavors. With the lakes and rivers crossing the city, Hangzhou features all kinds of freshwater seafood. Its trademark dishes include West Lake Fish in Vinegar Gravy, Shrimp Meat with Longjing Tea and Dongpo Pork.
Xi'an – World of Noodles
Culinary style: Muslim cuisine, imperial banquet
Must-try foods: Pita Bread Soaked in Lamb Soup, Chinese hamburger, all kinds of noodles
Recommended restaurants: De Fa Chang Restaurant, The Tang Dynasty, Muslim Street (Huimin Jie)
Carefree tour with us: Imperial Banquet in Xian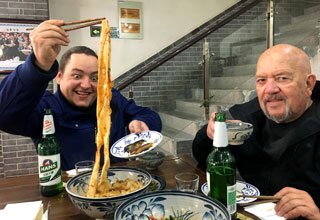 Tasting Biangbiang Noodles
Xi'an is world famous for the Terrocotta Army, but as the capital of China's Tang dynasty, Xi'an actually features Tang culture, which you can eaperience by trying its high-end dinner: the Imperial Banquet with the Tang Dynasty Show.
Xi'an people are obsessed with different kinds of noodles, and they love them, so long as they are hand-stretched; narrow, wide, cold, hot, Biangbiang, Liangpi, Saozi… the list goes on.
You can also savor local street food at Xian's famous Muslim quarter – Huimin Street.
Other Niche Food Cities in China
China is a country of gourmet food. The aforementioned top food cities cover a range of China's best mainstream foods, but there are many other food cities with distinct characteristics, like Lhasa or Turban, which respectively represent Tibetan food and Northwest cuisine in China.
Further Reading
Travel with Us and Taste Chinese Food Your Way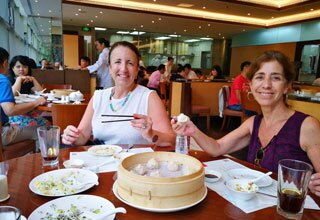 Our Customers Tasting Chinese Food
No one who loves food will say "no" to the delicacies of China, especially after admiring its natural and cultural beauties – how would perfect travel be without delicious food? Below are three sample tours we hand-pick for your inspiration:
8-Day China Experience Trip (Beijing, Xi'an, Shanghai)
11-Day Glories of China (Beijing, Xi'an, Guilin, Yangshuo, Shanghai)
11-Day China Impression Journey (Beijing, Xi'an, Yangtze River, Chongqing, Shanghai)
For an authentic travel experience, contact one of our travel advisors. Our local experts are always ready to create a hassle-free tour for you.