China Top 5 Tourist Cities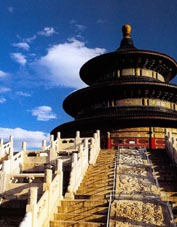 Beijing has enjoyed a history of more than 3,000 years and has been the capital about 850 years. Beijing was an ancient capital of China once and an international metropolis now. Transportation in Beijing is well developed. Beijing is the largest traffic hub of railway, highway and aviation in China.
Beijing is a top tour destination in China. Beijing has 6 attractions listed in the world culture legacies in the UNESCO. There are more than 200 attractions open to public. Representative old buildings are the largest imperial palace- the Forbidden City, the Temple of Heaven, Tian'anmen Square, Summer Palace, the 8th wonder in the world-the Great Wall, Hutongs, Beihai Park and the largest quadrangle courtyard- Prince Gong Mansion.
Beijing attracts visitors not only for its archaic Chinese rhyme but also for its fashion, modern and art. As it is mentioned earlier, Beijing is now an international metropolis, so there are a lot of modern buildings in Beijng. The shopping malls in Wangfujing Street, Dongdan and CBD are fashion centers. If visitors are interested in art, they can visit 789 art district. To the super-modern Olympic Village with Bird's Nest and Water Cube, visitors will feel Olympic spirit. If visitors want to see adorable animals, they will go to the  Beijing Zoo. Visitors can buy and see almost anything they can think of in Beijing.
Beijing, as a capital of China and with so much legacies and interesting places, is a place visitors must see in China. Beijing has a bright future before it and a splendid history behind it. Visitors will see its prosperity and feel its rich civilization.
Read More on Beijing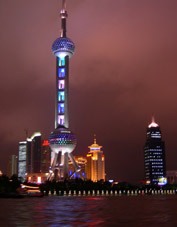 Shanghai is the largest city and most prosperous city in China and largest city by population in the world. Located on the mouth of the Yangtze River in the middle portion of the Chinese coast, it is a global financial center.
Shanghai is a famous historical city in China. With profound Chinese culture and colonial legacies, Shanghai has developed into a unique culture, which is the fusion of the east and west. The tourism has blossomed for its unique culture, economy and architecture.
The ambitious skyline in Pudong Special Economic Zone and the marvelous night scenes of the Huangpu River and the Bund present the modernity of Shanghai. The Oriental Pearl TV Tower , Jinmao Tower and Shanghai World Financial Center are in the Pudong Special Economic Zone. There is a large collection of western architecture on the bank of the Bund. Nanjing Road, a most prosperous road in Shanghai, is near the Bund.
Modern Shanghai is more prosperous, but old Shanghai is still there attracting a large number of visitors.  A lot of old Shanghai architectures are kept well under the development of Shanghai. Visitors will experience old Shanghai atmosphere in Tianzifang, Waibaidu Bridge, Yuyuan Garden, City God Temple and so on.
Shanghai, as the most prosperous city in mainland China with fast developed steps, attracts people who not only like modern atmosphere but also like the old Shanghai atmosphere from all over the world.
Read More on Shanghai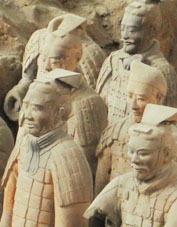 Xian is one of the oldest cities in China, and certainly among the most influential. Here was the seat of 73 Emperors and his royal court for many years throughout the country's long history (then named Chang'an before the Ming dynasty), while it served as China's capital for 13 different dynasties. Today, you will still see remains of Xian's ancient past, especially while biking along the old city walls, visiting the classic temples throughout the city, or exploring the incredible site of the Terracotta Army.
As one of the four great ancient capitals of China, Xian is a favorite of history buffs and those interested in learning more about the country's rich past. The Terracotta Army was commissioned by the first emperor of China during the Qin dynasty and is the top attraction in Xian today. It is said each of the more than 8,000 pieces were modeled after real life counterparts so many years ago, making the archaeological site an unbelievable discovery and peek into history.
In addition, you won't want to miss seeing the evidence of the Silk Road, Ancient City Wall which protected the precious capital from marauders and enemies, Big Wild Goose Pagoda and Small Wild Goose Pagoda with their idyllic ambiances, the Grand Mosque and the Muslim Quarter which is a unique site in otherwise mostly Buddhist China, and the various museums showcasing the best relics found in Xian.
Finally, eating is a pastime in and of itself in Xian since there are so many regional specialties to indulge in. If you dare, try some of the succulent street food available usually after dark, or delicacies in the Muslim Quarter for meals you won't find elsewhere in China.
Read More on Xian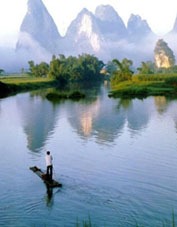 The thought of lingering in Guilin will cross your mind because of the flush with rivers and canyons and caves and forests. Guilin is a place of incredible natural beauty that has inspired classic Chinese writers and artists throughout history, not to mention passing travelers.
The landscapes in Guilin are ones you'll want to write home about. Karst hills and mountains carve unforgettable aesthetics across the fertile land, and where from the tops you can see clouds connecting land with the heavens. The Li River meanders along, feeding fishermen's livelihoods, cruise journeys which are very popular with visitors, and contributing to the picturesque views all around. Inside Reed Flute Cave and Seven Star Cave in Seven Star Park, for example, you can see earth's beauties from inside, especially when they are highlighted by rainbows of lights.
If you want to enjoy Guilin in a more relaxed manner, you can also rent a bicycle and ride through the countryside with a guide. Along the way, you'll see age-old farms, sublime peaks in the distance, farmers working the fields, and cattle enjoying their open home.
The city of Guilin itself offers additional destinations such as a number of historic parks, bridges, and homes. Since it is such a popular place for nature lovers, the city is well resourced with common comforts readily available. When you're feeling hungry after a long day of adventure, stop by any typical eatery to try Guilin's famous chili-based dishes, some Guilin pickled tofu, or a drink made with rice baijiu, a type of liquor distilled from rice. Guilin style rice noodles accompanied with horse meat is also a local favorite, along with zongzi, enjoyed throughout the year but especially at New Year!
Read More on Guilin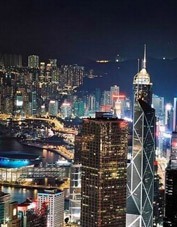 Hong Kong is one of the most multi-layered cities in Asia and whether you spend 1 day or many years here, you'll always discover something new the further you dig from the surface.
The metropolis of over 7.5 million inhabitants enjoys an ambiance and flavor that merges East and West harmonically. Since its colonial days under the hands of the British, the Hong Kongese continue to enjoy a code-switching language (where Chinese and English are used interchangeably within even individual sentences) and fusion foods that are familiar to both cultures.
Today, you will feel the power of Hong Kong everywhere you go. In the Central district of Hong Kong Island, you'll see men and women powering the financial heart of this world class city. In the New Territories, families rush to get their children to school. Down in the Kowloon area like Kowloon Walled City Park and Kowloon Park, the most innovative fashions are just waiting to be mass produced and shipped internationally, and luxury shopping and restaurants (with prices to match) cluster around the tip of Tsim Tsa Tsui. Along any shore, you'll find new industries alongside traditional temples and fishing coves. To be sure, tradition and modernity exist hand in hand in Hong Kong.
And although it is famously known as one of the tallest cities in the world (skyscraper forests dominate all the urban views), Hong Kong is not only about concrete and glass. In fact, the majority of Hong Kong's official property is still nature and often in the form of protected parks. The Pacific archipelago offers green mountains and virgin beaches just a short bus ride from any point in the city, making Hong Kong the perfect urban and natural getaway depending on what you're looking for. Check China Travel Hong Kong Tours
Read More on Hong Kong
Map of locations of China's Top Tourist Cities
More Top Tourist Cities
China Top Attractions