Cultural and Creative Products
What would you do when you find some special souvenirs that perfectly combine the rich elements of the Forbidden City and the functional creativity of daily life with funny and cute images? Buy them!
The Forbidden City has always shown its solemnity and majesty to the public over the centuries. But since it premiered its creative souvenirs in 2013 and made a big hit, it took the spotlight for not only its ancient heritage but also its various cutting-edge cultural products.
Functional Creative Souvenirs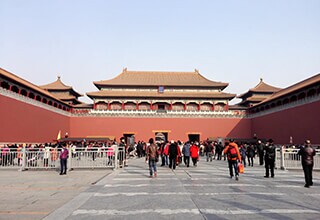 Entry of the Forbidden City
For most travelers, bringing home some souvenirs as  mementos of a visit or as gifts to family and friends marks a meaningful end of the journey. To cater to visitors, the Forbidden City constantly sells series of cultural items that are creatively designed and present high functionality and great quality, sold at reasonable prices.
From the lattice of the window to the ridges of the roof, from the emperors' clothing to the concubines' jewelry, the Forbidden City taps into its extensive elements to get inspiration for its cultural products, trying to make its ancient culture into people's daily life.
Where to Buy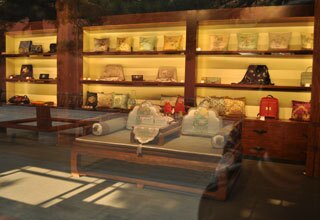 Culture Products Exhibition
Lots of creative handicrafts and souvenirs shimmering in shops around and in the imperial city. It is recommended to go to the row of small houses next to the east of Shenwumen, i.e. the North Gate, where there are Palace Museum Culture Products Exhibition and franchise stores.
Curious visitors may be interested in their top sellers, including Court Beads earphones, Qing Official Headwear umbrellas, Mini Imperial Cat fridge magnets, Dragon-Phoenix Robe protective cases for mobile phones, emperor series tapes, Qing Dynasty princess bookmarks, and more.
Online stores on T-mall and Taobao, two e-commerce platforms under the Alibaba corporation are also available for buying creative cultural products from the Palace Museum.
Palace Museum Lipsticks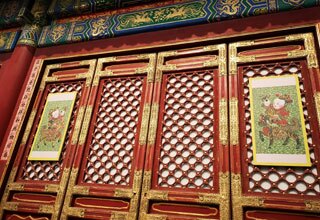 With the public's growing demand for beauty products, on December 10, 2018, the Palace Museum debuted a lipstick collection of six colors in limited editions on T-mall. These original lipsticks went viral and some colors were sold out in a single night.
With a cultural twist inspired by the objects of emperors and their concubines, the embossing on the tubes of the lipstick is made by 3D techniques to imitate Chinese brocade. However, some consumers still believe that the lipsticks are overpriced (RMB 199, about USD 30, for each) because the quality of the lipstick itself is not so good. The Palace Museum responded that they would work hard for better.
Bonus Facts: Café and Hot Pot
In addition to creative products, the Forbidden City strives to enlarge the range of its business and maximize its influence.
Forbidden City Café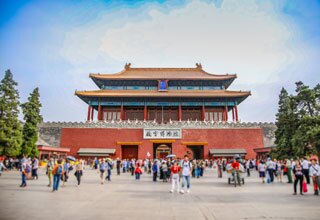 the Gate of Divine Prowess
Walk out from the Gate of Divine Prowess (Shenwumen) and turn left- you'll see a sign saying "Café by The Forbidden City", following which you can get to a place serving "imperial coffee and desserts".
The café is themed with Palace Museum culture with wallpapers of the famous ancient painting "A Thousand Li of Rivers and Mountains". The essence of this café is in the interesting Chinese names that mirror palace culture on its drink menus -All the drinks are named after the emperors and their concubines. And even a cup of cappuccino has a random stamp on its surface saying some common words of the imperial city.
As the Forbidden City Café has become increasingly popular among Chinese visitors, the argument has it that there should be a Chinese teahouse instead of a café, which can better demonstrate traditional culture – there never was coffee in China's imperial palace after all.
Hot Pot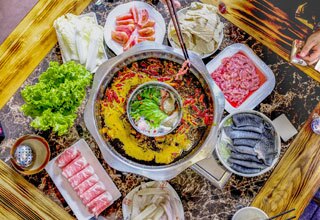 Hot Pot was popular among the emperors and concubines in the Forbidden City, and the Kangxi Emperor of the Qing dynasty hosted the first hot pot party in 1713. After 300 years, on the first day of Chinese New Year, February 5, 2019, a hot pot restaurant was opened next to the Gate of Divine Prowess (Shenwu men), named:  Forbidden City Corner Tower Restaurant.
In the daytime, it served as a normal tourist restaurant selling duck rolls and noodles. At night (5:30 pm to 10 pm), it provided several-flavored hotpot meals, to commemorate the imperial hotpot party. Fire is the "enemy" of the Forbidden City so the hot pot was heated via electric induction instead of standard combustion.
Since its opening, the restaurant attracted diners, but owning to its limited reception, served only 30 hotpots every night, so people needed to make reservations or queue up. Since March 4, 2019, however, the restaurant stopped providing hotpot for reasons of high price, limited dishes, long waiting time and more importantly, the risk of fire.
Still, this restaurant created a precedent for a palace-style hotpot restaurant. Maybe we will see another emperor-themed hotpot eatery open outside the moat of the Forbidden City in the future.
Arguments Against Commercialization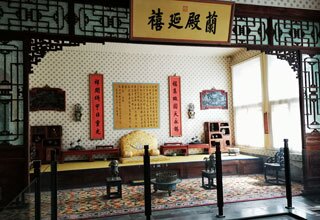 From varieties of souvenirs to catering, some people worry that businesses may over-commercialize the Forbidden City and damage its original culture. In fact, the Palace Museum has profited through cultural creativity products by making billions of dollars over the years, but all its income is used for the management of the museum and restoration of relics, as well as charity work.
Although there are some arguments against commercialization, you can't deny that the 600-year-old Forbidden City is becoming younger -in a positive way- and more energetic through these museum products.
Experience the Forbidden City Your Way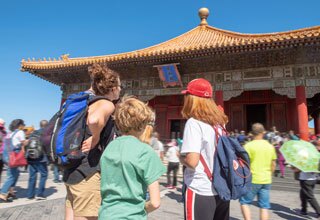 Visiting the Forbidden City
The Forbidden City is a well-preserved imperial palace in Beijing. With 600 years of history, it was the home of China's last 24 emperors. To make your journey an interesting and fabulous experience, we've handpicked three sample itineraries for your inspiration:
More about Forbidden City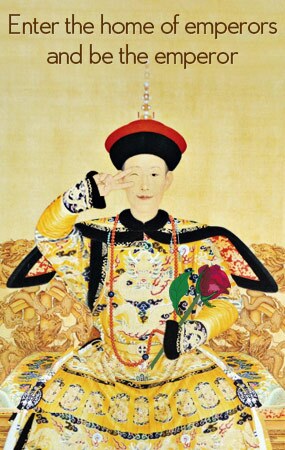 For an authentic travel experience, contact one of our travel advisors. Our local experts are always ready to create a hassle-free tour for you.