Mid-Autumn Festival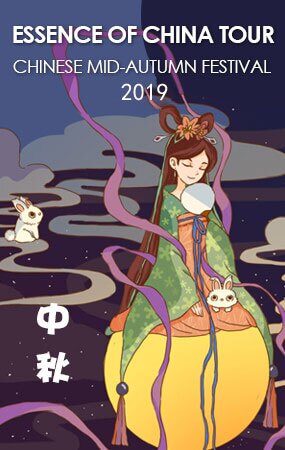 In 2019, the Mid-Autumn Festival (中秋节), or Chinese Moon Festival, falls on September 13. It is one of the three major annual occasions in China (the others are Chinese New Year and Dragon Boat Festival and it takes place on the 15th day of the 8th Chinese lunar month.
As a time for families to be together, Mid-Autumn Festival's typical food is moon cake which is round and symbolizes reunion. Families and friends gather together to celebrate by eating moon cakes and appreciating the spectacular beauty of the fullest and brightest moon.
Get free Chinese moon cakes by taking any tour during Chinese Moon Festival (Sep.13 - Sep.15, 2019)!
The History Behind the 3000-Year-Old Festival
The time-honored Mid-autumn Festival boasts a history of thousands of years, which has gradually developed and formed. It was first celebrated to give thanks for a bountiful harvest.
The ancient emperors used to worship and offer sacrifice to the moon in autumn. Afterwards, noblemen and scholars would admire and appreciate the bright moon on Mid-Autumn Festival, expressing their thoughts and feelings.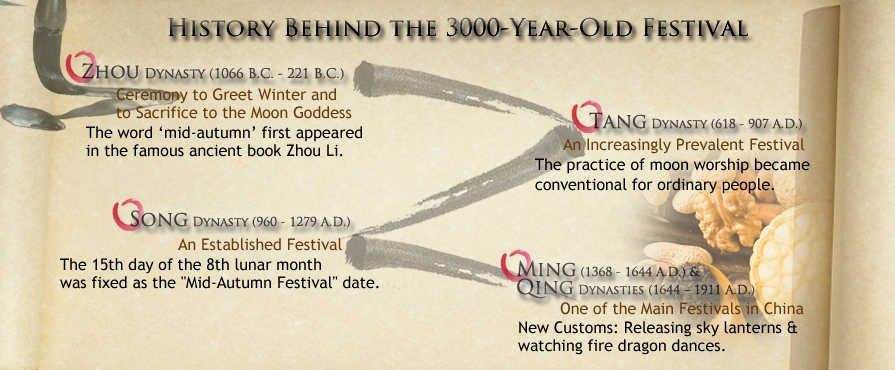 See more about Mid-Autumn Festival History.
Legends of Mid-autumn Festival

Love Story between Chang'E and Hou Yi – Tragic but Romantic
The Jade Rabbit Mashing Herbs on the Moon
An Immortality-Obsessed Man Cutting a Tree on the Moon
See more about Mid-Autumn Legends.
Eight Facts You Didn't Know about Chinese Mid-Autumn Festival
No. 1: The festival has only one name? No!
No. 2: Amazing Role of Moon Cakes: Secret Weapons
No. 3: Romantic Festival - the Second Chinese Valentine's Day
No. 4: Full Moon - Does Not Definitely Occur on Mid-Autumn Festival
No. 5: Moon cakes- Luxury-Priced Delicacies
No. 6: China - NOT the Only Country to Celebrate
No. 7: A  three-day Public Holiday During the Festival
No. 8: New Trend: Celebrate Virtually, by Sending Digital Red Envelopes
There must be more hidden facts about the Chinese Mid-Autumn Festival, just contact our travel advisers to start your discovery trip in China!
How to Enjoy Chinese Mid-Autumn Festival
Mid-Autumn Festival customs focus on the theme of thanksgiving and reunion.  The most common traditions for this festival are eating moon cakes and appreciating the moon. Besides, ethnic minorities across China have their own unique customs.
Here's how you can slow down to enjoy the Chinese Mid-Autumn Festival during your tour in China. Learn more about China, enter 【Essence of China Tour】. Do what Chinese people do to explore the broad and profound culture of China!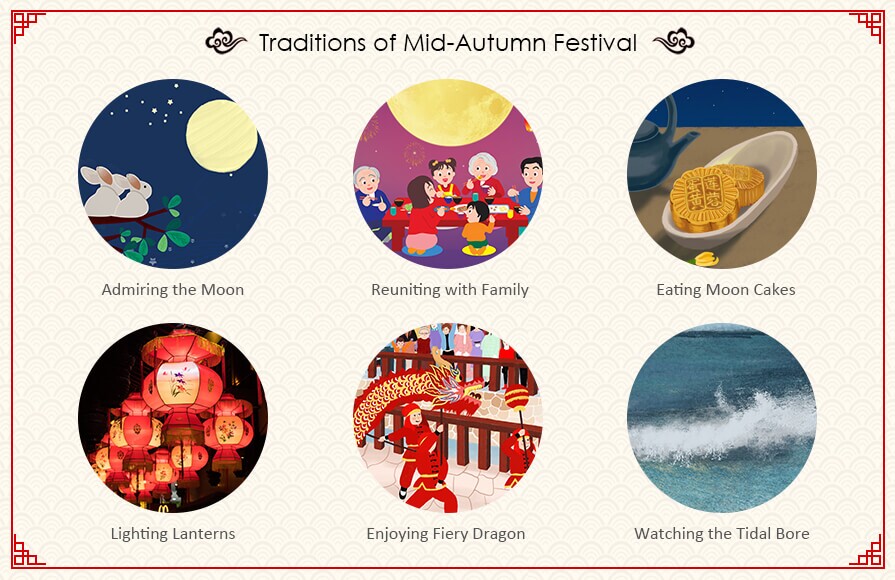 Appreciate the Bright Full Moon
Reunite with Your Family
Eat Moon Cakes
Light and Display Chinese Mid-Autumn Lanterns
Enjoy Fiery Dragon Dances
Watch the Tidal Bore in Qiantang
Where to Travel During Chinese Mid-Autumn Festival
2018 Mid-Autumn Festival falls on September 24. Autumn is the best time to visit China. The temperatures throughout the country are milder compared with the extremes in winter and summer. Therefore, the most glorious thing is to spend time out of doors and enjoy the sight of golden autumn.
The customs of Mid-Autumn Festival vary across China, there are different specialties and celebrations. Why not start your tour in China by exploring the mystery of Mid-Autumn Festival? You can have free Chinese moon cakes, if you tour in Chinese Moon Festival. See tour packages for Moon Festival
Travel Tips in Autumn in China
Transport and Accommodation: Book in Advance During Peak Seasons
Packing Suggestions: Different Across China Due to Weather Variation
Be careful of Poisonous Snakes and Noxious Insects Outdoors
Be Careful of Pollen Allergies
Best Place to Enjoy the Full Moon
We can also tailor-make a tour based on your needs and requirements, which can save you time, money, and trouble. Please feel free to tell us your tour ideas! >> Create a tour now!
More about Mid-Autumn Festival
Recommended China Autumn Tours
Travel in China during Chinese Moon Festival (Sep.13 - Sep. 15, 2019) with us and enjoy free Chinese moon cake!
Free Mid-Autumn Festival Cards