Eight Facts You Didn't Know about Chinese Mid-Autumn Festival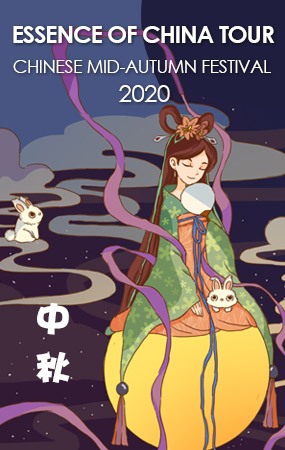 Mid-Autumn Festival is the second most-important festival in China, after Spring Festival. Here we're going to talk about 8 interesting facts you might not know about this popular holiday.
No. 1 The festival has only one name? No!
The Mid-Autumn Festival is also known by other names because of its associations with the full moon, delicious moon cakes, lanterns, and family reunion: Moon Festival, Harvest Moon Festival, Moon Cake Festival, Lantern Festival, and Reunion Festival.
No. 2 Amazing role of Moon Cakes: Secret weapons
During the Yuan Dynasty (1280-1376) when the Mongols ruled over the Han people, moon cakes, which were unpopular among Mongolians, served as the perfect vehicle for hiding and passing secret missives for Han people's army to overthrow the Mongolian rule.
No. 3 Romantic festival: The second Chinese Valentine's Day
In ancient times, apart from the Double Seventh Festival, Mid-Autumn Festival is considered as the other Valentine's Day. It was rooted in a legend of the Old Man, a kind of Chinese cupid. On the Mid-Autumn Festival, the old man tied a red cord between a couple who was fated to marry and live happily forever.
No. 4 Full Moon: Does not definitely occur on Mid-Autumn Festival
The fifteenth day of the eighth lunar month is not guaranteed to be a full moon night but the full moon is likely to occur within two days of the festival. Under the clearer sky of autumn, the moonlight is indeed more vivid.
No. 5 Moon Cakes: Luxury-priced delicacies
Normally, the price of moon cakes is quite low, at about RMB 4. However, during the Mid-Autumn Festival, lavishly-flavored moon cakes — the stuff of a legend — are delicately packaged into sumptuous boxes by Chinese star-rated hotels to cater for businessmen. These "high-end" goodies can sell for a whopping RMB 1,000!
No. 6 China: NOT the only country to celebrate
The Mid-Autumn Festival is not only celebrated in China, but also in other parts of Asia like Vietnam, Singapore, Japan, the Philippines, South Korea, and Malaysia. Click The Mid-Autumn Festival Amongst China's Neighbors for more information.
No. 7 A three-day public holiday during the festival
Mainland China listed the festival as an "intangible cultural heritage" in 2006 and a public holiday in 2008. During this three-day holiday, Chinese people like to spend time with their friends and family, or take trips outside the cities.
No. 8 A New Trend: Celebrate virtually by digital red envelops
In China, the older generation tends to give boxes of moon cakes as gifts, while the younger generation tends to celebrate it by sending red envelopes to their families and friends over WeChat.
More about Mid-Autumn Festival
Recommended China Autumn Tours
Travel in China during Chinese Moon Festival (Oct. 1 - Oct. 7, 2020) with us and enjoy free Chinese moon cake!
Free Mid-Autumn Festival Cards