Mid-Autumn Festival Foods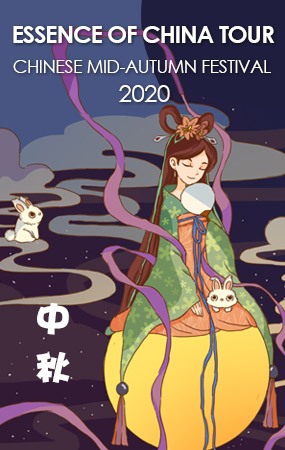 Mid-Autumn Festival, or Chinese Moon Festival, is one of the three biggest festivals in China. There are lots of ways to celebrate this occasion, and food plays an essential role. What do Chinese people eat during the Mid-Autumn Festival? Mooncake is obviously a must-eat food, but what else?
China is undoubtedly a vast country, and the best way to learn about Chinese culture is through its food! Different regions in China have different foods to celebrate Chinese Moon Festival. Eight popular Mid-Autumn Festival foods are listed below, along with some interesting stories behind them.
1. Mooncake – Iconic and Must-Eat Food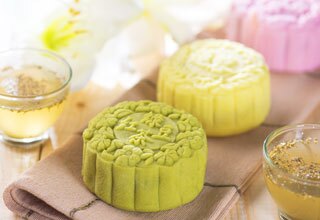 Mooncake and Osmanthus Wine
Mooncake is a round baked cake shaped like the moon and stuffed with various ingredients, such as thick paste, salted egg, nuts and meat; and they can come in different sizes.
The theme of Mid-Autumn Festival is thanksgiving and reunion. Mooncake symbolizes the full moon and people's desires for happiness and family reunions. On this day, all the family members try their best to go back home and enjoy a reunion feast with their families. Click here to learn more about Chinese mooncakes.
2. Duck – Keeps the Balance between Yin and Yang
Duck and the Mongols
In the middle of the 14th century, the Han people couldn't bear the brutal ruling of the Mongolians and decided to fight against them. To keep their secret mission from being exposed, they used the code words "Eating duck at the Mid-Autumn Festival", meaning "Overthrow the Mongols at the Mid-Autumn Festival." The Han people called the Mongolians "Dazi" at the time, which sounds like "Yazi" 鸭子 duck. After the fall of the Yuan dynasty, and to this day, people follow the custom of eating duck during Mid-Autumn Festival.
Duck and Traditional Chinese Medicine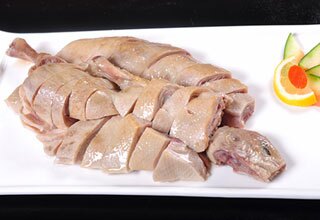 Traditional Chinese medicine says that different foods have a cooling or warming effect on the body. In autumn, as the weather cools, Chinese people enjoy eating cooling foods, such as duck, to discharge heat from their bodies to keep the balance between Yin (cooling) and Yang (warming), to improve health.
Taste and texture depend on the way duck is prepared, and that varies in different parts of China. Beijingers like Roasted Duck, with its thin crispy skin; Jiangsu people love sweet-scented Osmanthus Duck; while people in Sichuan prefer a rich, flavorful Smoke-Baked Duck.
Great detail is given to popular cooking styles; sour, bitter, sweet, pungent and salty flavors play an important role in the success of a lavish meal of duck.   Wherever you happen to be during the Mid-Autumn Festival, for a delicious treat, try one or two of the local duck dishes and experience a real love affair!
3. Taro – Brings Good Luck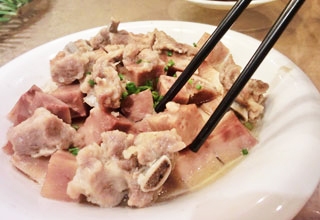 Spare Ribs Steamed with Taros
People in Zhejiang and Jiangsu Provinces believe eating Taros, a starchy root vegetable similar in taste and texture to potatoes, brings good luck; in local dialects, the word Taro sounds like "good luck is coming." This popular and versatile, nutritious vegetable can be eaten boiled, steamed or baked, as a side dish or a dessert.
4. Pumpkin – Brings Good Health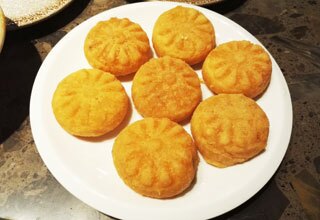 Pumpkin is very popular in the Jiangnan area, located in the south of the lower reaches of the Yangtze River, including Shanghai, Hangzhou, Suzhou, and Nanjing and beyond. People in those regions say there are two reasons to eat pumpkin: during harvest time and an up-lifting Chinese folktale.
Legend has it that there was a poor family living in Nanshan, a mountain in Jiangxi Province in ancient times, who suffered years of crop failures. The parents were old, sick, and starving – the entire family was in dire straits. On a day in Mid-Autumn, their daughter found two big pumpkins in the weeds. She took the pumpkins home and cooked them for her parents.
The old couple got increasingly better, and regained their health, after eating pumpkin. Consequently, people believe that eating pumpkin during the Mid-Autumn Festival brings health and longevity!
5. Pomelo – Moon Goddess Bless My Family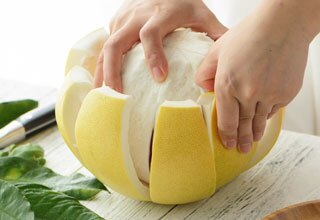 Chinese people worship and pray to the moon with all kinds of sacrifices on Mid-Autumn night and the delicious Pomelo (a type of mandarin or tangerine) must be one of them.
Pomelo, "You (柚)" is a homophone for "佑", which means "bless" in Chinese.  People offer Pomelos to the moon in hopes that the Moon Goddess will bless their family with good luck and happiness. Pomelos are not only sweet, juicy and delicious; they help cleanse the taste buds on the surface of your tongue after you have eaten a sweet mooncake!
6. Hairy Crab – A Seasonal and Festival Delicacy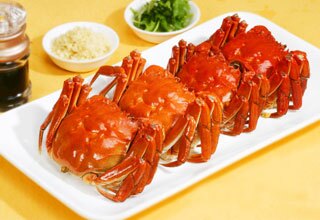 Crabs are in-season in September and October in China and have been the centerpiece for the table of a Mid-Autumn Feast since the late 14th century. Hairy Crabs from Tai Lake and Yangcheng Lake in Suzhou are considered to be the best crabs and are always in short supply. If you like crabs, try not to miss this crowd-pleasing and highly-sought-after delicacy when you travel in and around the Shanghai area!
7. River Snails – Brings a Good Harvest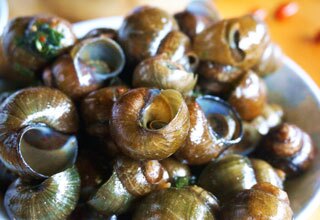 River Snails (field snails) are a must-eat food for the people of Guangdong when they celebrate Mid-Autumn Festival. A celebration provides a perfect setting to eat and eating river snails during the festival will assure a good harvest.  Traditionally, people believe that eating river snails helps brighten our eyes and drives away evil spirits and bad luck.
8. Osmanthus Food – Brings Sweetness and Wealth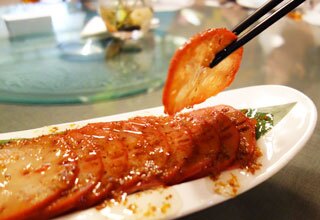 Autumn is the blooming season for Osmanthus blossoms. Many families use these sweet, fragrant flowers to make rice wine, naturally caffeine-free tea, cakes and a variety of other treats, including Osmanthus jelly and syrup. On the night of  Mid-Autumn, Osmanthus Wine, Osmanthus Sorbet, Osmanthus Lotus Roots and Osmanthus Sweet Balls are served at the dining table and signify elegance, wealth, sweetness and reunion.
Recommended China Autumn Tours
Travel in China during Chinese Moon Festival (Oct. 1 - Oct. 7, 2020) with us and enjoy free Chinese moon cake!
Free Mid-Autumn Festival Cards