Tips for Traveling in China During Autumn
Transport and Accommodation: Book in Advance During Peak Season
The Mid-Autumn Festival holiday and China's National Day holiday are peak traveling periods in China, when hotels raise prices and booking train or flight tickets can be very difficult. The mass commutes typically bring much inconvenience and complication to transport and accommodation.
Thus, if you choose to travel during these periods, you should make adequate preparations before your trip. If you do not like large crowds or queues, it may be best to reconsider your schedule for visiting the country.
Packing Suggestions: Different Across China Due to Weather Variations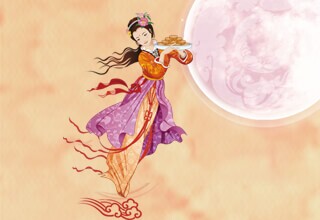 Chang'e - the Goddess in the Moon
If traveling in the north of China during autumn, you'd be well-advised to bring sweaters and even long-sleeved coats, for you'll typically feel cool during the day and cold at night.
For central China, bring long-sleeved coats and pants, for it is warm in the day but cooler at night.
For the south of China, due to the generally warm weather, you'll only need shorts and short-sleeved shirts. There may be some rainfall in some areas, thus an umbrella may come in useful.
Be Careful of Poisonous Snakes and Noxious Insects Outdoors
Travelers who enjoy natural beauty should be careful of snakes during this holiday time, for they frequently emerge in autumn. Snakes like to lurk in dense bush, grasslands, narrow stone crevices, or by the river. If you touch them inadvertently, they will attack you.
Be extremely careful when you pass through areas where snakes commonly reside. If you are attacked by a poisonous snake, squeeze out the venom and go immediately to a doctor.
The autumn is also a favorite time for insects to come out and deliver bites that may burn or itch afterwards; another reason why keeping covered with long sleeves is a good idea.
Be Careful of Pollen Allergies
In autumn, some allergic reactions or respiratory illnesses may be caused by the pollen of flowers and other plants. There are over 200 kinds of pollen that can induce illness such as allergies, bronchial asthma, rhinitis, pharyngitis, headaches, dizziness, and hypertension.
Thus, when traveling in nature around the time of the Mid-Autumn Festival, pay careful attention to the pollen count. Do not pick unknown wild flowers, and if you are highly allergic to pollen, you'd better bring a respirator.
Recommended China Autumn Tours
Travel in China during Chinese Moon Festival (Oct.4 - Oct.6, 2017) with us and enjoy free Chinese moon cake!
Free Mid-Autumn Festival Cards