Tips for Traveling in China During Autumn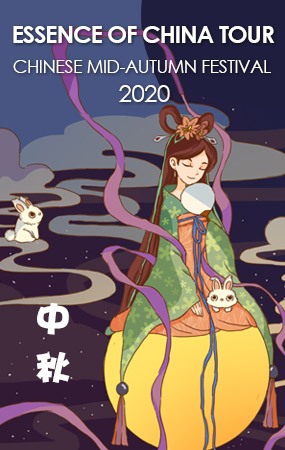 China in fall is a beautiful and colorful picture! You can enjoy a cool and wonderful journey of the most famous Great Wall decorated by colorful trees, green karst landscapes in Guilin and blue sky in mysterious Tibet. Are you attracted by the graceful Mid-Autumn Festival and the great autumn scenery in China? Here are some tips for you to travel China during autumn. You're welcome to ask for any advice after reading.
1. Transport and Accommodation: Book in Advance During Peak Season
The Mid-Autumn Festival holiday and China's National Day holiday are peak traveling periods in China, when hotels raise prices and booking train or flight tickets can be very difficult. The mass commutes typically bring much inconvenience and complication to transport and accommodation.
Thus, if you choose to travel during these periods, you should make adequate preparations before your trip. If you do not like large crowds or queues, it may be best to reconsider your schedule for visiting the country.
2. Packing Suggestions: Different Across China Due to Weather Variations
If traveling in the north of China during autumn, you'd be well-advised to bring sweaters and even long-sleeved coats, for you'll typically feel cool during the day and cold at night.
For central China, bring long-sleeved coats and pants, for it is warm in the day but cooler at night.
For the south of China, due to the generally warm weather, you'll only need shorts and short-sleeved shirts. There may be some rainfall in some areas, thus an umbrella may come in useful.
3. Be Careful of Poisonous Snakes and Noxious Insects Outdoors
Travelers who enjoy natural beauty should be careful of snakes during this holiday time, for they frequently emerge in autumn. Snakes like to lurk in dense bush, grasslands, narrow stone crevices, or by the river. If you touch them inadvertently, they will attack you.
Be extremely careful when you pass through areas where snakes commonly reside. If you are attacked by a poisonous snake, squeeze out the venom and go immediately to a doctor.
The autumn is also a favorite time for insects to come out and deliver bites that may burn or itch afterwards; another reason why keeping covered with long sleeves is a good idea.
4. Be Careful of Pollen Allergies
In autumn, some allergic reactions or respiratory illnesses may be caused by the pollen of flowers and other plants. There are over 200 kinds of pollen that can induce illness such as allergies, bronchial asthma, rhinitis, pharyngitis, headaches, dizziness, and hypertension.
Thus, when traveling in nature around the time of the Mid-Autumn Festival, pay careful attention to the pollen count. Do not pick unknown wild flowers, and if you are highly allergic to pollen, you'd better bring a respirator.
5. Top Destinations For Chinese Mid-Autumn Festival
1) Tongli Water Town in Shanghai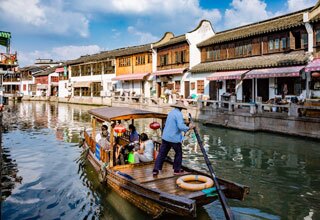 Well Preserved, not so Commercialized and Crowded
Tuisi Garden (UNESCO World Heritage Site) : Built 1885–1887 during the Qing dynasty
49 Stone Bridges: There are 49 stone bridges, of varying styles, joining 7 islands created by 15 rivers and 5 lakes. Each bridge has a poetic name.
Gondola Trip: The waterways provide a major form of transport in Tongli. So you can take a gondola from Tuisi Garden to the Three Bridges.
Start you tour in Suzhou and Tongli Tour from Shanghai.
2) Simatai Great Wall in Beijing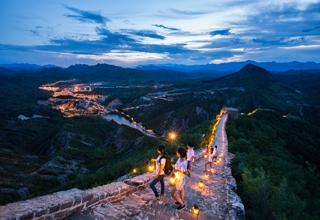 Historic: The only part of the Great Wall that retained the ancient style of Ming Dynasty in China.
Challenging Hiking Experience: Lying on the undulating Yan Mountains, the eastern section rises and falls along the peaks with the steepest part up to 80 degrees!
Breath-taking Scenery: A natural dividing line, Yuanyang Lake (Simatai reservoir) at the bottom of the valley; 16 watchtowers of varying styles along the wall, the whole view of Yan Mountain as well as Beijing city, and the rare sense of beauty at night.
Surrounding Resorts: Near Gubeikou Great Wall and Gubeikou Town (A Green Ancient Town)

Click here to experience a Night Tour on the Simatai Great Wall.
3) Temple of Heaven in Beijing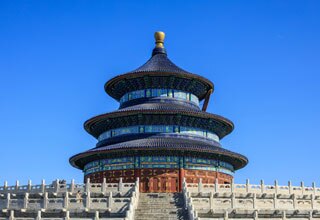 Two Themes of the Architecture Style: In heaven and on earth.
Special Layout: A semi-circle in the north and a semi-rectangle in the south – important belief in ancient China that the heaven is round and the earth rectangular.
Ancient Sacrificial Buildings: Altar of Prayer for Good Harvest; Hall of Prayer for Good Harvest; Imperial Hall of Heaven
Let's Start your tour to Walk into Beijing to start your morning visiting the Temple of Heaven.
4) Zhangjiajie – Grand Canyon of Hunan Province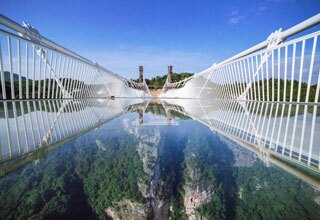 World's Longest and Highest Glass-bottom Bridge: Spanning two cliffs in the Zhangjiajie Grand Canyon area, it is 430 meters (1,410 feet) long and 6 meters (20 feet) wide, hovering over a 300-meter (984-foot) vertical drop.
Waterfall Wonders: Spectacular sight of various waterfalls, such as spray waterfalls, shade waterfalls, line waterfalls, fog-rolling waterfalls
Chinese Minority Customs: Zhangjiajie Old Courtyard is a Tujia ethnic minority courtyard residence which was built in the Qing Dynasty (1644-1911).
Why not join our Zhangjiajie Essence Scenery Tour to admire the great glass bridge?
5) Fenghuang Ancient City in Hunan Province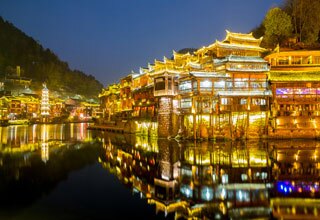 Historical Site: It dates back to 1704 (Qing Dynasty)
Buildings of Ancient Features: Diaojiaolou which are unique wooden houses built along the river bank, red rock town walls, palace-style halls and residences,  etc.
Meeting of Cultures: It marks the dividing line between the Han people on the central plains and the minority inhabited southwestern region.
Boat Cruise: Take a boat cruise along Tuojiang River – a way to enjoy the beauty of Diaojiaolou buildings and get close to local life.
See more about Fenghuang Ancient City and Zhangjiajie and start your tour.
6) Humble Administrator Garden (Zhuozheng Garden) in Suzhou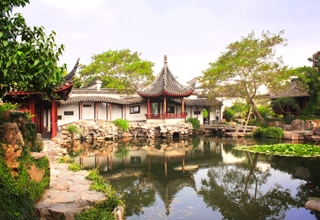 One of China's Top Four Gardens (UNESCO World Heritage Site)
Largest Garden in Suzhou: It is very large (nearly 52,000 square meters or 13 acres). It is divided into three respective gardens: Central Garden, Western Garden, and Eastern Garden.
Long History: It was built around 1509AD, during the Ming Dynasty, by the imperial inspector.
Delicate Layout: Pools, rockeries, islets, bamboo groves, pines, pavilions, and corridors.
Click here to join our Suzhou's Exquisite Gardens Tour from Shanghai to visit Humble Administrator Garden.
7) Elephant Trunk Hill in Guilin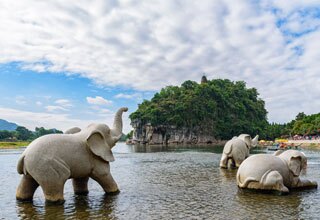 Elephant Trunk Shape Hill: It is named after its shape, a huge elephant, siphoning up water from the river below (the Li River).
Water Moon Cave: Situated between the elephant's trunk and its torso is a large cave which is said to resemble a full moon drifting on the water, therefore it is named Water Moon Cave.
Other Interesting Attractions: Puxian Pagoda, Hongfeng Temple and another  cave called Elephant Eye Cave.
Please feel free to contact us if you want to add Elephant Trunk Hill to our Essence of Guilin Tour.
8) E'mei Mountain in Sichuan Province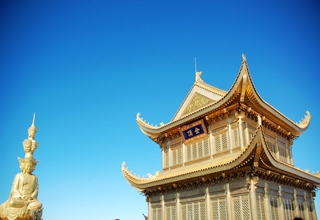 One of the Four Sacred Buddhist Mountains in China (UNESCO World Heritage Site)
First Buddhist Temple in China: The beautiful atmosphere at the summit of E'mei Mountain is home to the first Buddhist temple in China.
Historical Site: It was built in the 1st century A.D.
Mountain Climbing: E'mei Mountain extends over more than 200 kilometers and the height of its summit reaches 3099 meters above sea level.
Our Chengdu Panda Tour covers a visit to E'mei Mountain.
More about Mid-Autumn Festival
Recommended China Autumn Tours
Travel in China during Chinese Moon Festival (Oct. 1 - Oct. 7, 2020) with us and enjoy free Chinese moon cake!
Free Mid-Autumn Festival Cards