Mount Everest - How to Visit it
Located at the border between China and Nepal, Mt. Everest is known as Mt.Qomolangma, which means Goddess Third. Mt. Everest is 8848 meters above sea level and now still grows by about a quarter of an inch (0.25") every year, naming the world's highest mountain. It lies at the borderline, and its north ridge belongs to China and south belongs to Nepal. The north ridge of Mt. Everest in Tibet has a gentle slope than the south ridge in Nepal. This Is why the north ridge route being more chosen by mountaineers.
Mt. Everest is formed by the movement of the Indian tectonic plate pushing up and against the Asian plate, which in fact a part of the Himalaya Mountain. The main body shapes like a giant pyramid, along with a large glacier stretching more than 26 km. It consists of different types of shale, limestone and marble and forms an amazing mountain waves, together with other peaks around. The rocky summit is covered with accumulated eternal snow. Around Mt.Everest, there are four peaks above 8000 meters high, including Mt. Makarluh, Gosanthain, Zhuoyo and Shishabanma, which is the dreamland of mountaineering adventurer.
Quick Facts
Name: Mt. Everest (Mt.Qomolangma) 珠穆朗玛峰 Zhu mu lang ma feng
Location: Nepal/China border, Dingri, Shigatse, Tibet; more than 11 hours drive from Lhasa
Height: 8,844.43 meters (29,016 ft)
Tibet Base Camp: 5,180 meters (17,000 ft)
Experiences: hiking, mountaineering,camping and photography
The best time to visit Mt.Everest
Due to its high altitude and unique geographical environment, Mt. Everest a classic alpine climate: extremely low temperature all year round, perpetual snows, glaciers and ice slopes are everywhere, very thin air and frequent high-speed wind. The weather is severe cold all throughout the year and temperature varies widely from day and night, complicated and changeable.
Early June to the middle of September is considered as rainy season, when the weather is terrible with frequent rainstorm and snowstorm. The weather from middle of November to February in following year is greatly influenced by northwest cold snap, reducing the temperature to -600C. Hence, Mt. Everest is also honored as "the world's third pole". It can also be very hot with temperatures over 380C in the Western Cwm, an area climber go through to reach the summit. The coldest time is February while the hottest period is in August.
For visitors,exploration of Mt.Everest is not suitable from October to April in the following year because of the chill weather; and it is monsoon in July and August, when it is impossible to see the Mt.Everest in the misty rain. So it's the best time to enjoy Mt.Everest in April, May and June.
During spring and winter, the wind is very powerful, striking with over 80 km/h (about 50 mph). This powerful wind is locally called the "Jet Stream" and many times he is the one that don't allow the climbers to reach the summit.
The best time to climb Mt. Everest is in a short period from April to mid-May and from September to October. During this period, the jet stream moves north causing the winds the calm and temperatures to warm enough for people to try to summit. This is called the 'summit window', with an average temperature ranging from 150C to 250C.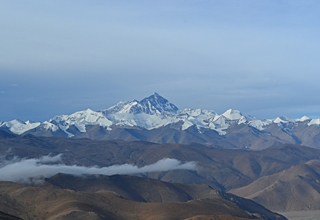 Mt. Everest, a part of the Himalaya Mountain, is the highest point on the Earth above sea level. Owing to its location on the border between Nepal, Tibet, Sagarmatha Zone & China, it is also known by other popular names as Zhumulangma Peak (Chinese), Mt.Qomolangma (Tibetan), Chajamlungma (Limbu), Mt. Sagarmatha (Nepali). In tibetan language, Qomolangma literally means 'Goddess the Third', highly was enhanced magic power and mysterious color by local people. And Mt. Sagarmatha means goddess of the sky.
The history of expedition of Mount Everest is as interesting as the history of the mountain itself. Mt Everest was first identified for the western world by a British survey team lead by Sir George Everest in 1841, who first tried to locate the exact position of the peak. Until then, it was named simply "Peak XV" and measured at 29002 feet in 1856. Then in 1865, it was named Mt. Everest, after Sir George Everest, a surveyor general of India. The height was adjusted to 29028 feet in 1955 and is still used by Nepal today while China use 29015 feet as the official height today. As the GPS technology developed, the summit was measured at 29035 feet or 8850 meters in 1999. Nepal started to remeasure Everest in 2017 due to the 2015 earthquake and will be finished by 2020.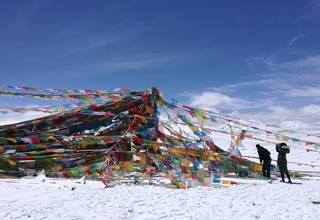 Ways to visit Mt. Everest is different between adventurous mountaineers and most of common visitors.
For most of visitors, travel starts from visiting Rongbuk Monastery, the highest monastery in the world. The monastery lies in Dingri County, near the base of the north side of Mount Everest at 4980 meters above sea level. Then visitors will be transferred to Everest Base Camp by shuttle bus. Visitors can take a look at the beautiful Mt. Everest from distance to feel its solemnity and mystery.
For adventurous mountaineers who are enthusiastic in climbing, the best way to see Mount Everest is to trek and hike to the Everest Base Camp and spend a camping night there to enjoy different view of the Mt. Everest, like its sunrise, sunset and its starry night. Adventurous individuals can also climb to the top of the peak, which will be a great challenge.
How to enter Tibet and Mt. Everest
To enter Tibet and travel around Tibet, travel permits are needed. Besides a Tibet Entry Permit, an Aliens' Travel Permit is required to travel to Mt. Everest.
Read more on How to Get How to Get Tibet Travel Permits.
How to Get to Mt. Everest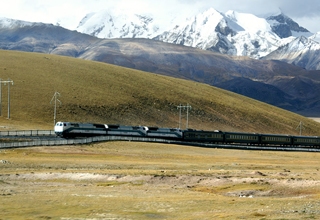 There are no train, flights or public bus go to Mt. Everest directly. Travelers need to arrival Lhasa firstly from other cities of China. You could choose to fly to Lhasa from Beijing, Xi'an, Chengdu, Chongqing, Xining and Kunming or take train from Xi'an, Beijing, Chongqing, Langzhou or Xi'ning.
In order to have more time to adapt to altitude sickness, you are advice to enter Tibet by flights and leave Tibet by train. Because you can get the amazing views along the road: Rippling Qinghai Lake, Kunlun Snow Mountain, Tanggula Mountain, Holy Namco Lake, the yak ran over the grasslands and one of the No Man's Lands – Kekexili.
And then take car which agreement by us to Shigatse–Tingri–EBC (Rongbuk Monastery).
Travel Tips Before You Go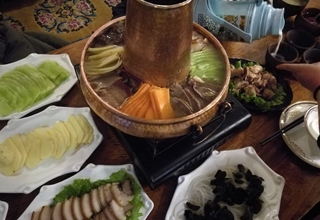 Because Mt. Everest's high altitude, please ensure you are in good physical condition before go to here. If you have asthma, high blood pressure, or similar conditions you should be advised against going.
See more about tips of Mount Evrest travel.
Popular the Mt. Everest Trips
Want to stand on front of the holy Mount Everst? Plesee see our Mt. Everest experience and cultural trips to explore this holy land:
More about Mount Everest Travel
For an authentic travel experience, contact one of our travel advisors. Our local experts are always ready to create a hassle-free tour for you.