Silk Road Travel Guide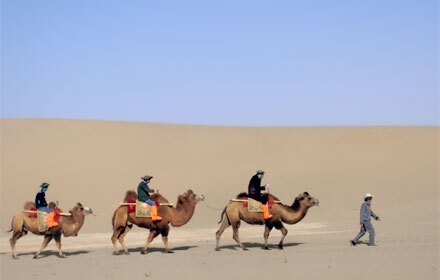 Silk Road refers to the ancient trade route starting from ancient China and connecting Asia, Africa and Europe. It has Silk Road and Silk Road on the sea. What people today usually talk about is the Silk Road from Xi'an City and ends in Europe while passing Gansu Province and Xinjiang Uygur Autonomous Region in China.
The road was first named as Silk Road by Ferdinand Freiherr von Richthofen in 1870's, who was a German geographer. After that Silk Road was widely known to the world.
At the very beginning the road was a route on the grasslands consisted of many small trade routes along the Nile Valley, Mesopotamia, Indian River Valley and Yellow River Valley. That was the embryonic form of today's Silk Road before Christ. From then on, silk became the main commodity transported on the road, along with seashells and Hetian jades. In 1280, Marco Polo also traveled to China by this road and was received by Kublai, the fifth emperor of the Yuan Dynasty (1271-1368).
Besides business trade, different cultures also traveled the route. Islam and Buddhism were introduced to China by Silk Road, thus nowadays visitors can also see some big relics of these religions. In the meantime, China culture was known by some Islamic areas and some countries of Europe.
Map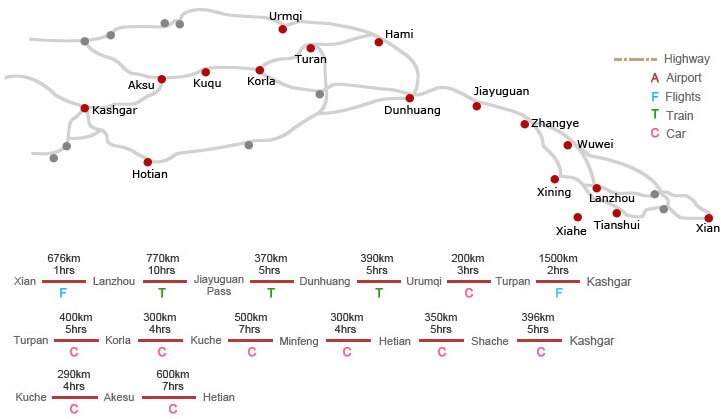 Top Attractions along Silk Road
Until today, many travelers from all over the world follow all or part of Silk Road by train, bus or private car. Within China, the most famous parts started from Xi'an, passing Tianshui, Lanzhou, Zhangye, Jiuquan, Dunhuang, Guazhou, and reached in Xinjiang. This is not an easy travel route for first-timers but absolutely is full of legends and amazing views. See highlights along the road below.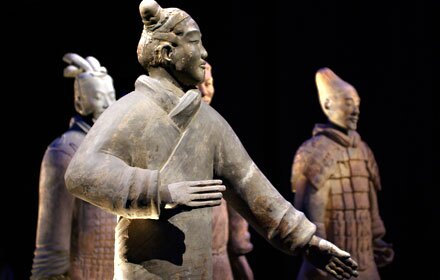 Terracotta Warriors and Horses in Xi'an
Since March 29, 1974, the terracotta Warriors and horse (兵马俑) was first dug and found by a local villager in Lintong, Xi'an, Terracotta Warriors then became known to the world. It is not only a great site in China, but also one of the most famous and important archaeological finds in the world.
Terracotta Warriors and Horses were built for Qinshihuang, the first emperor in ancient China. He started to build his own mausoleum and tombs when he ascended to the throne at his 13-year-old. It is estimated that there were more than 700,000 people involving in this huge project.
When this great site was first found, all warriors, weapons and horses were colorful though they experienced over 2000 years. However, when they were excavated, all the colors faded only in a few minutes and became clay-color, which is like what today's visitors see.
The Museum of Qin Terra-cotta Warriors and Horses was available to the public both at home and abroad on October 1, 1979. The museum was built on the original site of Terracotta Warriors and horses, 37.5 km west of Xi'an City. Now Pit 1, Pit 2 and Pit 3 are all for exhibition. In all there are seven kinds of soldiers and the soldier kneeling fire is the one of the most popular and famous one in Pit 2.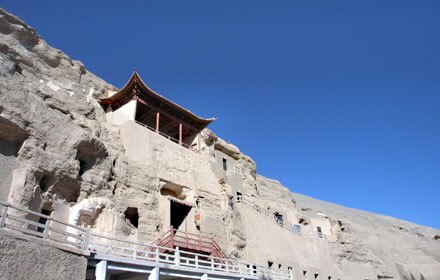 Rated as #1 among all 314 Dunhuang attractions on Tripadvisor, Mogao Caves (莫高窟) is absolutely a must-visit site when traveling on the Silk Road. It is also called as Mogao Grottoes, located in the Gobi Desert of Gansu Province. The Thousand Buddhas featured beautiful wall fresco paintings and over 3,000 sculptures traced back to 4th to 14th century.
Most of the caves are masterpieces. Even visitors know nothing about the history, the beauty and elegance of the paintings and sculptures are great marvels. If being with a guide who knows the history, culture and stories of the caves well will be absolutely a fascinating experience.
Mogao Caves is also rated as the most valuable discovery in 20 century. Standing in the caves, visitors will find everywhere is painted Buddhas, fairies and dance operas, telling various stories. In the caves one can also see a sitting Buddha with 33 meters tall and a small Bodhisattva with only about 10 cm tall.
Usually travelers visit the 10 caves or so in a whole morning. From 2014 the caves are no longer available to the public to protect them from being further damage. Instead, visitors will see the digital display which is exactly looking the same as those real caves.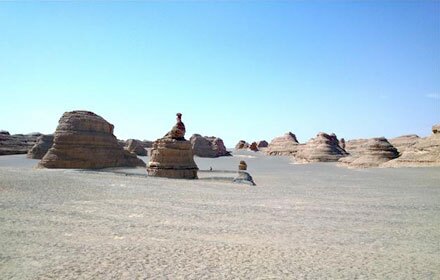 Dunhuang Yardang National Geopark
Dunhuang Yardang National Geopark (敦煌雅丹国家地质公园) is an area presenting the Yardang geological feature. It is located around 180 km northwest of Dunhuang, Gansu Province, covering 398 square km. The formation has developed over 700,000 years.
The area is also known as Ghost City (魔鬼城) since some parts of the area looks like ancient castles, especially Aisikexiaer Castel, which means only city in the Uyghur language. It is the biggest natural landmark along the ancient Silk Road and now the most special and amazing site when traveling on the Silk Road. Meanwhile it is the largest Yardang formation in China.
Yardang is a kind of land formation, which is a typical wind erosion landform. Yardang is Uyghur language, referring to steep hills. Several big deserts in the world form Yardang land formation, including Que Tunisia Stan desert and Mojave, but Dunhuang Yardang National Geopark is the most famous and typical one. Renown uniquely-shaped spots in the area includes "Mongolian Bao", "Camel","Stone Bird", "Peacock", "The Golden Lion Welcoming His Guests" etc.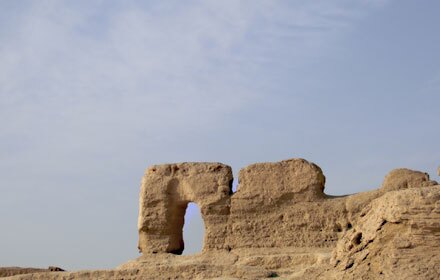 Jiaohe Ancient City (交河故城) in Turpan is one of the most famous historical heritages along Silk Road, about 13 west of Turpan City. Once as the capital city of Jushi State, it is the largest and oldest earth building ancient city which has been best preserved through the centuries. The city was established at the Western Han Dynasty (B.C 206-A.D 9) and was destroyed in the war during 14th century.
The city saw its prosperity in the Tang Dynasty (618-907). During the Tang Dynasty the highest military official office was once set in the city. Now the city has been renowned as the most beautiful ruins in the world.
Looking down from a higher place, the city looks like a large willow leave. Most buildings in the city are preserved well since the Tang Dynasty as the dry weather in Turpan. They are mainly divided into temple area, residential area and official area, which can be seen clearly even now.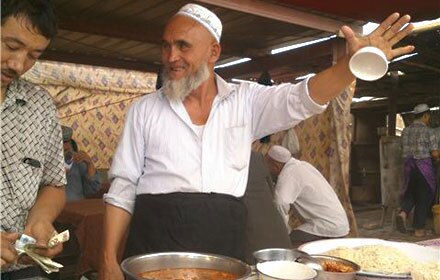 The best place to experience authentic culture of Uygur minority is visiting a grand bazaar (大巴扎). Bazaar refers to market in Uygur language. As the major conjunction place of ancient Silk Road, there are bazaars everywhere in Kashgar from busy city to remote country areas. However, the most famous one is located in the east bank of Turmen River in Kashgar City, which is also the biggest international trade market in western China.
This Grand Bazaar has gone through over 2,000 years and has been known as the biggest market in Asia in the ancient times. There are more than 5,000 stalls with almost 10,000 goods on sale. More than 100,000 people go there every day. Commodities include Xinjiang local products like hand-made crafts, melons and vegetables, living stocks and other things from countries bordering Kashgar.
Before 1992, bazaar was only available on Sunday and sometimes it is also called Sunday Market. Now the bazaar open every day but Sunday is the best time to experience a real bazaar.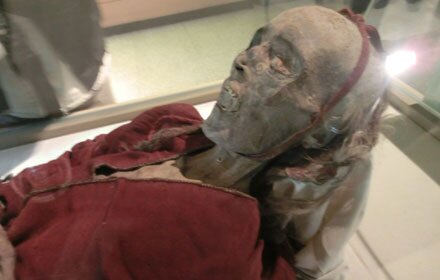 Xinjiang Uygur Autonomous Region Museum
No matter how many museums you have been visited, Xinjiang Uygur Autonomous Region Museum (新疆维吾尔自治区博物馆) is still worth visiting. It exhibits collections of relics and crafts from over 12 ethnic minorities, such as Mongolian minority and Kazakstan minority.
The interior is a very dramatic and atmospheric space to experience the past of Xinjiang and its mysteries. The highlight is an array of mummies discovered in the buried cities of the Taklamakan. Visiting these well preserved mummies including a 4000 year-old beauty of Loulan is really an awesome part. All the collections are labeled in English and clear explanation. Make sure you stop to visit this museum when taking the Silk Road Travel.
Useful Tips and Silk Road Adventure Story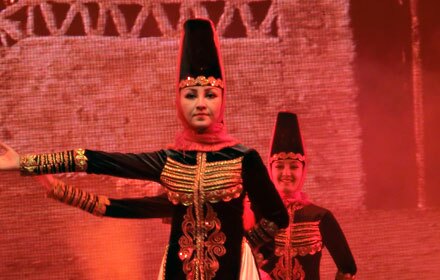 Useful Tips
Best travel time of the Silk Road is autumn. It is comfortable in weather-wise and delicious in food-wise. However, try to avoid the vacation of National Day (1st to 5th October) when streets are clogged with people. The Korban Festival (古尔邦节,New Year for the Muslims), falling in the middle or late October, is not suitable, neither because most shops and restaurants in Xinjiang are closed down for holiday break.
Most parts of the Silk Road, like Dunhuang, Turpan and Urumqi, have rapid temperature changes within one day, an overcoat and some shirts must be packed in your luggage. Hat, sunglasses, facial mask and long scarfs are necessary for visits to the deserts.
Safety along the Silk Road is good in general. In Shaanxi and Gansu, one can get around easily and freely. But some parts of Xinjiang require certain permits.
Religious and lifestyle watch-outs include: in Buddhist temples, female travelers shall not talk or touch the monks; no patting on the head and shoulders of monks; dressed properly to enter the temples. In Xinjiang or other Muslim inhabitations: not to drink wine or ask for pork; No talking while a Muslim is praying. No stepping on the prayer mats inside a mosque or house; Not to hug or pat the children; On shall break the Naan breads instead chewing up in whole; It is rude to haggle for prices but not buying at a bazaar.
Service and sanitary standards are below average bars in Xinjiang. A set of chopsticks or fork can help you avoid the questionable tableware.
Time difference between Beijing and Urumqi is two hours. But people here still live around the Beijing clock. So most shops are open when your watch reaches 10AM (thus 8AM for Urumqi).
Services of the hotels and restaurants in Xinjiang cannot be compared to Beijing, Xi'an or Shanghai. Keeping your hopes down is a good way to save some disappointment. When you are told to stay in a 5-star hotel, prepare yourself with 4-star services and rooms.
If your Silk Road trip stretches to Kashgar, you can skip the bazaar in Urumqi because the one in Kashgar is more bustling and authentic. An livestock market is added to for Sundays.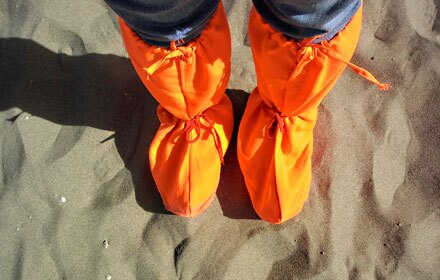 Silk Road Adventure Story
Silk Road is referred to a series of commercial and cultural transmission routes from China to the Mediterranean Sea. The name came from the lucrative trade of Chinese silk. However, the route is not as smooth or radiant as the silk. On the contrary, it was once considered to be one of the straining routes.
Today, you can cover the trip by plane or car, which is a lot easier than riding on a camel in the past. However, train is still the prime choice for a real adventure.
I am not a history buff; however, an adventure to the west of China has been alluring me for a long time. Different from previous traveling-alone trips, I learnt that a tour guide in some parts seems quite necessary. That is why I joined a group tour.

My 10-day itinerary is like this: Xi'an – Tianshui – Jiayuguan – Dunhuang – Turpan – Urumqi – Xi'an. Half of the trip will be done by train and local tour guides will be with us in most destinations.
Departure in the early autumn, I packed up what I thought was essential: one heavy overcoat, three shirts, and two pairs of jeans, a hat, sunglasses, sun block, face mask, camera and a pair of chopsticks (which turned out very important in Xinjiang).
Some days before the departure, I was busy reading about the Silk Road and attractions dotting the route. I had a strong feeling that this is going to be a trip of a lifetime.
For details about the following 10 days Silk Road Trip, click a Silk Road Travelouge.
Recommended Silk Road Adventure Tours
Luxury Shangri-la Express Tours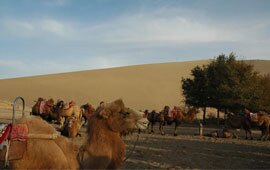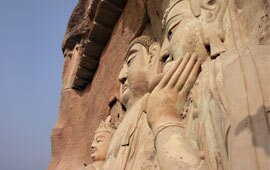 Destination: Urumqi → Turpan → Dunhuang → Tianshui → Jiayuguan →Tianshui → Xian → Luoyang→ Beijing
Price: from $ 2,499 p/p, based on 4 people in Twin-bed Room