2015 Tibeten New Year
Losar

Tibetan New Year in 2015 begins on February 19 and will last over a period of 15 days.
The Tibetan New Year, also known as Losar, is a traditional and the most significant festival in Tibet. From middle of the 12th month of Tibetan Calender, Tibetan start to prepare Losar. Offerings, air dry and fresh beef and mutton, butter, highland barley should be prepared for Losar to worship and eat. There are a large number of customs in Losar, like pay Losar calls, eat Gutu, shave hair and so on. Losar celebrations are combine religious atmosphere and prayers with special foods and celebrations.
The Tibetan calendar consists of twelve lunar months, and Losar begins on the first day of the first Tibetan month. However, in Tibetan-Buddhist monasteries, the celebrations for Losar begin on the twenty-ninth day of the twelfth Tibetan month. That is the day before Losar's Eve. On that day, monasteries do a special kind of ritual in preparation for the Losar celebrations. Also on that day, people make a special kind of noodle called Gutu made of nine different ingredients, including dried cheese and various grains.
In addition, people place various ingredients such as chilies, salt, wool, rice and coal inside dough balls. The ingredients that one finds hidden in one's dough ball are supposed to be a lighthearted comment on one's character, in the spirit of a Chinese fortune cookie.
Losar Greetings
Tashi Delek - Gook luck and happiness to you!
Luo SangEr let - Happy New Year
Tashi Delek Pongsong Cuo - Good luck and happiness to old man.
Ama Bazhu Kangsum - Wish lady host healthy in New Year.
Dingduo Derwa Tubasho - Wish you a happy and prosperous New Year.
Nanyang Zongju Yubasho - Hope we can get together next year.
Sha Puda - Cheers!
The Origin of Losar
Losar is composed of two characters: Lo, which means "year"; and Sar, which means "new". The celebration of Losar can be traced back to Tibet's pre-Buddhist period. At that time, Tibetans were followers of the Bon religion, and held a spiritual ceremony every winter. During the Bon celebrations, people would burn large quantities of incense on a certain day of the year (not on the lunar new year, as it was not in vogue in Tibet at that time) in order to appease local spirits, deities and protectors.
When Buddhism arrived in Tibet, the older "heathen" ceremony of Bon was simply incorporated into the Buddhist tradition of Tibet, becoming the Buddhist Losar festival. The Buddhist Losar festival originated during the reign of Pude Gungyal, the ninth King of Tibet. 
Tailor-make a trip to Tibet
With rich travel service experience, China Travel is specialized in Group Tours with Solo Adventure. We offer free consultative service. If you want to visit Tibet , China Travel also can tailor-make a tour including Tibet, which can save your time, money, and trouble. Please feel free to tell us your tour ideas! >> Tailor-make Now! 
Recommended Tibet Tours: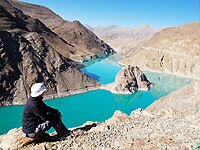 6-Day Discover Tibet from Hong Kong
from USD $ 979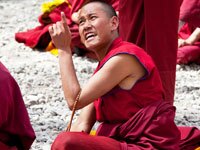 7-Day Highlights of Chengdu and Lhasa
from USD $ 2,359
16-Day Memories of China with Yangtze Cruise & Tibet
from USD $ 3,659