Top Things to Do in Harbin
Know More about Harbin!

A chill city gets less love from people. However, Harbin attracts many visitors to come to see its ice sculptures and feel its unique culture which combines Chinese and Russian culture. It is romantic that a city is full of snow and ice and enjoys a history and a special culture. Harbin is this kind of city that people cannot help fall in love with this purity and beauty.
What to see in Harbin?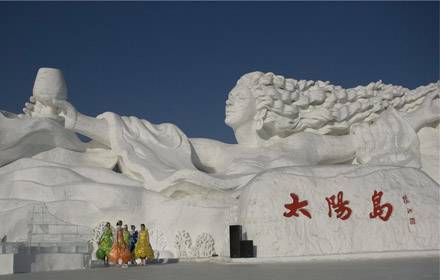 Sun Island ( Taiyang Dao)
Taiyang Island is besieged by water. The scenery on the island is original. Four seasons are distinct on Taiyang Island. In spring, flowers blossom, birds fly and rivers take off white ice coat. In summer, the fragrance of flowers spread, grass and trees turn green and rivers flow vividly. Visitors to Sun Island increase day by day. In autumn, leaves of some kinds of trees turn golden. Maple leaves turn red and pines and cypresses are still green. When visitors set foot on this island, they find themselves in a colorful heaven. In winter, snow starts dancing. Everywhere becomes white and rivers take on their beautiful white coat to compete which river is the   prettiest one.
Address: Sun Island Scenic Area, No.3, Jingbei Road
地址:哈尔滨市松北区警备路3号
Admission fee: 50 yuan
Opening Hours: 8:00-17:00
Getting there: 1. Take ferry at Flood Prevention Cenotaph square, Daowai Qidao Street, Jiuzhan or Tongjiang Street ferry station to take ferry across Songhua river to Taiyang Dao. The ferry fee is about 2 yuan and it is the cheapest way to Taiyang Dao. However, it stops shipping service from the late November to the early April in the following year.
2. Tourists can take No. 13, 80, 88, 119, 125, 126, 29 to the area. Besides, the shuttle bus No. 29 at Flood Prevention Cenotaph station on Youyi Road can get to the area directly. Every half an hour, there is a No.29 bus.
3. Take cable at No. 218 Tongjiang Street to the Sun Island scenic area. A single cable ticket costs 50 yuan per person and a round trip cable ticket costs 80 yuan per person.
Recommended Sun Island Tour:
Take a 3 Day Harbin's Ice Wonderland Tour from USD $409 p/p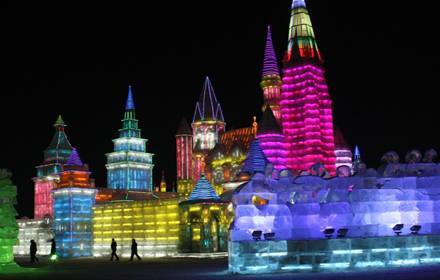 Harbin Ice and Snow Amusement World
Ice and Snow World is the essence of ice and snow art in Harbin. The night scene and sunset scene are more beautiful than day scene. The mild light of sunset shining on sculptures makes them vivid. Visitors will see the highest, the prettiest, the most magnificent and the grandest ice art. There are about 30 activities in the park like ice bar, climbing ice rock, ice hotel, football on ice and so on. 
Address: North bank of Songhua River, Songbei District, Harbin 150000, China
地址:哈尔滨松北区松花江北岸
Admission fee:
(9:00-12:00) Adult's ticket: 150 yuan;: child over 1.2 meters and student's ticket: 120 yuan
(12:00-21:00)Adult's ticket: 300 yuan, child over 1.2 meters and student's tickets:160 yuan per person.
On New Year holiday, Spring Festival holiday and the 15th day of the first Chinese month:330 yuan per person.
Visitors over 70 years old and children under 1.2 meters: free
Every year, the ticket price adjusts a little.
Opening Hours: 9:00-21:00 from late December to the February of the following year
Getting there: taking bus No.126 at Flood Prevention Cenotaph Station on Youyi Road and getting off at Ice and Snow World Station, visitors can get to Ice and Snow World. It takes about 40 minutes' drive. Besides, visitors can bus No. 88, 119 and 125 and get off at Ice and Snow World Station as well.
Take taxi from Central Pedestrian Street to this world costs about 25 yuan.
Tips: After entering Ice and Snow world, keep the ticket. Visitors will use the ticket when they want to enjoy items. Some items may need some deposit.
Take on enough clothes and bring warm drinking water.
Recommended visiting hours: 3 hours
Recommended Harbin Ice and Snow Amusement World Tour: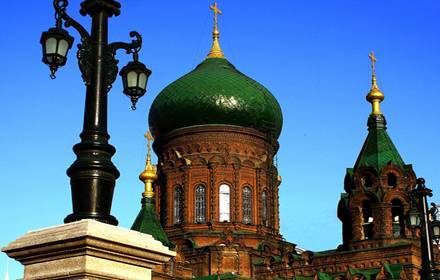 Sophia Square
There are many pigeon walking on the square of fly above the square and music fountains on the square as well. St. Sophia Cathedralis located on Sophia Square, which is one of the grandest constructions in Harbin. It is the biggest orthodox cathedral in China. This was built in a typical Byzantine architecture style. Covering 721 square kilometers, it was built in 1903 with 53.35 meters high. Suffering rain and frost for almost 100 years, St. Sophia Cathedral was restored and has been named Municipal Architecture Art Museum in 1997. There are 4 doors to enter in or come out. The walls were built by red bricks. The top of the cathedral is vault.
Address: Sophia Square, South Bank of the Songhua River, Daoli District, Harbin 150000, China
地址:黑龙江省哈尔滨市道里区透笼街88号
Admission fee: 20 yuan
Opening Hours: 08:00~18:00
Tel: 0451-84686904
Getting there: take No. 1, 2, 13, 15, 64, 66 and 113 to Hayibai or the Fashion Mall.
Tips: Battery is easily used up in the cool place.
We can customize a Harbin tour including Sophia Square to you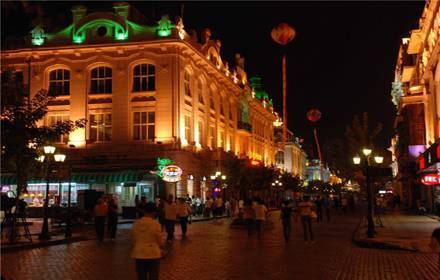 Central Pedestrian Street
Central Street was built in 1900. It is still one of major business streets in Harbin. Xinyang square and Flood Prevention Cenotaph square by the Songhua River are 2 ends of this street. The road on this street is paved by square bricks with 1450 meters long and 21.34 meters wide. This is the longest pedestrian street in Asia. There are a lot of department stores, fashion shops and featured restaurants along 2 sides of this street. The buildings on the two sides of the street are in all European styles like Renaissance architecture style, Baroque architecture style, eclecticism and so on. There are always a lot of people on the street to tour or shop.
Add: Daoli District, Harbin 150000, China
地址:黑龙江省哈尔滨市中央大街
Admission fee: free
Opening Hours: All days
Getting there: Take Bus No. 1, 2, 8, 12, 13, 15, 16, 20, 23, 64, 85, 101, 102, 103, 113, or 114, and, depending on different bus No., the station you are looking for is either Central Street or Youyi Road.
Tips: The best seasons to visit the street are September and October.
Recommended Central Pedestrian Street Tour:

What to eat in Harbin?

Daowai Sandao Street
Mentioning featured food in Harbin, lots of people will recommend the snacks in Sandao Street. This street enjoys a hundred years history. There are many renowned vintage restaurants on this 500 hundred meters street like Beishang Restaurant and Qi Mei Wei. On this street, visitors can have a taste of Harbin dumplings, braised pig and so on.
Add: ZhongYang Main Street 89, MaDieEr Hotel, Harbin, China 
地址:黑龙江省哈尔滨市中央大街89号马迭尔宾馆
Tel: 0451-84884000; 0451-84884312; 15004699707
Openning Hours: 08:00-18:00 daily
Price range: 10 yuan per person
Getting there: it is on the Central Pedestrian Street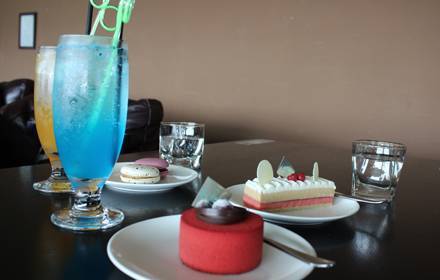 Ma Dieer Office Of Cold Drinks (马迭尔冷饮厅)
Recommended: ice cream; yogurt; bread; fried chicken; Creamy vanilla ice-cream and Ma Dieer ice cream.
It is one of the most famous eating places in Harbin. Many people including Western people and Chinese people say this place sells the best ice cream in this city. Snacks in this place are cheap and yummy. Sometimes, there are many people waiting outside of doors just want to buy one ice cream.

Add: ZhongYang Main Street 89, MaDieEr Hotel, Harbin, China 
地址:黑龙江省哈尔滨市中央大街89号马迭尔宾馆
Tel: 0451-84884000; 0451-84884312; 15004699707
Openning Hours: 08:00-18:00 daily
Price range: 10 yuan per person
Getting there: it is on the Central Pedestrian Street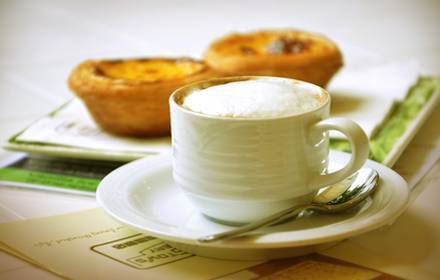 Hamamas Kofi Haus(快乐窗咖啡屋)
This coffee shop serves high quality food, deserts and drinking with fair price. Hamamas is small but it gives people warm feeling and always full of people. The atmosphere is very relaxed here. If visitors miss western food, they can go to this place to find home feeling.
Recommended: carrot cake; cheese cake; Pineapple chicken burger; ice lemon juice; Cinnamon apple tea and coffee

Add: Room 104 No.2 Mugong Street Nangang District, Harbin, China
地址:黑龙江省哈尔滨市南岗区木工街2号104室
Tel: 0451-88581660; 18245177637
Openning Hours: 9:00-20:00 (closed on Sunday)
Price range: 50 yuan per person
Getting there: take bus No. 83, 112, 64 or 89 to Jiaohua square Station or Harbin Institute of Technology Station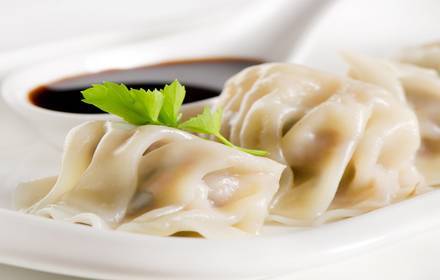 King Of Oriental Dumplings (Sofia) 东方饺子王(索菲亚店)
In this place, visitors can see how workers make dumplings. The serves here are very good and place is very clean. King of Oriental Dumplings is a chain store. There are many different dumpling flavors. Many other dishes on the menu are good as well.
Recommended: dumplings; beef; mushroom soup; fish; cold noodle salad.

Add: ZhaoLin Street 64, Harbin, China
地址:黑龙江省哈尔滨市兆麟街64号
Tel: 0451-87685577 and 0451-87685677
Openning Hours: 10:00-21:30
Price range: 35 yuan per person
Getting there: take bus No. 106, 116, 102 and 13 to Municipal bank Station or Hayibai Station. The King of Oriental Dumplings (Sofia) is nearby
Where to buy in Harbin?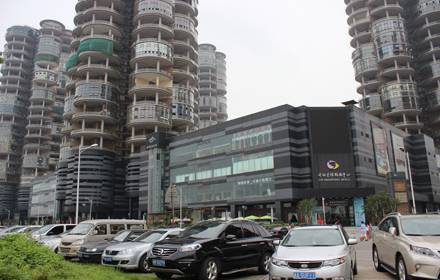 Jinan international Shopping Plaza金安国际购物广场
This shopping Plaza is in the center of the Central Pedestrian Street. Goods price in there is fair.
Address: ZhongYangDaJie 69Hao JinAn GuoJi GouWuGuangChang Jin ZhongYang ShangCheng, Harbin, China
地址:黑龙江省哈尔滨市中央大街69号金安国际购物广场(近中央商城)
Opening Hours: 10:00 - 21:00
Getting there: Jinan international Shopping Plaza is in the middle of Central Pedestrian Street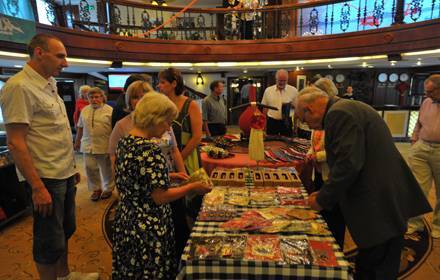 Parkson Shopping Center (central street)
Goods price in here is fair. Visitors can find almost all famous comestic brands in this center.
Opening Hours: 10:00 - 21:00
Getting there: this place is in the north end of Central Pedestrian Street and near Flood Control Monument Tower.
Add: ZhongYangDaJie 222Hao Jin YouYiLu, Harbin, China
地址:黑龙江省哈尔滨市中央大街222号(近友谊路)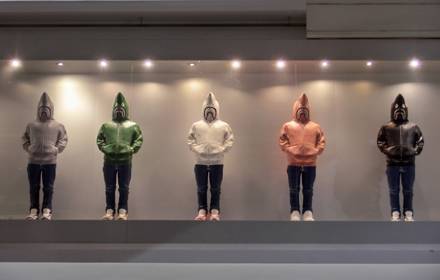 Guogeli Dajie (Gogol Street)
Guogeli Dajie (Gogol Street) was built in 1901 with a history of more than 100 years. It is located in the center of Nangang District. Started from south of Cheong Street and ended from north of Cayman Street, this street is 2642 meters long in total. This area around is dotted with Russian buildings and huge shopping malls. It was original a non-government trading street for Russian goods, so Russian styles could be seen at almost everywhere. The goods there are various and most of them are of high quality and famous brands.
Address: Gogol Street, Nangang District, Harbin,15000
地址:黑龙江省哈尔滨市南岗区,150000
Opening Hours: Shops on this street often open from 10:00 to 21:00
Getting there: Take bus No.14, 2, 21 and 103 to the Museum Station or Qiulin Station and then walk towards northeast along East Straight Avenue for about 150 meters to 500 meters, visitors can get to Gogol Street.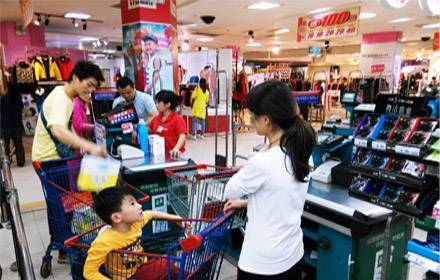 Underground Shopping Mall of Golden Street
Underground shopping mall of Golden Street is a comprehensive shopping mall with integration of different functions including shopping, touring and catering. Its total building area is about 15,000 square meters with two floors and is separated into a fast food restaurant and 6 business halls. These 6 business halls mainly sell all kinds of clothes at every range coming from Korea, Japan, America, Italy, France, Hong Kong, Taiwan, Shanghai and Guangdong and so on. The goods there always lead the consumption trend of Harbin city. This street builds a good identity in local people's hearts. And it has been bright scenery of Harbin.
Location: Near Gogol Street, Nangang District, Harbin
地址:哈尔滨市南岗区果戈里大街361附近
Getting there: take bus No. 21, 64, 14, 2, 21and 103 to Museum Station and then walk towards northwest for about 500 meter along Gogol Avenue.
Opening Hours: 10: 00-18:00
Tailor-make a Trip to Harbin
If you want to visit these attractions above or any other places you are interested in within China, China Travel can tailor-make a tour based on your own needs and requirements, which will save your time, money, and troubles. Please feel free to contact us and tell us your tour ideas.
Recommended Tours to Harbin