Top 7 Things to Do in Lijiang
Lijiang lies in the northwest of Yunnan Province and is listed as one of the four best preserved ancient cities in China. There are twelve minority ethnic groups living in Lijiang, presenting unique charms of colorful multi-ethnic culture and long history. Don't miss the following 7 things if you're about to explore this mysterious ancient city.
1. Go on a Hike along Tiger Leaping Gorge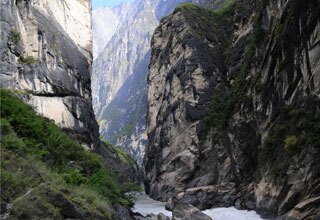 Admission: 65 RMB
Opening hours: 07:30-16:30 from April to October, 8:00-16:00 for the rest time of the year.
Getting there: Take one of two shuttle buses running between Lijiang Bus Station and Hutiaoxia Town (虎跳峡镇), and then walk in the direction of Qiaotou (桥头) Town to enter the gorge.
Carefree tour with us: Tiger Leaping Gorge Hiking Tour
With a maximum depth of 3,900 meters from river to mountain peaks, Tiger Leaping Gorge is one of the deepest river canyons in the world. Trekking along the gorge, travelers can see the fabulous views of the gorge, roaring water and snow mountains.
The gorge is formed by the narrowing of the fast-flowing Jinsha River (the upper stretches of the Yangtze River) as it is forced between the 5,596-meter Jade Dragon Snow Mountain and the 5,396-meter Haba Snow Mountain. A story goes that a fierce tiger could easily leap the gorge while being hunted down the mountain and thus the name - Tiger Leaping Gorge.
2. Climb Jade Dragon Snow Mountain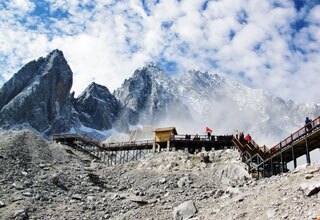 Jade Dragon Snow Mountain
Admission: 130 MRB, cable car cost extra.
Opening hours: 09:00-18:00
Getting there: There's a bus running from Lijiang Old Town to Ganhaizi "甘海子" (tourist center of the mountain), which leaves for 9am and comes back at 5pm.
Must-visit attractions in the area: Ganhaizi, Glacier Park, Spruce Meadow, Blue Moon Valley, Lijiang Impression Show
Carefree tour with us: 1-Day Lijiang Discovery Tour
Jade Dragon Snow Mountain is the southernmost snow mountain in the Northern Hemisphere. The continuous 13 peaks make the mountain look like a giant jade dragon. The views of the mountain vary with seasons and different weather. Some days the snow-capped peaks peep out of the clouds like a shy young lady while on clear sunny days they shine like a dazzling crystal.
3. Leisurely Tour Around the Pretty Lugu Lake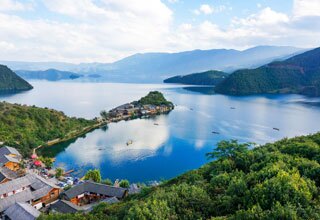 Add: Lugu Lake, Yongning Town, Ninglang County, Lijiang, Yunnan
Admission: 100 RMB
Opening hours: 8:00-18:00
Getting there: Take a bus from Lijiang Coach Station to Da Luoshui (大洛水) Village for about 4 hours.
Carefree tour with us: The lake is incredibly gorgeous however the transportation to and around the lake is bad and unfriendly for visitors. Contact us and we can create a carefree one-stop Lugu Lake tour for you.
Lugu Lake, known as the mother lake by the local Mosuo People, is surrounded by mountains and high hills and can expect snow for three months of the year. It is a rare unpolluted lake in the country: hardly touched surroundings, crystal clear water, clean air, fresh breeze and charming scenery- making the area a real wonderland.
The lake goes with an interesting "Kingdom of Women" culture, because the mysterious Mosuo people formed a matriarchal society here in ancient times. Today the "Walking Marriage Bridge" on the lake becomes an important symbol of this unique custom.
4. Walk Around Lijiang Old Town Day and Night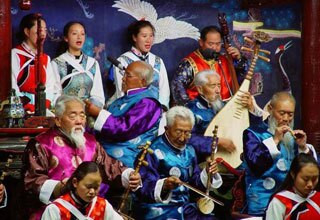 Naxi Ancient Music Concert
Admission: 80 RMB/person for the maintenance fee of the ancient city
Opening hours: 24/7, usually active at night
Getting there: take bus nos. 2 or 13 and get off at the parking lot of the ancient town, or take bus nos. 2, 3, or 12 to Nanmenjie (南门街) Station.
Carefree tour with us: Half Day Classical Lijiang Tour
Lijiang Old Town (also called Dayan Ancient Town), included on the UNESCO World Cultural Heritage List, is an ancient district of Lijiang City. The town is full of old wooden houses and criss-cross antique stone alleys, against a stunning backdrop of mountains and plateau. What makes the place unique, however, is its local ethnic culture. It gathers a variety of ethnic customs and entertainment activities, Naxi Ancient Music, Dongba Ceremony, Divination Culture and Naxi Torch Festival.
The best time to walk around the old town is during weekdays' mornings, when it is quiet and not crowded. Don't miss the landmark here, Mufu Palace (木府), which was the official residence of Lijiang ruler in ancient times. Regarded as the mini Forbidden City, it is a large complex mansion integrating the architecture style of the Han, Bai and Naxi people in 13th century.
5. Relax at Shuhe Ancient Town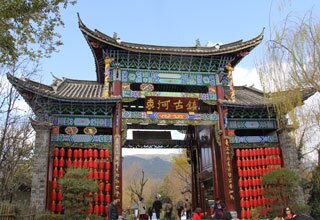 Admission: 80 RMB/person for the maintenance fee of the ancient city
Opening hours: 24/7, usually active at night
Getting there: take bus nos. 2 or 13 and get off at the parking lot of the ancient town, or take bus nos. 2, 3, or 12 to Nanmenjie (南门街) Station.
Some may love the well-developed Dayan and enjoy a bustling night there, while some prefer the quiet Shuhe and its slow life. Shuhe is smaller but quainter than Lijiang (Dayan) Old Town, but compared with Baisha, it maybe more touristy. You can casually stroll around the rock pavements, hit or miss an obscure café and try some local snacks at a small restaurant.
6. See Lijiang Murals in Baisha Ancient Town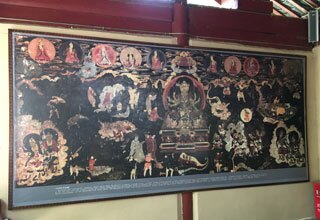 Admission: free, but 30 RMB/person for the murals
Opening hours: 24/7, usually active during 11:00-15:00
Getting there: take bus no. 6 to Baisha, or ride a rented bike from Lijiang Old Town to Baisha.
Carefree tour with us: Please feel free to create your Lijiang ancient town tour with us.
Baisha Ancient Town was the earliest settlement for the Naxi people in Lijiang and original home town of the Mu family, who later moved to Lijiang Old Town and became rulers of Lijiang during 13th to 18th centuries.
Retaining the original Naxi culture, Baisha is the oldest and most primitive preserved in the three ancient towns of Lijiang (the other two are the aforementioned Dayan and Shuhe).
Today you can still see the real Naxi people wearing their own ethnic costumes and leisurely living in the small town, selling their handmade artifacts. The murals in Baisha, remarkable for distinctive painting style and historic value, are another highlight of the ancient town.
7. Enjoy Lijiang Impression Show with Snow-Capped Mountains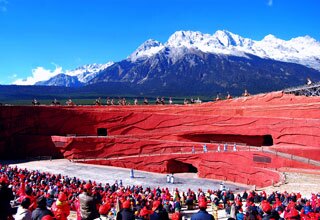 Show time: 11:00, 13:00
Ticket: 190 RMB/person for the general seats, 260 RMB for VIP
Getting there: take the tourist bus within the Jade Dragon Snow Mountain scenic area.
Lijiang Impression Show is performed in an open-air theatre in the Jade Dragon Snow Mountain scenic area. It was designed by the acclaimed film director Zhang Yimou, and the main director and staff are from the same group that presents the Impression Sanjie Liu in Yangshuo.
The show is presented during the daytime, with beautiful snow-capped mountains on the background and an altitude of over 3100 meters (10,170 ft). All 500 actors in the show are drawn from local villages. They represent 10 ethnic minorities with their unique and colorful costumes and depict the Lijiang way of life.
Experience Lijiang Your Way with Us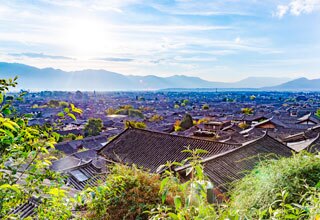 Do you want to take a trip to and around Lijiang? China Travel can tailor-make a Lijiang tour for you based on your needs and requirements which can save you time, money, and trouble. Below are three sample itineraries:
For an authentic travel experience, contact one of our travel advisors. Our local experts are always ready to create a hassle-free tour for you.