Top 11 Things to Do in Xi'an
Shanghai illustrates the new China while Xi'an stands for China's long history. As the ancient capital of 13 dynasties, Xi'an has plenty of sights and interesting places which will unfold its history to travelers. If you are planning a once-in-a-lifetime travel to China, put Xi'an on your list, and if you are about to visit Xi'an, don't miss the following 11 things.
1. Admire the Marvelous Terracotta Army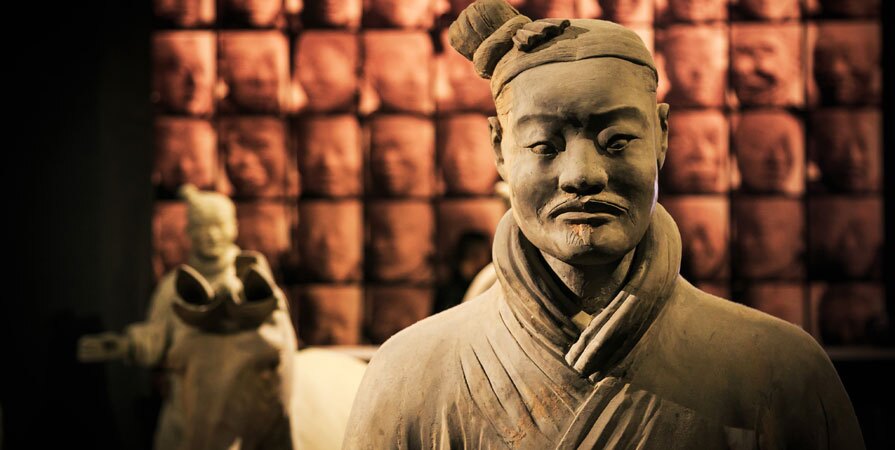 A terracotta warrior
The Terracotta Army, officially Emperor Qin's Mausoleum Site Museum, it is definitely top on the list of Xi'an travel. The thousands of terracotta warriors and horses were placed in three burial pits for Emperor Qin, the first emperor of China.
Pit #1 is the largest with an airplane-hangar-sized vault. The chariots and infantry warriors here were distributed to form the main force of the army. Pit #2 is smaller but with the greatest variety of warriors including archers, cavalry and charioteers, in a complex combat formation. Pit #3 is a command center with high-ranking officers.
Ticket: 120 RMB
Opening hours: 8:30-18:00 from March 16 to November 15 and 8:30-17:30 for the rest of the year. (Don't go on weekends and holidays or you'll find it overwhelmingly crowded.)
How to get there: take bus nos. Tourist 5 (306), 914, or 915 to the Bingmayong museum (兵马俑博物馆) station
Recommended tour: One-Day Xi'an Historical Tour
2. Take an Adventurous Trip to Mount Hua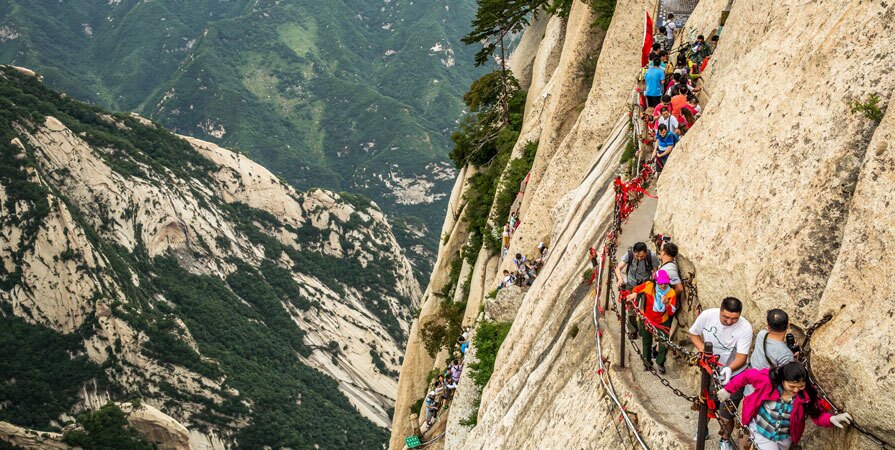 Hiking the Mount Hua
About 120 km (75 miles) from Xi'an, Mount Hua is well-known for its sheer cliffs and plunging ravines, considered to be the most dangerous mountain in China for trekking.
There are five major peaks in the mountain, respectively South Peak (the tallest, with a height of 2154.9 meters), East Peak (Sunrise Peak), West Peak (Lotus Flower Peak), North Peak (Cloud Terrace Peak), and Middle Peak (Jade Maiden Peak).
Ticket: 160 RMB from March to November; 100 RMB for the rest of the year. The entrance ticket is available for 2 days. Cable cars cost extra.
Opening hours: 7:00-19:00
How to get there from Xi'an: take the high-speed train from Xi'an North Railway Station to Huashan North (华山北) Railway Station, and then get to the mountain by tourist bus.
Recommended tour: One-Day Private Trip to Mount Huashan
3. Ride a Bike on the Ancient City Wall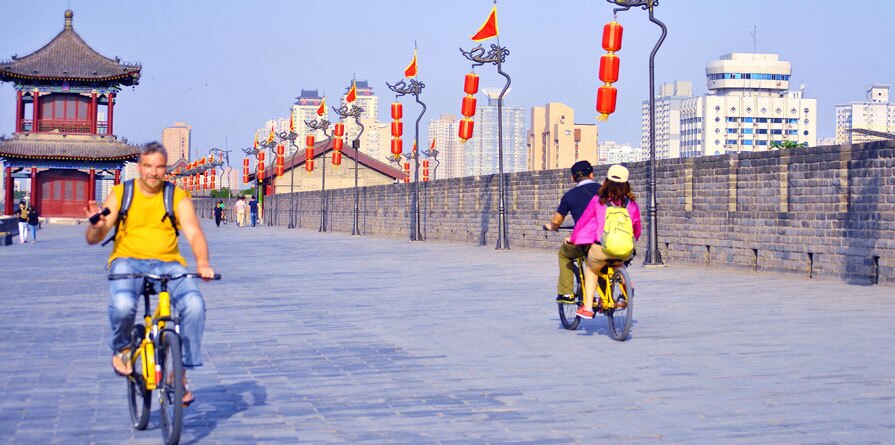 Biking on Xi'an City Wall
The City Wall in Xi'an was originally built in 1370 and after being restored, it is now the most well-preserved ancient city wall in China. This 13.7-kilometer long and 12-meter high wall surrounds the center of the city in a giant rectangle and provides vantage points to see the entire downtown city from a height.
The walls are very wide- 12 to 14 meters wide on the top, so renting a bike and riding on the City Wall could be safe, as well as  a highlight and cool experience. You may find it pretty bumpy when riding on the old original stones but it's lots of fun.
Ticket: 54 RMB, rented bicycles cost extra.
Opening hours: 8:00-22:00 (South Gate), 8:00-17:30 (Hanguang Gate), 8:00-18:00 (the rest gates)
Best time to visit: sunrise and sunset
How to get there: There are 8 gates to walk up the city wall and all can be reached by public transportation.
Recommended tour: One-Day Xi'an Highlights Tour
4. Explore Local Street Food at Muslim Quarter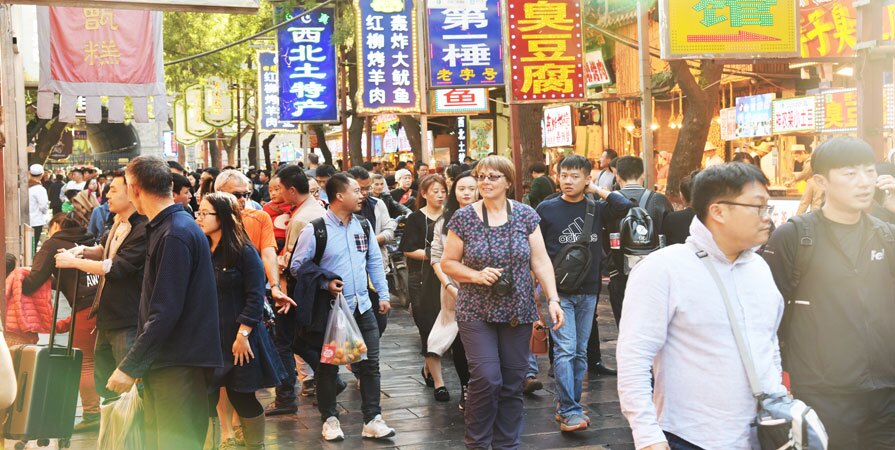 Muslim Quarter
Muslim Quarter, consisting of several streets, is a gathering place for the Hui people in Xi'an and famous for food culture. Various food stalls are lining the streets and you can find all the local food/snacks here. The must-tries includes Cold Noodles (Liangpi), Biangbiang Noodles, Bread and Mutton Soup (Paomo), and Chinese Hamburger (Roujiamo).
Ticket: free
Opening hours: 24/7, but usually active during 11:00-22:00
How to get there: get to Bell Tower station by metro line 2 or Bell Tower West station by bus nos. 618, 15 or 205.
Nearby attraction: Great Mosque of Xi'an, built in 1392, only 5 minutes' walking from Muslim Quarter.
Recommended tour: Create your Xi'an foodie tour with us and our experienced local guide will find you authentic Xi'an food.
5. Learn Chinese Anceint Culture at Shaanxi History Museum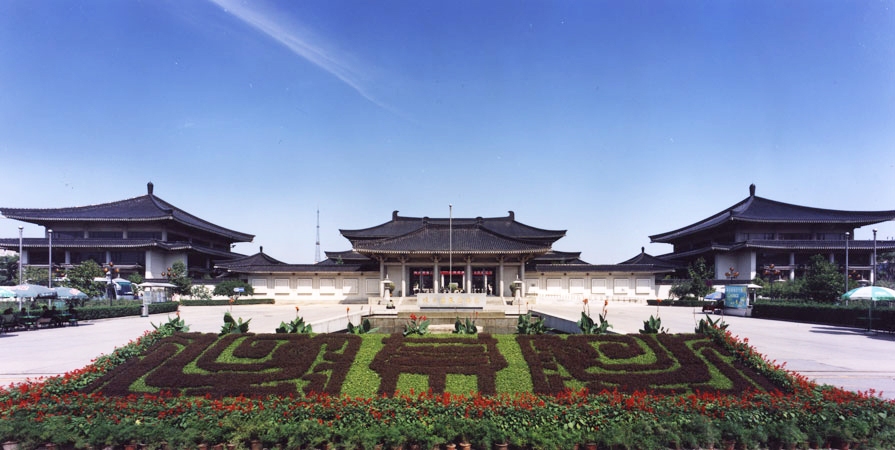 Shaanxi Historical Museum
Shaanxi History Museum is an excellent place to learn about early Chinese history. There are over 370,000 pieces of historical artefacts in the museum, mainly from 1100 BC to 907AD. Among them, the most precious collections include the bronzes, gold and silver ware, tomb murals and terracotta statues - each tells their own piece of history.
Ticket: free
Opening hours: 8:30-18:00 from 15 March to 14 November; 9:00-17:30 for the rest of the year. The museum is closed on Mondays and Chinese New Year's Eve. (Crowded on weekends and holidays.)
How to get there: take metro line 2 to Xiaozhai (小寨) station or bus nos. 5, 24, or 27 to the museum.
Recommended tour: 2-Day Xi'an Highlights Trip
6. Stroll Around the Big Wild Goose Pagoda and Its Beautiful Surroundings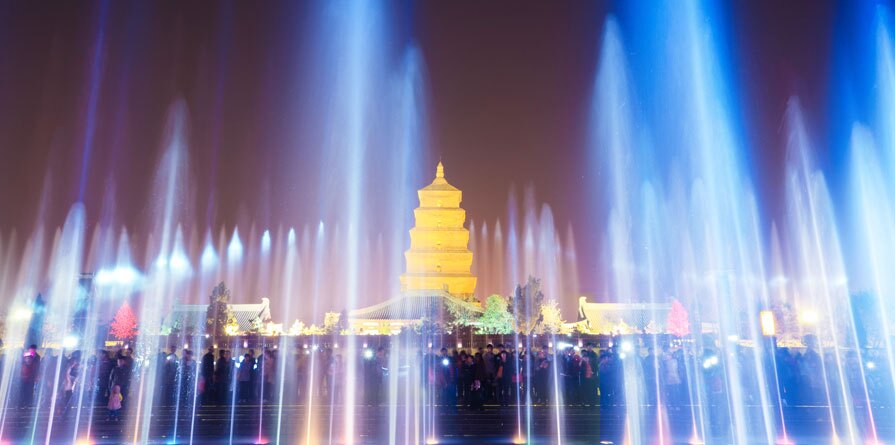 The musical fountain-lights show in front of the Giant Wild Goose Pagoda
Built in 652, the Big Wild Goose Pagoda was constructed to house Sanskrit Buddhist scriptures which Buddhist scholar Xuan Zang brought back from India. The top of the 7-story pagoda provides a good view of the city. Two hours would allow enough time for a good visit.
Behind the pagoda is a large musical fountain. With colorful lights enhancing the display, it is especially spectacular at night and has become one of the top places for locals and travelers to spend a summer evening. The fountain performs at 12:00 and 21:00 on weekdays, and every 2 hours from noon onwards on weekends and public holidays.
Ticket: 25 RMB in busy season (March to October); 20 RMB in off season (November to February)
Opening hours: 8:00-18:30 in busy season and 8:00-18:00 in off season
How to get there: get to Dayanta (大雁塔) station by bus or metro line 2.
Recommended tour: One-Day Xi'an Highlights Tour
7. View the Glorious Bell and Drum Towers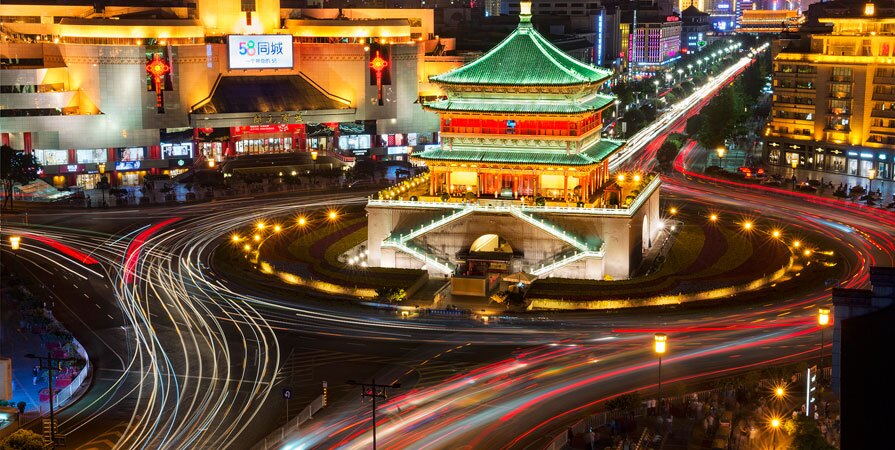 Bell Tower
The Bell and Drum Towers are two Ming Dynasty buildings (respectively built in 1384 and 1380) in the city center of Xian. A square connects the two towers together. When night falls, the lights of the fountain and Bell & Drum Towers make the place spectacular.
There is a famous and traditional custom here called "Morning Clock and Evening Drum": The clock in the Bell Tower strikes 24 times at 9:00 am, 12:00 and 15:00, while the Drum Tower has the largest drum in the world, which performs at 18:00 every day.
Ticket: 35 RMB for Bell Tower, 30 RMB for Drum Tower and 50 RMB for both.
Opening hours: 8:00-22:00 from 1 April to 25 October and 8:00-18:00 for the rest of the year.
How to get there: get to Bell Tower (钟楼) station by metro line 2 or bus.
Recommended tour: Contact us to add Bell & Drum Towers to your private Xi'an tour.
8. Watch the Tang Dynasty Show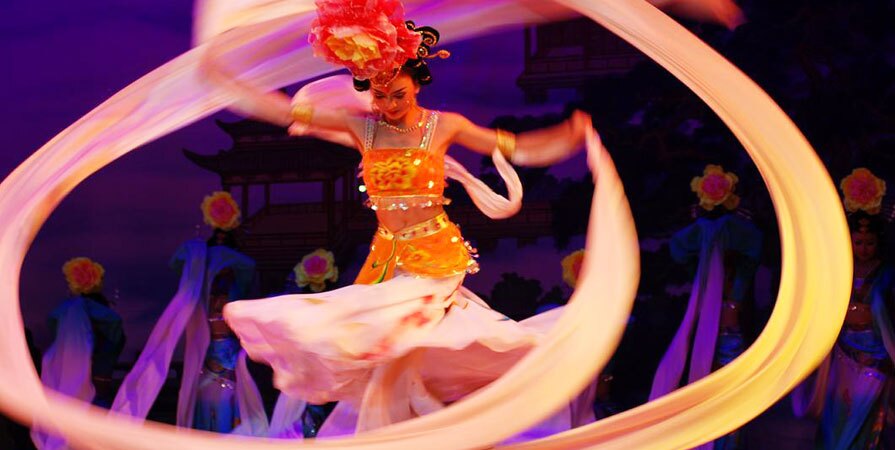 The dance performance at the Tang Dynasty
The Tang Dynasty Show provides a great opportunity for foreign travelers to get to know Xian culture. The show features music and dance of theTang dynasty (618-907) complete with authentic costumes. The show highlights the eight most popular dances depicting life from the period - the imperial palace, folk, spring outing, or battlefield. The cuisines of the dinner are all designed in an ancient Tang style.
Ticket: 220 RMB for the show and 550 RMB for the show plus the dinner.
Show time: 20:30-21:40 (The show time from December to neat year's March depends on the number of customers.)
Dinner time: 18:50-20:10
How to get there: get to Nanshaomen (南稍门) station by metro line 2 and then walk southwards for 500 meters.
Recommended tour: Imperial Banquet in Xi'an
9. Enjoy the Traditional Chinese Shadow Play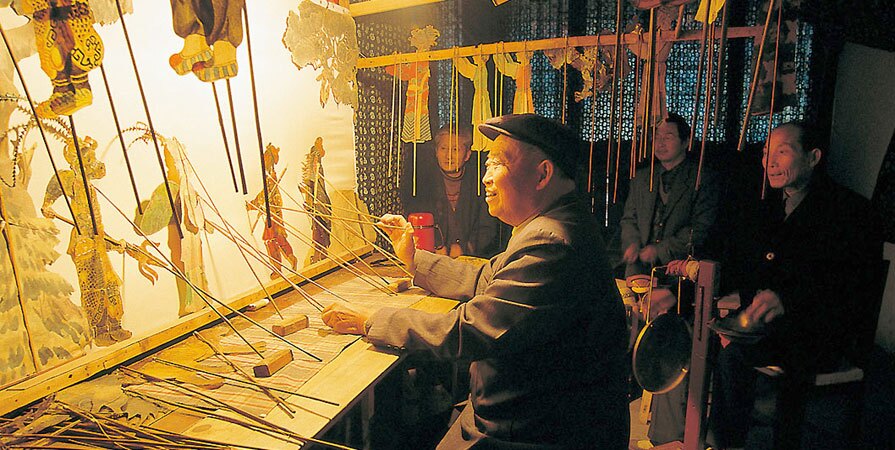 A folk articst is performing a shadow play show.
Shadow play, aka shadow puppetry, is an ancient folk drama in which flat puppets are used to perform stories. The puppets are manipulated by the folk artists and the performance is accompanied by Chinese instruments and story-telling. Visiting Gao's Grand Courtyard – a residence built in over 400 years ago, you can enjoy a shadow puppet show and learn Chinese paper-cutting there.
Ticket: entrance ticket- 15RMB; combo ticket for entrance and shadow play- 30 RMB; coupon ticket for entrance + paper-cutting + painting- 135RMB
Show time: 8:30 - 22:30 (The show starts every hour and lasts 15 minutes.)
Add: Gao's Grand Courtyard, #144, Huimin Street, Xi'an
How to get there: Take metro line 2 and get off at Bell Tower Station. Find the Drum Tower to the northwest of the Bell Tower and walk north to the Muslim Quarter through Beiyuanmen (北院门) Street. Walk around 5 minutes to find the courtyard on the west side of the street.
Recommended tour: Contact us to add shadow play to your itinerary.
10. Learn Calligraphy at Tangbo Art Museum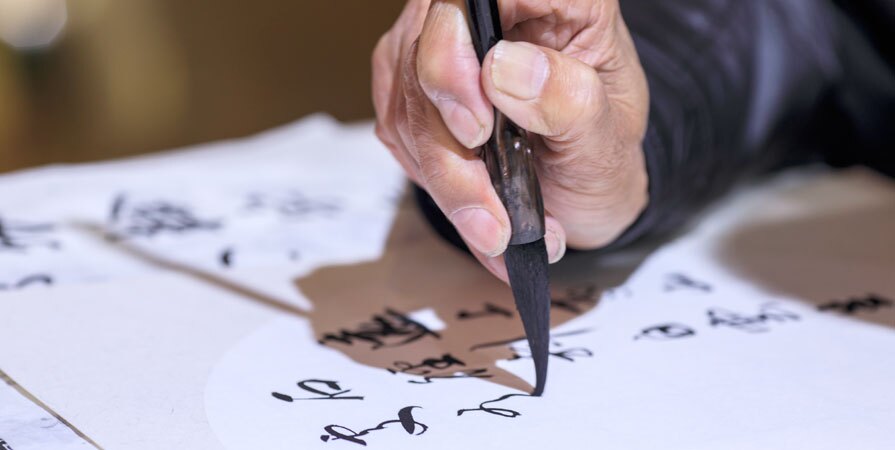 Writing Chinese by brush
Tangbo Art Museum is a heavenly place for art lovers as it displays representative local folk arts and ancient Chinese paintings. There, you can not only explore Chinese art history but you can also have a cultural lesson about holding a brush and painting on paper. The visit and the lesson together will last about 1.5 hours.
Ticket: 80RMB (including learning calligraphy)
Opening time: 9:00-16:00
Add: 26 S. Gong Yuan Road, Xi'an
How to get there: Take metro line 3 and get off at Yanxingmen (延兴门) station. take exit C and then turn left, walk about 650 meters and arrive the big crossroads with traffic signals – turn left, walk about 300 meters and arrive to Tangbo Art Museum.
Recommended tour: Contact us to add this activity to your itinerary.
11. Visit Cave Dwelling and Learn to Make Terracotta Warriors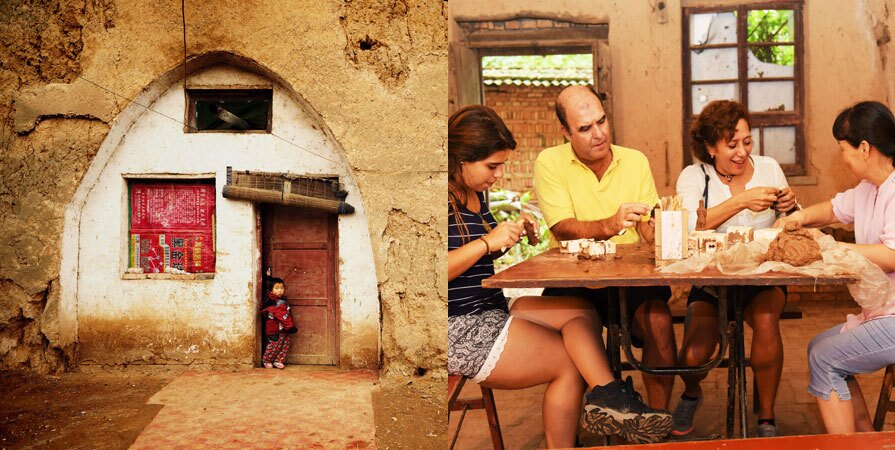 Making terracotta worriors at a cave house
Cave dwelling, Yaodong in Chinese, is a traditional house of the people living in altiplano in northwest China. It is significantly "dug-in" to the side of a mountain, making it an older cave-house; newer units tend to be more disengaged from the mountainside. Usually, one family unit consists of three arched openings, and the units are interconnected inside.
Following our local guide and visiting a cave dwelling family in the countryside, you can have a deep insight into this declining unique house and learn how to make terracotta warriors from a local workshop.
Opening time: Need to make an appointment.
Duration: about 1.5 hours for visiting and terracotta making.
Recommended tour: Contact our trip advisor to add this cave dwelling tour to your itinerary.
Experience Xi'an Your Way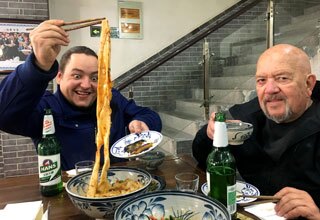 Once the starting point of the Ancient Silk Road leading to the West, Xi'an is one of the top four ancient capitals in the world (the other three are Cairo, Athens and Rome) and has been globally famous for its long history and rich historic attractions. To help you experience the city deeply and without worry, we've worked out several sample tours:
For an authentic travel experience, contact one of our travel advisors. Our local experts are always ready to create a hassle-free tour for you.