Huacheng Square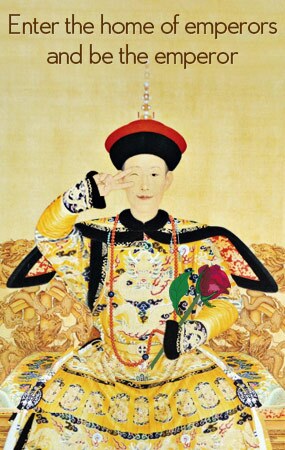 It is located in the CBD of Zhujiang New Town, is now the largest square and a famous sightseeing and shopping destination in Guangzhou. This square is 250 meters width, with a total area of around 560,000 square meters. Taking a stroll at the Huacheng Square one can appreciate the idyllic-like surroundings and the splendid and grand view of the Canton Tower that along the Pearl River.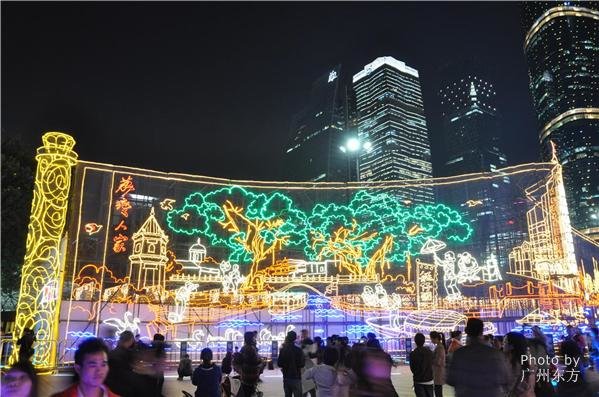 There are 39 architectural buildings like the Guangzhou Opera House, the Guangzhou No. 2 Children's Palace, Guangzhou New Museum and Guangzhou International Financing Center etc. It's a skyscrapers area that boasts three city landmarks like the East Tower, West Tower and the Canton Tower as well as five star hotels and office buildings.
Underneath the square is an area of 150,000 square meters underground shopping, the "Mall of the World" run by Hong Kong architectural group Lan Kwai Fong. The three-level underground network also includes a large-scale parking lot and easily accesses to Metro lines No. 3 and No. 5.
The Landmarks in Huacheng Square
Guangdong New Museum
It is located on the edge of Pearl River in Zhujiang New Town, with an area of 41,027 square meters. The museum has on display more than 166,000 items arranged across over 20,000 square meters exhibition area. This museum is uniquely combined with the graceful surroundings.
It is divided into 5 exhibit hall including the Porcelain Exhibit Hall, Guangzhou History and Culture Exhibit Hall, Ink-Slab Exhibit Hall, Natural Resources Exhibit Hall and Chaozhou Wood Carving Exhibit Hall.
Some of the collections are the real unearthed cultural relics so travels can be addicted to its unique design and well-preserved shape.
Tips: Tickets are free to all parts of the museum and is open Tuesday to Sunday from 9 am to 5 pm. There is a rule to limit the amount of visitors each day. Visitors are required to show their ID cards or passports to get access to this museum.
Guangzhou Opera House
Designed by the world-renowned English architect Zaha Hadid, Guangzhou Opera House looks like a twin shining boulders, which standing out along the Pearl River. The glorious opera house is composed of a 36,400 square meters grand theater, underground garage, multi-functional hall and other auxiliary facilitates.
This opera house is magnificent and full of modern vitality. The geometric structure makes it unique and famous among other operas houses.
Tips: RMB 30 for a 30 minutes visit. There will be some operas held regularly.
Guangzhou International Financing Center
It is a new landmark in Guangzhou, commonly known as Guangzhou West Tower, with 103 stories and stands 440 meters high above the ground. It is the parts of Guangzhou Twin Towers. It composed of offices, recreation, entertainment and hotels and it has become the emblem of Guangzhou commerce.
The financing center can hold international business meetings, negotiations and other similar interactions with its multi-functional. It is a really good place for businessmen.
Guangzhou No. 2 Children's Palace
This children's palace covers an area of 16,530 square meters with a construction area of 46,008 square meters and over 140 rooms. There are educational rooms such as computer rooms, art rooms, calligraphic rooms, chorus rooms and dancing rooms etc.
In addiction to these rooms, there is an international communication hall which can capable of seating 20,000 people at the same time. It is one of the representative children's palaces for children learning skills and having fun.
Delicacies
Cantonese Cuisine is famous across China and even all around the world. The Cantonese style moon cake is the famous one in China with its rich in nutrition and aromatic. Snacks here are both tasty and various.
How to Get There
Guangzhou Huacheng Square enjoys a prime location. Taking a bus from Guangzhou Bus Terminal or Metro lines No. 3 and No. 5 can easily access here. 
Our local experts are always ready to create you a hassle-free tour. Get an authentic experience by contacting one of our travel advisors.