Introduction
Jinshan (Gold-Mountain) Hot Spring Resort is located on a riverbank in Naji Village of the city of Enping, covers 53 square kilometers, and is just 200 kilometers from the grand city of Guangzhou in Southeastern China. This hot spring resort was the first in Enping and is famous for its natural waters. According to experts, the quality, temperature (reaching up to 80°C naturally), and yield of the water here is the most top-class in all of China.
The most characteristic feature of Jinshan Hot Spring Resort is the countless medicinal minerals contained in its pools. The only other place in the world with more of this kind of water is Peru, and as such, Jinshan Hot Spring Resort is known as "the second best springs in the world."
Microelements include metasilicic acid, radon, sulfur, lithium, copper, calcium, magnesium, potassium, sodium, fluorine, and many other trace elements. There are about 300 spring mouths in total, emitting more than 2,000 cubic meters of curative water per day. Among the many spots where visitors may bathe are 22 swimming pools and 28 Japanese style bathing pools, covering 8,000 square meters. The Japanese style pools can be chosen by their heat levels such as high, warm, and cold temperatures, or by their utility such as physical treatment, entertainment, and general relaxation.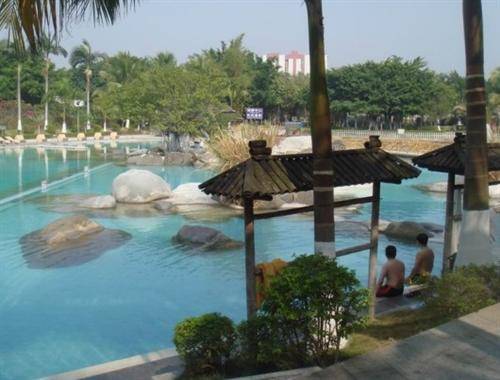 As far as water temperature goes, the Jinshan hot springs can be divided to 3 levels. The temperature belonging to the first level is more than 70°C the whole year. Some of the clear, clean and pure spring mouths even reach 80°C. Some even like to boil eggs in this hot water, which is very delicious and good for your stomach and kidneys! The water of the second level has a temperature 35 to 40°C, making those springs very comfortable in autumn and winter. Then there is level 3, whose temperature is around 30°C, perfect for hot summer days.
There are also various themes and sections in this popular vacation spot apart from the hot springs themselves: Holiday Inn, Inner Garden, Hot Spring Mountain Villa, Spring Dream Villa, Dragon Spring Village, and the International Conference Center. Visitors can choose to stay in luxurious rooms, dine at traditional Chinese or elegant Western restaurants, enjoy a multitude of entertainment facilities, play games such as field drilling and golf to relax, and simply enjoy oneself. There are also special pools set aside for children, VIPs, and foreigners.
Solo Adventure Tips:
Location:

How to Get There?

The Gold-Mountain Hot Spring Hotel is only 8km from the No.325 national highway, 10km from the Jinjiang reservoir and Qixingkeng primeval forest. It'll take you 90 minutes by car to the city Jiangmen and 120 minutes to the cities of Guangzhou, Zhuhai and Zhanjiang. If you come from Hongkong, get off the boat in Kaiping, and there is only a short trip less than one hour left.

External traffic:

Shuttles from Fangcun station in Guangzhou to the city En'ping: Every 30 minutes
8:00am to 7:30pm
Ticket price: 36RMB/Person
Journey time: 2.5 hours
 
Internal traffic:

Shuttles from En'ping to Jiangmen: 15RMB/Person
Jiangmen to Heshan: 6RMB
Ticket Price:

80RMB
Opening Hours:

More Tips:

Information accuracy:
We try to make the information on China Travel accurate when we write/edit it. If you find any outdated information, please inform us.