Night Cruise along the Pearl River
The Pearl River (珠江) is the largest river in southern China and the third largest in China, measuring 2.129 meters in length and covering an area of 453,690 square kilometers (of which a very small part in the territory of Vietnam).The river flows through the Sea Pearl Rock hence the name. It got a reputation of "Night Moon over the Goose Pool" and was selected as one of the Eight Sights of Guangzhou.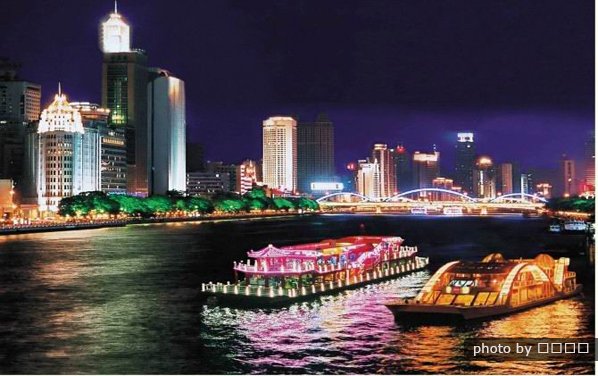 There are ten bridges over the Pearl River, connecting the south and north banks of the Pearl River and Fangcun District. There are lots of star-grade hotels and commercial buildings looks like scrappers stand on both banks of the river. When the night falls, both banks are lit brightly and joined occasionally by the bright moon hanging in the sky. The locals often stroll along the streets to spend their relaxed evening time.
When visiting in Guangzhou, it is suggested visitors take a night cruise travel from the west to the east elegantly on the Pearl River. Some cruise trips provide food, enabling visitors enjoy the view while having dinner.
Many visitors are impressed by the splendid night view of the river, There are many photo opportunities such as the Canton Tower, standing among all other skyscrapers.  Just do not miss this gem in Guangzhou. 
How to Get There?

Tianzi Wharf
Note that there are two wharfs there. One is for Pearl River Cruise and the other for the Cruise.
Address: Yanjiang Middle Road, Taikang Street
Bus Route: Take bus 1, 128, 131B, 194, 219, 238  to Haizhu Square (Qiaoguang East) Station.
Subway: Take Subway Line 2  to Haizhu Square Station.
Xidi Wharf
Address: Yanjiang West Road
Bus Route: Take bus 1, 31, 57, 64, 128, 186, 208, 209, 217, 219, 236, 281, 538, 552, 556  to Nanfang Building Station.
Dashatou Wharf
Address: 466, Yanjiang East Road
Bus Route: Take bus 12, 36, 57, 61, 128, 131A, 131B, 192, 194, 247 or  Tourism Bus Line 2  to Dashatou Wharf Station.
Opening Hours:
19:30 – 23:00
More Tips:

There are two departures every night:
A:  18:30 -20:00, a buffet dinner will be supplied on board.
B:  20:30-22:00, tea and coffee are available on the ship for free
Day Cruise is sometimes available on major holidays, Sunday, Saturday or even Peak tourism seasons.
Recommended Guangzhou Tours:
For an authentic travel experience, contact one of our travel advisors. Our local experts are always ready to create a hassle-free tour for you.