The observation wheel on Canton Tower is the highest horizontal observation wheel in the world. It is located 450 meters up, on the top of Canton Tower. It consists of sixteen glass sightseeing cabins which can accommodate 4 to 6 persons each. The observation wheel takes about 20 minutes for a round trip. Visitors can enjoy the charming view of Guangzhou form every aspect on the observation wheel. The observation wheel began to open to the public from September 1st, 2011. It opens from 17:00 22:00 each day, and the ticket price is 130 yuan per person.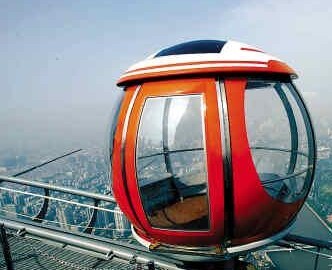 Solo Adventure Tips:
Location:

on Canton Tower
How to Get There?

Ticket Price:
130 yuan per person
Opening Hours:
17:00 22:00 each day
More Tips:

Information accuracy:
We try to make the information on China Travel accurate when we write/edit it. If you find any outdated information, please inform us.