Shamian Island
Shamian Island is a sandbank island in the Liwan District of Guangzhou city, Guangdong province. The island's name literally means "sandy surface" in Chinese.
Dating back to Song Dynasty, it served as an important port for foreign trading. In Qing Dynasty, Shamian Island leased territory for British and French invaders. Therefore, most of the constructions in the island are western style. The famous French cathedral, HSBC and old British and French consulate were located in the island.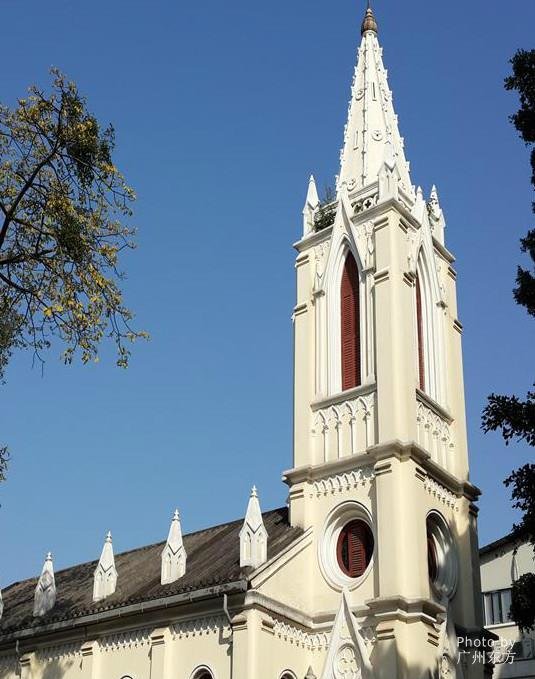 At present, with government's support, many constructions have been preserved and renovated. Every year a number of travelers go to the island to experience the long history and a combination of Chinese culture and western culture. Many foreigners settle down in the island and live a better life in China.
The island is filled with trees and flowers. Many new brides take their wedding dress photos there, adding loving and romantic atmosphere to the island. Do take the camera when visiting the island as it offers many photo opportunities, including  statues, churches and the locals practicing "tai chi". 
How to Get There?

Huangsha Station of Guangzhou Metro is located within a short walk from the island, via an overpass crossing the busy Liu'ersan Road. Visitors can take a ferry running from Huangsha Pier to Fangcun Pier, which runs every 10 minutes carrying foot-passengers and bikes. There are no public buses on the island itself, although there are several nearby bus stops.
Ticket Price:

free
Recommended Guangzhou Tours:
For an authentic travel experience, contact one of our travel advisors. Our local experts are always ready to create a hassle-free tour for you.