Overview
Shangxiajiu Walking Street is one of the most popular commercial centers located in Guangzhou. The street is around 800 meters long and has 250 stores on each side of the street. It is the first ever commercial walking street in the city and was officially opened in 1995.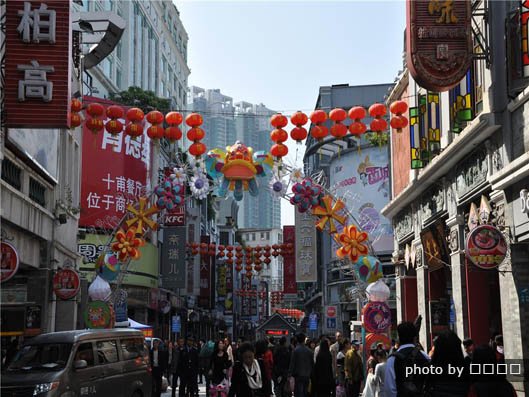 Things to Do
Introduction
Although Shangxiajiu Walking Street is as crowded with shops and people as the Beijing Road street, it has a stronger historical and traditional feel than the more modern Beijing Road. Here the stores are located in Qilou colonial era buildings that uniquely blend 19th century Chinese and European architecture. The arcade that is formed by the protruding second floors of the buildings protect the pedestrians from the rain showers. The sculptures that are located everywhere on the street showcase the old Guangzhou lifestyle. This is an older street of the city and it features a very interesting mix of older Chinese and European architecture.
Li Wan Plaza
Among the many malls and department stores located on the Shangxiajiu Walking Street, Li Wan Plaza is very popular and a great place to shop. The mall has several restaurants and breakfast cafes serving up great dim sum for an affordable price. The Shangxiajiu Walking Street also has a mix of department stores, fashion accessory stores, clothing stores and brand name stores among much more. There are many buildings packed with various market stalls where visitor can bargain to find great deals on local clothes and products.
Dishifu Lu
Dishifu Lu is another attraction on the Shangxiajiu Walking Street and it is known for its Ping An Theater that showcases Chinese Opera as well as its many Cantonese restaurants. Next is Xiajiu Road. Other than regular range of clothing and snack stores, this street is also home to several smaller department stores as well as jewelry store catering to women. Shangxiajiu Square is another attraction which is quite modern and has many shopping destinations like Saibo Shopping Center, Dongji Mall and Liwan Plaza.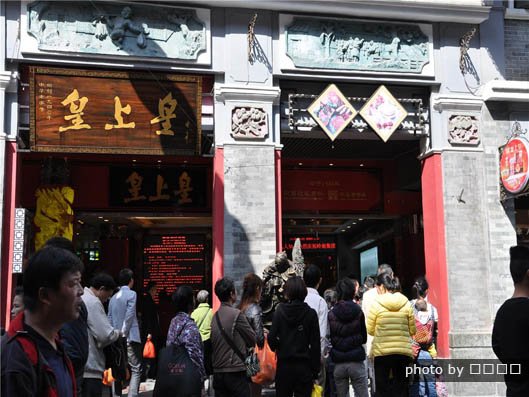 Detours
There are also several interesting detours when you explore Shangxiajiu Walking Street. North of Wengchang Lu and Xiajiu Lu is another street known as Hua Lin Street. This street was built in the year 1870 and is a jade ornament street. It is home today to some of the most popular jade markets in China and has more than a thousand shops selling jade at several different price ranges. Hualin Temple is another attraction on this street. It is a Buddhist temple that was built in the year 527 AD and is known best for the Five Hundred Arahats Hall that houses 500 Buddha statues in various forms. While the temple once used to be quite large, it is much smaller today due to the expanding business area.
Qingping Market
South of the Shangxiajiu are several markets, alleyways and avenues like the Qingping Market. The outdoor and indoor area of this market stretches over an area of around 1000 meters and is a great place to find various good deals. Visitors will find several interesting items in this market such as Chinese products like medicines, dried herbs, scorpions, snakes, artwork, pets, nuts and seafood among other bizarre items.
Solo Adventure Tips:
Location:

Li Wan District in Shang Xia Jiu Lu
How to Get There?

To reach the Shangxiajiu Walking Street take subway line 1 and exit at the Chang Shou Lu Station.
Ticket Price:

Opening Hours:

More Tips:

Some of the places to visit in and around Shangxiajiu Walking Street are Da Da Di Flea Market, Ping An Theater, Dongji Shopping Mall and Saibo Shopping Mall.
Information accuracy:
We try to make the information on China Travel accurate when we write/edit it. If you find any outdated information, please inform us.