Yuexiu Park
Yuexiu Park is the largest comprehensive park in Guangzhou. covering an area of 860,000 square meters. Dating back to Qin Dynasty, it was a main attraction for the local people. The building of Yuexiu Park was originally proposed by Sun Yat-sen in modern times.  After the liberation of Guangzhou, the people's government turns it into a huge and modern park that is listed as the Eight Scenic Spot of Guangzhou.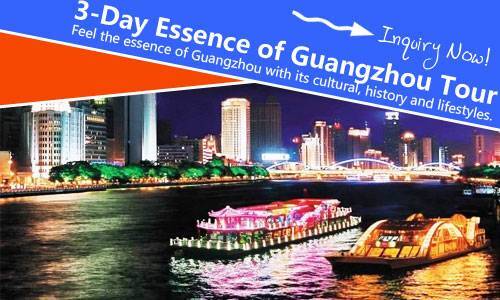 Yuexiu Park is a park of mountains. The park consists of g 7 hills of Yuexiu Mountain, Muke Hill, Changyao Hill, Liyutou Hill and Sweet Osmanthus Hill and Beixiu, Nanxiu and Dongxiu 3 artificial lakes. Visitors can see all kinds of Chinese agricultures such as pavilions, towers, lofts and water pavilions and five floor buildings and Zhenhai Tower and Five Goat Stone Statue. 
Zhenhai Tower is considered as the landmark of Guangzhou. The tower is five stories in height hence the name of Five-Story Tower called by the locals. The tower was built 1380, which is the best preserved ancient agriculture in Guangzhou. It is an amazing thing for visitors to reach the top of the tower so that enjoy the great view of the Pearl River and White Cloud Mountain.
Guangzhou Museum of Art is located in the east of Zhenghai Tower, which is one of the earliest museums in China.  It is non-profit and open to the public for free. The art museum grew out of the Zhongyuan library. The principle governing the designing of the museum is to make it look like a sculpture. It is a cultural building with keen Chinese characteristics.
Five Rams Stone Sculpture stands at Muke hillock of the park, which was built in 1959 and considered as the symbol of Guangzhou and Guangzhou has a name of Goat City.
There is a Legend of Five Rams Stone Sculpture that long time ago there were five celestial beings, who wore robes of five colors. One day they rode rams through the air to Guangzhou, each carrying a stem of rice. They presented the people with the rice stems as a sign from heaven that the area would be free from famine forever.
Yuexiu Park is a delicate card for Guangzhou. Tourists come to Guangzhou for the first time should pay a visit to Yuexiu Park in order to experience the famous place of pleasure for Guangzhouneses.
Location:

Yuexiu Park is located at the Jiefang North Road.
How to Get There?

Take Subway Line 2 to Yuexiu Park Station. Get out from Exit B1 to the main entrance of the park. Or take Subway Line 1 to Gongyuan Qian Station then change to Line 2 to Yuexiu Park.
Take bus 5, 7, 8, 12, 21, 22, 24, 40, 58, 87, 101, 103, 105, 108, 109, 111, 113, 124, 180, 182, 185, 211, 244, 265, 273, 384 and get off at Yuexiu Park Station.
Ticket Price:

Free of charge
Opening Hours:

6:00 – 22:00
More Tips:

The best tourist time: Spring is the best time to visit when the temperature is moderate and Guangzhou Garden Fair is held here.
Food: The Yong Ya Shan Restaurant inside the park has a pleasant ambience and is famous for the dish of "fish' head" and Sun Chicken as well as a great variety of other delicious dishes. Travelers can have a rest there drinking some tea and enjoying the delicious food.
Recommended Guangzhou Tours:
For an authentic travel experience, contact one of our travel advisors. Our local experts are always ready to create a hassle-free tour for you.