Zhenhai Tower, also named Wanghai (contemplating the sea) Tower and Wuceng (five-storey) Tower, is located on Mount Yuexiu of Guangzhou City, which is one of the landmark buildings of Guangzhou with rich national features. Zhenhai Tower is the provincial cultural relic protection unit of Guangdong with the height of 28 meters, the wideness of 31 meters and the depth of 16 meters.
In 1929, Zhenhai Tower became the municipal museum of Guangzhou and was renamed Guangzhou Museum in 1950. At present, it's used as a specialized venue for collecting and exhibiting historical relics and materials of Guangzhou City in the development of over 2,000 years according to dynasties.

In front of the tower, there are tablet inscriptions of successive dynasties along the stone tablet corridor and 2 red sandstone stone lions of the Ming Dynasty with the height of 2 meters stand facing each other. On the right of the tower, 12 ancient cannons are on display. Zhenhai Tower is covered with green glazed tiles and decorated with color ceramic glaze of Shiwan, presenting a splendid sight. Zhenhai Tower has been ranked as one of the eight scenes of Guangzhou of the Qing Dynasty and modern times.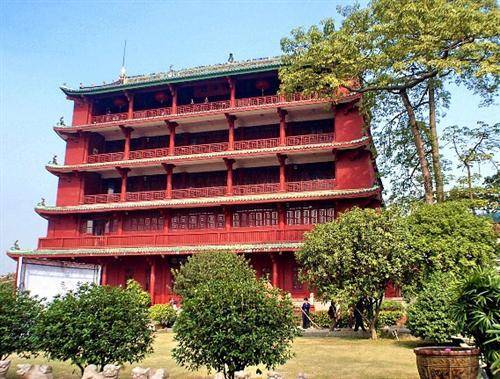 For hundreds of years, numerous poets and politicians have been to the tower and were reminded of all sorts of thoughts and feelings. Thus, an abundance of poetical works about Zhenhai Tower were created by famous poets, and the topics mainly include intoning historical relics, meditating on the past and pouring out their hearts.

In the year 1380 during Hongwu period of the Ming Dynasty, during the extension of Guangzhou City, the north city wall was expanded to Mount Yuexiu and a tower (Zhenhai Tower) of five storeys tall was built on the mountain simultaneously to beautify the appearance. In history, Zhenhai Tower has been damaged and rebuilt for 5 fives times respectively. At present, the tower is of reinforced concrete structure instead of timber frame. The first and second storeys

If you'd like to visit Zhenhai Tower of Guangzhou while traveling to China, China Travel can customize a tour to Zhenhai Tower for you, which can save your time and money and trouble-free. Please feel free to tell us your idea!
Solo Adventure Tips:
Location:

How to Get There?

Bus Route: 33, 550, 529, 225, 297, 30, 122, 133, 241, 87, 101, 133, 187, 518, 21, 519, 182, 24, 58, 244, 127
Ticket Price:

10 yuan per person for adults; free for the old people over 70 years old; 5 yuan for children shorter than 1.2 meters
Opening Hours:

9:00-17:00
More Tips:

Information accuracy:
We try to make the information on China Travel accurate when we write/edit it. If you find any outdated information, please inform us.