Guangzhou Travel Guide
Last updated by fabiowzgogo at 2017/11/12
Guangzhou Overview
Guangzhou, also known as "Goat City" due to its founding story based on 5 gods riding in on 5 goats, is the provincial capital of Guangdong Province. More specifically, it is located in the province's southeast and at the northern edge of the Chu Chiang Delta, close to the South China Sea, neighboring Hong Kong and Macau. It is the political, economic, cultural, technological, and transportation center of Southern China and the renowned Canton region. Guangzhou is the transportation and communication hub for Southern China and is called the Southern Gate of China. The open coastal city is famous for being an example of a comprehensive reform experiment area within China. The Guangzhou Government has jurisdiction over 10 districts including Yuexiu, Haizhu, Liwan, Tianhe, Baiyun, Huangpu, Huadu, Panyu, Luogang, and Nansha; and 2 county-level cities, Conghua and Zengcheng. Guangzhou has mild weather, abundant rainfall, is green in all 4 seasons, and boasts wonderful scenery. As such, it enjoys the honor of being known as "Flower City".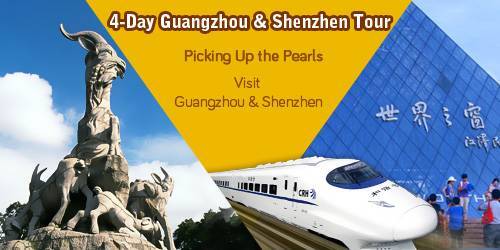 Moreover, Guangzhou is known as the "Fruit Land", since it is home to more than 500 kinds of fruit including litchi, banana, papaya, and pineapple, which are honored as the Four Best Fruits in Southern China. Flowers and bonsais in also enjoy bountiful lives in the area, with types such as Michelia longifolia, Osmanthus fragrance, Michelia fuscata, lily, Aglaia odorata, Gladiolus hybridus, Chrysanthemum, and Oval kumquat all prospering well. More than 150 kinds of flowering trees, foliage trees, and fruit trees add to the city's verdant image. Due to the pleasant weather, flowers bloom throughout the 4 seasons. The Red Kapok, also known as the "Heroic Flower", has such beauty and charm that it was selected as the city's floral emblem.
As a true example of the city's desirability and prosperity, one of Guangzhou's other titles is "City of Overseas Chinese" because of the high number overseas Chinese and foreign residents. According to statistics, there are 1.35 million overseas residents, including 520,000 overseas Chinese and Chinese with foreign nationalities from over 116 countries and areas. Furthermore, 830,000 Hong Kong and Macau citizens, and more than 1 million returned overseas Chinese and their families and relatives have been drawn to Guangzhou for business-related reasons.
In terms of sightseeing, Guangzhou is one of the most important tourism cities in China. One reason for its popularity is because it is located so close to Hong Kong and easily accessed. The city is richly endowed by nature, and has its own unique flavor and entertainment activities as a result of its rich Cantonese culture. It has a flourishing service industry for business, trade, and domestic and international tourism.
Guangzhou History and Culture
Guangzhou is very famous for its history and culture. Historical documents state that the original city walls were established in 214 BC, meaning that its history extends more than 2,210 years. Legend has it that 5 immortals arrived in Guangzhou wearing colorful clothes and riding colorful immortal goats and the goats held ears of rice in their mouths. They presented the ears to the people and proclaimed Guangzhou would never have famine. Thereafter, Guangzhou was known as "Goat City" or "Sui Cheng", and "Wu Yang" (5 goats) became the symbol of Guangzhou.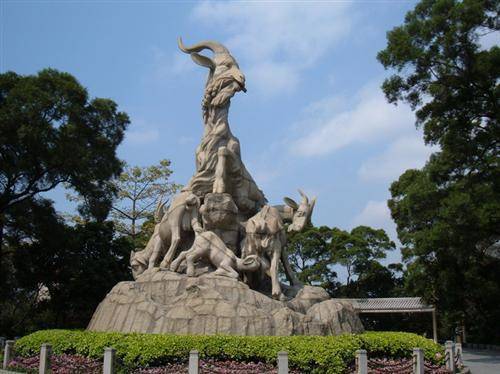 As the third largest city in China and an urban population of more than 4 million citizens, Guangzhou has many important cultural and historical sites that vividly reflect the development of its historical phases. The city was the starting point of the legendary 4,000-mile Silk Road which began during the Han Dynasty (206-220) and many relics still exist from that era. The trade route played an immeasurable role in international commerce in ancient times, and to this day, Guangzhou is one of the most important trade centers in modern China. Since China's opening up, the city has been a leader in promoting economic and cultural communications and developing friendly relationship with foreign counties, establishing itself as an example of prosperity due to proper leadership in this area.
Looking back, Guangzhou is a city full of Chinese heroes, many of whom rose to significance during the revolutions in modern China, and a number of museums and statues can be found honoring their bravery and contributions. Sites such as Zhenhai Tower, Wuxian Taoist Temple, the Tomb of the King of the Southern Yue Dynasty, Chenjia Ancestral Shrine, Liurong Temple, Guangxi ao Temple, Huaisheng Temple, and Shishi are all of particular interest for visitors.
As well, the city's more modern history can be evidenced at Sun Yat-sen's Memorial Hall, Huanghuagang Mausoleum, Memorial Mausoleum to the Martyrs, Luxun's Memorial, former site of the Peasant Movement Training Institute at Guangzhou, Sanyuanli Site of Revolt against the British Rulers, and the former site of Whampoa Military Academy.
Guangzhou Tourist Attractions
Beautiful mountains and rivers and wonderful scenery in the area add to the rich resources of scenic and cultural spots of interest. In 1996, the Guangzhou Government officially selected the 10 best scenic spots: Baiyueguan Ancestral Shrine (Chenjia Ancestral Shrine), Yuntai Park (Baiyun Mountain), Wuyang Asgard - Zhenhai Tower (Yuexiu Park and Guangzhou Museum), Xin Hai Lights (Sun Yat-sen's Memorial Hall and Huang Hua Gang Park), World Sight, Lianhuaxiaoqing (Lotus Hill Tourism Spot), Traveling East - Loving it (Oriental Paradise), Xiguan Business Corridor (Guangzhou Business Walking Street), and Liuronghua Tower (Liurong Temple). Classic places for taking in Guangzhao's natural and cultural visual beauty include Baiyun Mountain, Yuexiu Park, Liuhua Lake Park, Lu Hu Lake, South China Botanical Garden, Oriental Paradise, and Southern Lake Paradise, which all together form a well-rounded representation of the wonderful landscape of the urban area.
Other major scenic spots are Litchi Bay, Guangzhou Tower, Guang Tower, Hongling Sunrise, Haizhu Loyal Heart, Yuexiu Overlook, Shuangqiao Mountain Misty Rain, East Lake Spring, Goose Pool Moon, Cloud and Pine Wave, and Luogang Snow.
Guangzhou Facts
Telephone code: 020
Zip code: 510000
Population: more than 4 million in the city proper, more than 11 million in the urban area
Area: a total of 7434.4 square kilometers, with the city area being 1,443 square kilometers
Nationality: mainly the Han nationality with the nationalities Hui, Man, and Miao; and the minorities Li, She, and Zhuang
Location of the Municipal Government: Yuexiu District
Municipal Flower: Red kapok
Municipal Tree: Kapok tree