Guangzhou Food
Last updated by wendysong at 2017/5/30
Cantonese cuisine is well-known in China as Guangzhou is known as gourmet capital. As Guangzhou has a long history of food and drinks, as well as many gourmet festivals hold in Guangzhou, Guangzhou has earned the distinct name of "Eating in Guangzhou (食在广州)."
Guangzhou people pay much attention to the color, taste and presentation of cuisines. There are a few similarities between Western cuisines and Cantonese cuisines; making Cantonese cuisine diverse with time goes on. It is said that Guangdong people can eat absolutely anything that has four legs other than a table, no matter where is from. Therefore, people regard Cantonese food as one of the most adventurous food in China.
Top 5 Dishes
White Cut Chicken
This is one of the most popular Cantonese dishes. It is lightly flavored to allow one to taste the true chicken meat.
In Chinese New Year, a whole chicken will be served at the family dinner, including the head and feet. It is said that the white meet symbolizes purity and the whole one symbolize unity. The traditional way to eat chicken is to take a dip with a tiny amount of sauce which makes it taste delicious.
Dim Sum
Dim Sum (饮茶) is an important part of Guangzhou's culture. If you travel to Guangzhou, you can see many Guangdong people stay for a long time talking and reading newspapers with Dim Sum. This is exactly an image of Guangzhou people's life.
Shao Wei
Cantonese barbecue is popular in China. Also, Cantonese cuisines are very popular in western countries and Cantonese barbecue is fancied by westerners, such as barbecued pork (叉烧), roast goose (烧鹅) and roast pig (烧肉)and roasted ducks(烧鸭).
Seafood
Seafood (海鲜) is one of the favorite dishes for Guangdong people. As you know, seafood is very nutritious that contains increased amounts of protein. Visitors go to local restaurants can pick live fish or lobsters in front of your eyes to eating the sea creatures.
Dessert
Cantonese desserts (甜品,糖水) play a vital part of Cantonese cuisine. Visitors are easily finding Cantonese desserts around the streets. Here are some popular dishes like double layered milk (双皮奶) and ginger milk curd (姜撞奶). Other popular choices include tofu pudding (豆腐花), red bean paste (紅豆沙), , guilinggao (龟苓膏), black sesame paste (芝麻糊) and sago (西米露).
Beijing Lu Pedestrian Street is the best destination for taste Guangzhou snacks. It is the most famous and historic walking street surrounded by many clothing shops and snacks shops. Visitors not only can taste the most authentic Guangzhou snacks but also taste diverse kinds of food from all around the world.
Top 3 Local Restaurants
Guangzhou Restaurant
Guangzhou Restaurant (广州酒家) was found in 1935,it is one of a well-known restaurant in Guangzhou that serves great Cantonese food. As it has been influenced by Xiguan (西关) die culture, the restaurant is dominated by traditional Cantonese food.
The first floor of the restaurant is China Town International Canteen which serves delicacy without boundaries. It collects delicacy of different parts of the world, providing customers with a diversified food and meeting the needs of different consumers at different levels. The second floor and the third floor serve delicacy of Xiguan style. There are more than 20 dining rooms in these two floors that enable over 1800 customers.
The restaurant is the first restaurant that promotes Chinese Feast in China. It leads the restaurant to win numbers of awards at home and abroad and praised by epicureans. The Wenchang Chicken and special baby pig are two specialties for recommendation.
Address:2 Wenchang South Road (文昌南路2号) (Metro 1 Changshou Lu)
Featuring: Cantonese Cuisines
Price: CNY88
Chicken Express
If you are looking for a delicious grilled free range chicken in Guangzhou, Chicken Express is the best in Guangzhou (and maybe the whole of China)
The Chicken Express is famous for a crispy chicken with delicious roast potatoes, amazing garlic sauce, pita wraps, hummus and all the Mediterranean goodies. The quality of the food here is good, slowly roasted; even the price can be a little bit high, comparing with some fast food chain restaurants. It will be a nice thing for visitors to eat chicken this way in Guangzhou and it comes with some good mid-eastern bread and asides like cesame paste or roasted potatoes.
Address: No.11 Jianshe 6 Road Yuexiu District Yexiu Distric
Getting there: BUS 247; 483; 546
Featuring: French, Mediterranean
Price: CNY 75
Wilber's
Wilber's was opened in 2008 and has been a leading innovator on the Western restaurant scene in Guangzhou ever since. The food was delicious and the fact that there are three options in each course, means there is something for everyone. The staff can speak good English so that provide you comfortable service and make you feel like at home. The diverse bar menu can be a plus point for the bar, in particular the cocktail which will you a scrumptious taste.
There are 3 floors with multiple rooms, each with its own defining character that similarly make you feel as if you've been transported away from the busyness of the big city. So come on down to Wilber's and enjoy the finest dining experience in Guangzhou.
There are some special activities for you to come.
2 for 1 Happy Hours from 17:00-19:00
EVERY NIGHT on:
House Mixed Drinks, House Wines, Corona, and Daily Cocktails
Saturday Night Parties every Saturday Night:
10 Yuan Cocktail of the Night starting at 10 PM (only for the first 100 buyers)
Bar Menu served every night until 11 PM (Midnight on Saturdays):
- Mouthwatering bites that are both belly and wallet friendly
Recommended dishes: dinner roll, cheese cake, cocktail
Address; No.62 Zhusigang Er Road, Yuexiu District, Guangzhou, China
Getting there: Dongshankou (Line 1 & Line 6 Interchange) Exit C
Featuring: Italian
Opening time: 16:00-24:00
Price: CNY 100
Guangzhou Featured Food:
Baiqie Chicken (sliced Boiled Chicken)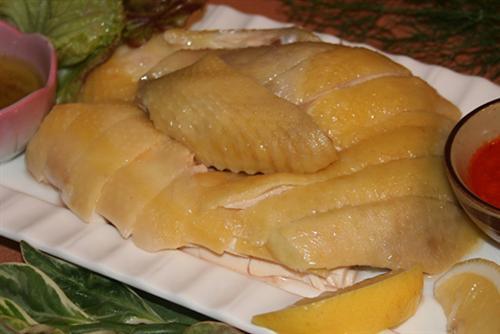 Baiqie chicken is the simple one in Cantonese chicken cooking without adding any other flavor except boiled water. It tastes fresh and light, marinating the best original taste of chicken. The method of making it is easy. It is just well cooked but not mushy, retaining the original flavor. Firstly, choose local chicken below one kilogram and clear out. Then cook it in boiling water for fifteen minutes. During the course of it, raise the chicken twice. Cool it in the water subsequently. When the epidermis of the cooked chicken is dry, mix with cooked peanut oil. When you eat it, match ginger and green onion and sprinkle cooked peanut oil. Baiqie chicken's skin is tasty and refreshing and the chicken meat is not greasy or strongly flavored. Famous Baiqie chicken of Panxi Restaurant was received the Golden Tripod of high quality production by Department of Commerce. In addition, Qingping Chicken is also one kind of Baiqie chicken.
Fo Tiao Qiang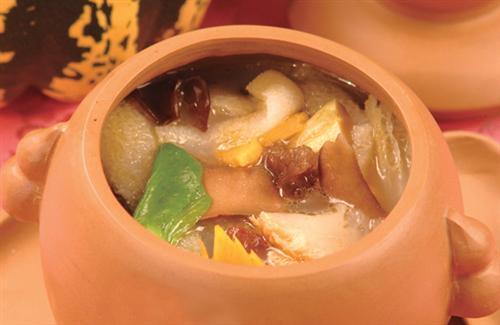 Fo Tiao Qiang is actually a traditional Fuzhou dish with a long history of over 100 years. In the year 1965, Fo Tiao Qiang created much of a stir in Guangzhou and has become more and more famous in Guangzhou since then. Fo Tiao Qiang has appeared in state banquets, which has entertained a number of state heads from other countries and was highly praised.
Cooking Materials
The dish Fo Tiao Qiang consists of dozens of raw materials including 18 kinds of major ingredients and 12 kinds of auxiliary materials. The materials nearly contain all the excellent food, including chicken, duck, sheep legs, pig bags, tendons, hams, chicken or ducks' gizzard, chicken breast, duck breast, shark's lip, shark fin, sea cucumber, abalone, dried scallop, pigeon eggs, mushrooms, tender tips of bamboo shoots and solen.
Cooking Process
The cooking process of Fo Tiao Qiang is extremely complicated. Firstly, all the raw materials will be cooked to be the unique-flavor
Special Roasted Whole Suckling Pig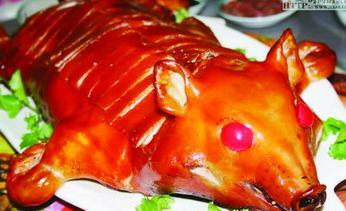 It won the Golden Tripod in production competition of Nation Department of Commerce. Its name comes from this. It is valuable and rare dish of a banquet. The skill of cooking roasted whole suckling pig has a long history off more than 1400 years. There are two methods to roast whole suckling pig. The first one is smooth skin pig. Use slow fire and smear less oil. The second one is that the skin is melted. Use big fire and smear oil continuously. The oil explodes and forms bubbles to expand the pig's skin. This kind of roasted whole suckling pig leaves no residues when putting into mouth. The color is gold yellow and bubbles spread over closely exactly as sesame. Roasted whole suckling pig of Datong Restaurant is noted. Do go and taste it.
Chinese Rice Pasta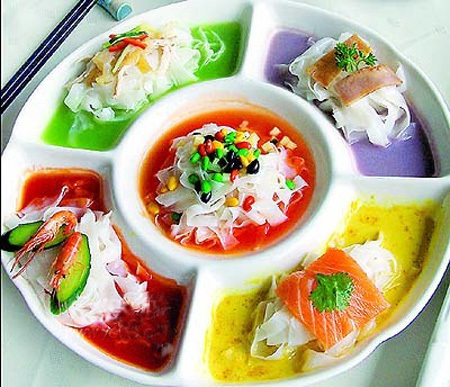 The Chinese rice pasta is a kind of popular rice product. It was produced in Shahe Town earlier, with a long history over several hundreds years. The method of making it is that getting the spring water of Baiyun Mountain to soak rice. Then grind this rice and cook them. Cut them into long narrow strips. The Chinese rice pasta is spotlessly white, thin, pliable but strong. The methods of eating are dry-fry, wet-fry, heat with hot water, cold and dressed with sauce, etc. There is a special feast of the Chinese rice pasta in Shahe Restaurant. Besides sweet food and salty food, there are all kinds of the colored Chinese rice pasta made of vegetables and fruits, with different flavor.
Steamed Rice With Fresh Shrimps In Lotus Leaves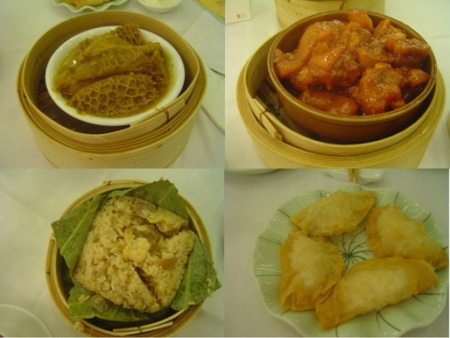 Lotus leaf rice produced in Taiping Town of Dongwan was most eminent. This district is rich in lotus leaves and See Mew rice. Paddy rice is ripe and the lotus leaves and flowers are flourishing at the end of summer and beginning of autumn every year. Select superior white rice, adding lean meat, fresh shrimp, mushrooms and bamboo shoots as the stuffing. They are wrapped with lotus leaf and cooked thoroughly. It is regarded as meals for traveling to distant places or a present to give away when visiting relatives and friends. The flavor of this dish is not greasy but tasty and refreshing, with the delicate fragrance of lotus leaves. It has been the famous pastry of all teahouses and restaurants in Guangzhou for all time. Now the stuffing of lotus leaf rice is more and more dainty. Besides fresh shrimp, there are chicken, dried scallop, crabmeat, egg, and sesame oil and taste powder. New varieties appear unceasingly.