Big Banyan Tree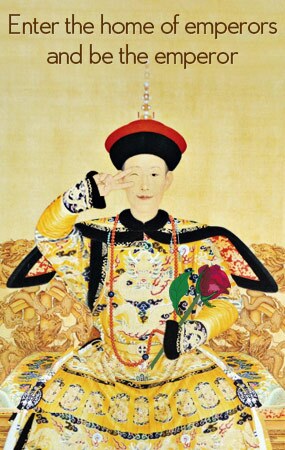 On the west bank of the Jinbao River approximately 7.5km south of Yangshuo, history stands still in the shape of the Big Banyan tree that has survived the times and tides for 1400 long years. Although time withers away everything, this is the place where it has reversed its role, nurturing what it could have destroyed years ago.
The tree is now 17 meters high, 7.1 meters around the trunk, and covers an area of 1000 square meters. On a hot summer day, there is hardly anything better than its shadow that can offer a peaceful shelter to the tired soul. Its lush green leaves and towering presence brings thoughts of serenity and tranquility to the mind. The past finds an expression in its silence and the place finds its identity in its grandeur.
It is believed that this Big Banyan tree was planted during the Sui Dynasty. Traces of its long past can be seen in its twisted branches and roots. One of the branches begins just 1 meter above the ground. It is surprising to see how this huge branch has withstood all these years without being damaged.
One of the famous scenes of the 1960 film Liu san jie where the protagonist of that name declares her love for her lover The A Niu has been shot under this tree. This is also one of the factors that has contributed to the popularity of the tree. Couples love taking photographs in front of this age-old banyan tree and making wishes under it. It is believed that whoever makes a wish here realizes his or her dreams. And for those who are single, it is believed that taking a photograph with the tree will soon get them their sweetheart.
There is an old ferry crossing called Rongvin Gudu very close to the tree. Beyond this river the landscape manifests itself in rocks of varying dimensions, breathtaking mountains and awe-inspiring caves. The green bamboos, narrow footpaths amidst the fields and the surrounding peaks – all constitute a scenic mélange that promises to remain with every tourist even long after he has left the place.
Solo Adventure Tips:
Location:

about 7 km away from downtown Yangshuo.
How to Get There?

The best way is to ride a bike there. The park is just beside the highway, easy easy to find.
Ticket Price:

18yuan each (half price for children between1.10—1.40m in height, free for those shorter than 1.10m)
Opening Hours:

7:00-18:30
More Tips:

Travelers who are not content with only watching can  dress up in ethnic clothes for a souvenir photo, 5 yuan/each.
Our local experts are always ready to create you a hassle-free tour. Get an authentic experience by contacting one of our travel advisors.