Eight Angle Mountain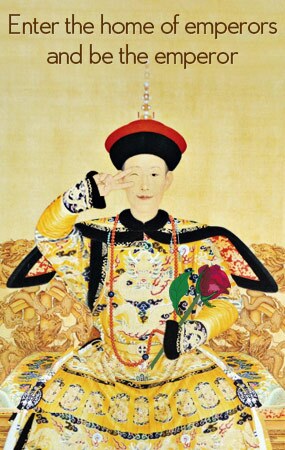 Located in Zuyan County 107 km to the north east of Guilin is Eight Angle Mountain, also fondly referred to as Yuntai or Bajiaozhai mountains by the locals. This rare mountain is classified as a Danxia landform. All the mountain's peaks are tilted at an angle of 45 degrees. Yuntai Mountain is no doubt the best ecological and tourism destination not only in Guanxi province but also the whole of Asia.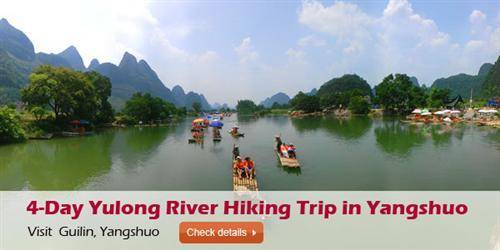 At a height above 818 meters and with over 400 scenic spots no other tourist destination can provide such a unique experience.Eight Angle Mountains gets its name from the eight mountain peaks that stretch into the clouds at near impossible angles. It covers an area of approximately 40 square kilometers and the landscape is defined by the unusual rock formations.
What makes this spot so breathtaking?
Eight Angle Mountains and the area around it including Zijiang River, which snakes its way through a number of peaks, have been recognized as a world heritage site. This is due to the rich diversity of both flora and fauna found within this area. The mountains eight peaks actually take the shape of dragons and thus its name Bajiaozhai in Chinese. When viewed from a distance all peaks appear to move up and down into the clouds resembling whales swimming in the ocean.
There are several adrenaline rushing experiences that one can take part in at this scenery. Bamboo rafting along on the Zijiang River is a highly rewarding leisure experience as it gives you a chance to explore the fantastic rock features of the river banks as well as enjoying the peace and tranquility of the riverside. Zijiang River is over 20km in length and therefore offers an extensive area to explore. A short trip to the nearby Baoding waterfall which rises from the Baoding Mountain would be worth your time. The fall drops 700m below the surface and the powerful sound of water pounding the rocks that sit below is sure to leave you weak at the knees.
Those tourists who would like to experience the rural lifestyle of the indigenous inhabitants are not left behind since there are numerous riverside villages that will give you a genuine image. Hiking to the top of the mountain peak is recommended for the strong and more adventurous. Though tiresome once you are at the top you have a bird's eye view of the breathtaking landscape that sits below unaffected by human interference.
The Myth
The Eye Rock, which has been a source of inspiration to many artist and poets, is among some of the notable features at the peak. It is a rock with two large holes on its surface which when viewed from a distance they resemble two large eyes. There are a number of Chinese myths and legends that are centered on the Eight Angles Mountains such as the one of Avalokitesvara. It is said that Avalokitsevara used to drive large herd of sheep around the Guanxi to Dongting Lake under Buddha's order and one day her sheep disappeared and turned into rocks of the mountain.
If you want to visit Eight Angle Mountains, China Travel can tailor-make a tour including Eight Angle Mountains, which can save your time, money, and trouble. Please feel free to tell us your tour ideas!
Solo Adventure Tips:
Location:

In Ziyuan county.
How to Get There?

To get to Ziyuan a bus ride from Guilin bus station is available at all times of the day and departure time is every twenty minutes. Once in Ziyuan County you can easily find your way to the Ziyuan scenic resort.
Ticket Price:

The ticket fee is CNY 120 per adult and CNY60 per child. The tickets are valid for only 24 hours.
Opening Hours:
9:00am to 17:00pm
More Tips:

The scenery is open to tourist all year round although the best time to visit this scenery is between July to September.
Our local experts are always ready to create you a hassle-free tour. Get an authentic experience by contacting one of our travel advisors.