Folded Brocade Hill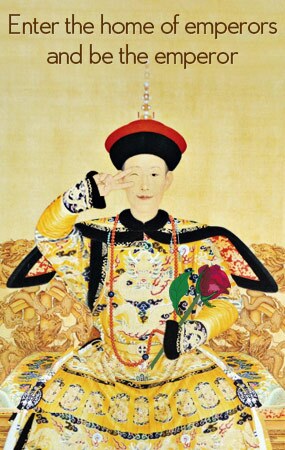 Die Cai Hill, aka Folded Brocade Hill - and formerly known as Osmanthus Hill owing to the many osmanthus trees that grew on the hill in former times (many still grow there) - is located on the west bank of the Li River in the northern part of the city of Guilin. Guilin has so many out-of-this-world attractions that it almost seems like an exaggeration to claim that Folded Brocade Hill (the name stems from the fact that the hill's folded rock formations bring to mind folded silk brocade) is one of the city's most popular, yet it is true.
Folded Brocade Hill stretches out over an area of two square kilometers and consists of four peaks, or hilltops: Bright Moon Peak, Crane Peak, Vantage Point Hill and Yueyue Hill. Roughly halfway up Folded Brocade Hill is the area's main attraction, Wind Cave.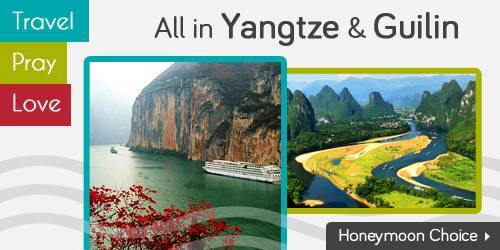 There are two features of Wind Cave that make it so popular: regardless of the weather conditions that otherwise prevail in the area, a cool breeze always seems to flow through it; and the cave has a number of inscriptions by poets and other members of the literati as well as some 100 Buddha images and around 200 ancient stone carvings etched into its walls. The bulk of these inscriptions and carvings are believed to stem from the Tang (CE 618-907) and Song (CE 960-1279) Dynasties.
Another popular place on Folded Brocade Hill is Vantage Point Hill, as it offers an excellent view of the valleys below, in every direction. Other attractions on Folded Brocade Hill include Die Cai Pavilion, Over-the-River Pavilion,  Face-the-Cloud Pavilion and Cloud-Catching Pavilion, the latter two names suggesting that these pavilions are situated at high elevations, though in fact, the highest point on Folded Brocade Hill, Bright Moon Peak, is only 223 meters high. Nonetheless, Bright Moon Peak, given that it is the highest point on the hill, offers the best views of the city of Guilin stretching out below, making it the second-most popular attraction on Folded Brocade Hill.
Solo Adventure Tips:
Location:

The entrance to Folded Brocade Hill lies in the center of the city.
How to Get There?

Visitors can take municipal bus no. 2 to the No. 2 People's Hospital, which is near the entrance to the hill, or the special free bus, bus no. 58, which goes directly to Folded Brocade Hill Park.
Ticket Price:

20 Yuan per person for adults, half-price for youth whose height is between 1.4 meters and 1 meter, and free of charge for children under 1 meter in height.
Opening Hours:

From 7:00AM to 4:30PM, daily.
More Tips:

Our local experts are always ready to create you a hassle-free tour. Get an authentic experience by contacting one of our travel advisors.