Jiangtou Ancient Village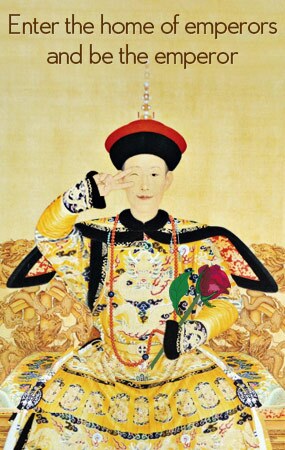 Jiangtou/Jiuwu Ancient Village, aka Jiangtouzhou, a reference to the fact that most (upwards of 90%) of the villagers are descendants of Zhou Dunyi, a famous writer, philosopher, and scholar of Neo-Confucianism during the Northern Song (CE 960-1127) Dynasty [and, one is tempted to add, "man about town", given his obvious procreant powers)], is located some 30 kilometers north of the city of Guilin, Guangxi Zhuang Autonomous Region (aka Guangxi Province). Jiangtou Ancient Village, the largest and best-preserved collection of ancient buildings in Guangxi Province, is one of the seven most prized ancient villages of China. Most of the 600-some houses in the village stem from the Ming (CE 1368-1644) and Qing (CE 1644-1911) Dynasties.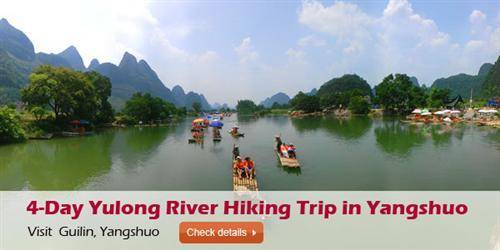 The village is characterized by a maze of narrow alleyways, and most of its well-constructed houses - built for the village's many well-to-do (relatively speaking) inhabitants, many of whom were public officials and/or men of letters (for example, historical records indicate that during the Ming and Qing Dynasties, there were over 160 successful candidates from Jiangtou Ancient Village to the various levels of the imperial exam) - have fenced-in courtyards with large wooden gates, typically with an inscribed plaque over it, though some of the houses on the edge of the village are of simple mud-brick. The descendants of Zhou Dunyi were renowned for their virtuousness and righteousness.
Ancient wells and long alleyways - the latter accentuated here and there by a stone-arched bridge - as well as exquisite carvings on the woodwork of this tranquil village's houses and gates all contrive to transport the visitor back in time to China's ancient past, preserved in this most prized of ancient villages. Access to Jiangtou Ancient Village is by a simple, dirt-and-gravel road, which limited access contributes to the relative isolation - and therefore preservation - of this original piece of ancient Chinese culture. Adding to the quaintness of your visit to Jiangtou Ancient Village is the fact that "accomodations" in the village consist of overnighting - and dining - with a villager, which will also provide you with a first-hand view of the interior of a Jiangtouzhou house, and, although the fare today may have improved over the fare of ancient times, its preparation today is done in much the same way as it was done by the original inhabitants of Jiangtou Ancient Village.
Our local experts are always ready to create you a hassle-free tour. Get an authentic experience by contacting one of our travel advisors.