Longji Terraced Fields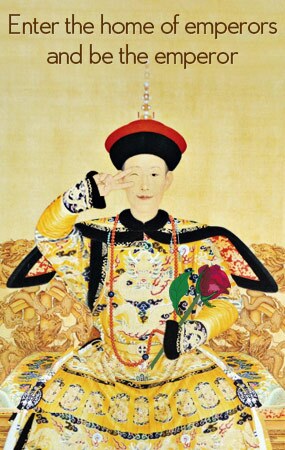 Built with the determination, blood, sweat and tears of generations of people, the layers and layers of rice field at Longji (Dragon's Back) are testimony to the ingenuity of farmers in mountainous areas. When the sun shines on the water of the paddy fields, or when the rice wears its golden cloak in harvest season, Longji stuns the world with its magnificence.
Travel Essentials
Location: about 95 km north of Guilin city (2.5 hours' drive)
Recommended length of time for a visit: 1-2 days
Highlights: terraced field scenery, ancient villages, minority culture
Suitable for: families, friends, couples
History: first built during the Yuan Dynasty (1271-1368) and completed in the Qing Dynasty (1644-1911)
Best times: spring and autumn, especially May and October, for the seed time and harvest time, respectively
Activities: photography, hiking 
Opening hours: all day
Three Popular Rice Terraces
Longji Rice Terraces refers to several village areas spanning Longsheng County, about 2 hours northwest of Guilin. The major ones include Ping'an, Jinkeng Dazhai, and Longji.
 Ping'an Zhuang Village Terraced Fields
Ping'an has the largest rice fields in Longsheng County and its fields are the core of the Longji terraced fields. This Zhuang village has idyllic surroundings, with rice terraces and forests, making it a nice place to enjoy the picturesque terraced-field scenery and to experience the real tranquility of a rural lifestyle.
The fields stretch from the bottom to the top of the mountains, creating a grand and magnificent view. They change color and complexion from season to season. There are various scenic spots, such as Seven Stars Surrounding the Moon (七星伴月), Nine Dragons and Five Tigers (九龙五虎) and Two Dragons Playing with a Pearl (二龙戏珠), all of which are popular among visitors and good for photography.
Seven Stars Surrounding the Moon refers to a big field surrounded by seven small ones, looking from afar as though a moon-shaped field is guarded by seven dazzling stars. It's a really nice place for photography.
Nine Dragons and Five Tigers are conjured up in the imagination from nine ridges and five small hills. The nine ridges look from afar like nine dragons bending over to drink the fresh water of the Jinjiang River. The five small hills along the nine ridges look like five tigers guarding the fields. This is a nice place from which to enjoy the sunrise or sunset.

Jinkeng Red Yao Terraced Fields
Jinkeng terraced fields are higher than the Ping'an ones. They are home to several Yao villages, including Dazhai, Xiaozhai, Xinzhai and Xiabu. The fields are well-preserved and the villages are full of pristine simplicity. The Yao women wear traditional red clothing, so the Yao people here are called Red Yao (Hong Yao,红瑶).
Jinkeng has various scenic spots, such as the Golden Buddha Peak (Jinfo Ding, 金佛顶), Dajie Thousand-Layer Terraces (大界千层天梯) and Xishan Shaoyue (西山韶乐). Jinfo Ding is the best place for taking sunset pictures. There is a 20-minute cable-carried from the bottom of the fields to Jinfo Ding, which visitors can use not only to save time but also to see the magnificent fields from the air.
Xishan Shaoyue is a nice sightseeing point for viewing the sunrise or sunset. It takes 2 hours to get there by foot, through beautiful and magnificent fields.
Besides, there are other activities suitable for families with kids,to experience the rural lifestyle here, such as farming in the fields or feeding the poultry.
Longji Ancient Zhuang Village
Anyone interested in history and culture should not miss Longji, the Ancient Zhuang Village. The village boasts the oldest and the largest building complex on stilts in Guangxi Province. Most of the houses are more than 100 years old. With a history of over 400 years, Longji is home to 200 households with over 1,000 Zhuang people. Their costumes are robust and radiant.
Longji features well-preserved buildings from the Ming (1368-1644) and Qing (1644-1911) dynasties. Special highlights are the 'three fish share one head' stone bridge, Longquan Pavilion, the Site of the Military Camp, the Clean and Honest Politics Stele (Lianzheng Stele) and the water mills. The village is very big and may take half a day to explore.
Stone bridges are prominent in the area. Among the 20 square kilometers of terraces, there are around 300 stone bridges, of which 57 are in Longji. On the bridges, lotuses, swords and eight trigrams were carved. The most distinctive is 'three fish share one head', carved on the Wind and Rain Bridge in front of the village administrative office.
Hiking in the Fields
As the rice terraces are hewn into hillsides, the best and really the only way to obtain a comprehensive view is via hiking. There are many hiking trails. From Dazhai to Ping'an (or vice-versa) is the most popular and takes about 4-5 hours.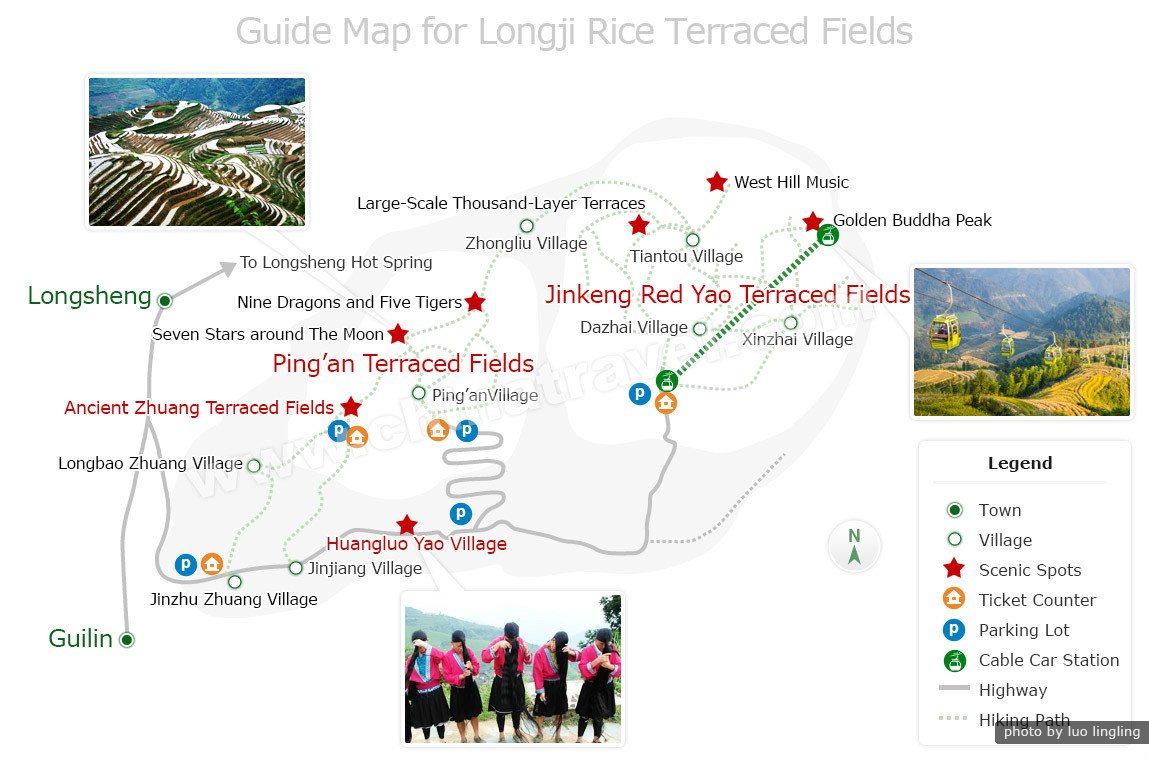 Food and Accommodation
Bamboo Chicken and Bamboo-Tube Rice are two traditional dishes served in the villages. Chickens are born and reared naturally in the mountains. Cooked with spring water, their meat is nutritious and delicious. The price of each special dish is about 50 RMB. Early each morning, fresh bamboo is chopped by farmers. Then they put sticky rice, bacon, and mushrooms in the bamboo, and bake for at least 30 minutes.
There are many family inns in Ping'an. Although not 4-star hotels, they are nevertheless clean and tidy. Alternatively, if you wish to make friends with various young people from a great variety of regions, choose the Youth Hostel. If you want a room with a view, Meilin Restaurant is recommended.
Transportation
Take a bus from Guilin Bus Station to Longsheng and then change to another bus for the terraced fields. The whole journey takes about two and a half hours.
Good to Know
Harvest time begins around 8th October. It's advisable to visit before harvest.
If you need to take your luggage up to mountain, there is a luggage-carrying service costing around RMB 30.
It might be a good idea to employ a local guide, to avoid getting lost in the mountains.
Want a private tour with an experienced local guide? You can simply book a 4-Day Guilin, Yangshuo and Longsheng Tour with us. Or tell us about your own special requirements .We can tailor-make a delightful tour for you.
Location:

It is located in Longsheng County, about 2 hours drive from Guilin
How to Get There?

Take a bus at Guilin Bus Station to Longsheng and then transfer to another for the Terraced Fields.
Ticket Price:

50 yuan  (half price for children between 1.00m-1.40m tall, free for those shorter than 1.00m)
Opening Hours:

all day
More Tips:

The best time to visit is in autumn when the rice is ready for harvest and the fields offer a golden vista.
There are lots of hotels in Longsheng County. Or visitors can live in the local family.
The harvesting time will begin at 8th of October. It is advisable for visitors to have a visit before harvesting time.
It would be better to get a local guide to avoiding getting lost in the mountains.
There is luggage carrying service that costs around RMB 30.
Recommended Guilin Tours:
Our local experts are always ready to create you a hassle-free tour. Get an authentic experience by contacting one of our travel advisors.