Reed Flute Cave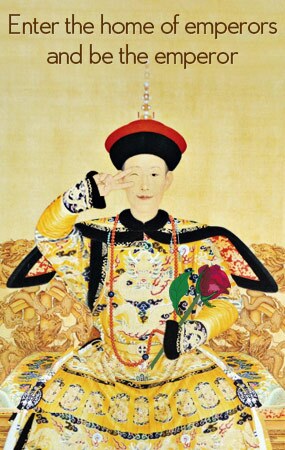 The Reed Flute Cave is located at the northwest of Guilin City, Guangxi, about 5 kilometers away from city center. Sitting at the mountainside of Guangming Hill, the cave runs about 500 meters with length of 240 meters. It got its name from the abundance of reed plants growing outside the cave that were made into flutes and pipes by locals. The cave has been discovered since Tang Dynasty (618-907 AD) and there are over 70 wall inscriptions inside, mostly poems and travelogues. It also served as an air-raid shelter during World War Two.
Hailed as "Nature Art Palace", The Reed Flute Cave a naturally carved cave with stalactites, stalagmites and stone columns in various shapes, from birds, plants and animals, vegetables, to even the Statue of Liberty. To display these rock formation as works of art, the cave is illuminated by multicolored artificial lighting from special angles, very stunning and fancy. It's also famed as "the most popular karst cave on earth" and "China's No.1. Cave for Distinguished Guests". We recommend you to spend 1 or 2 hours to explore it. And it is open from 07:30 to 18:00 (Apr-Nov), and from 08:00 to 17:30 (Dec-Mar). Ticket fare is CNY 120 per adult.
Cave Highlights
The cave gets its name from the reeds that grow at its entrance, used for making flutes and pipes. After entering, visitors will take a U-shaped sight-seeing route, along which different spots are illuminated by multicolored artificial lighting. 
Limestone Formations
The cave is regarded as the largest and most impressive in Guilin. It is 240 meters long, and the tour involves a 550-meter walk, revealing a magic land of stalactites, stalagmites, stone pillars, stone curtains, birds, plants and animals in fantastic shapes and colors.
Each cave formation has a name born of legend; such as Crystal Palace, Dragon Pagoda, Virgin Forest, Flower and Fruit Mountain. You need to use your imagination to visualize the various shapes, and this is not easy for everyone. In case you can't see the shapes, knowing the stories behind the formations is still interesting.  

There is a famous slab of white rock hanging from a ledge like a cataract, with a human-shaped stalactite opposite it. In Journey to the West, one of the greatest works of Chinese literature, this slab was said to be the Dragon King's needle. The Monkey King used it as a weapon for defeating the dragon's army and then left it in the cave.
4D Light Show
The 4D Light Show is a highlight of the cave, which combines modern lighting technology with nature. It is on the 3000 square meter dome of the Crystal Palace, displaying the rock formation and the growth of the limestone. There are blue, red, and green flashing lights over these beautiful rock formations, creating a wonderful effect, which tourists could picture various ancient periods about how it used to be. Along with the melodious background music and the multicolored lighting system, you'll feel like you are at a concert, a feast to the eye. The show is on from 12:30 to 13:30 (Dec-Mar).
Historic Inscriptions
Over 70 wall inscriptions from the Tang dynasty (618-907 AD) have been found on the walls, proving that the cave has been used for many hundreds of years. During World War Two, the grotto once served as an air-raid shelter.
Transportation
From the airport: It's about 34 km. Take airport shuttle bus to CAAC building (the Civil Aviation Administration of China), then take Bus No. 16 or 23 to Guilin Railway Station and then change to Bus No.3 to the destination. It takes about 2 and a half hour, and bus fare is around CNY 30. If taking taxi, it take 50 minutes and costs CNY 80-100.
From Guilin Railway Station: It's about 7 km. Bus No.3 connects the railway station and the destination (Reed Flute Station). Bus fare is CNY 1 and it take about 50 minutes. Bus No.3 runs from 06:30 to 21:50 and it departs every ten minutes. If taking taxi, it takes 20 minutes and costs CNY 30.
From city center: It's about 5 km. You can take Bus No.3, 213 or 4A, then get off at Reed Flute (ludiyan) Station. If taking taxi, it takes 15 minutes and costs CNY 25-30.

Experienced Guide and Well-Equipped Facilities
The cave has a team of guides, one of whom will lead you the whole way and explain the stories behind the formations. The guides are well-trained and know all about the cave. There is no extra guide fee.
Restrooms in this attraction are not only available but also carefully designed. Since they blend into the backdrop, you can enjoy the view even as you use them.
Before or after the cave exploration, you can stroll around the adjacent park, featuring zigzag paths, elegant pavilions, ponds, bridges, plants and other garden structures. Once you exit the cave and pass the bridge you may wish to climb the steps taking you to a nice observatory half way up the hill.
Travel Essentials
Suitable for: Families, friends, couples, individuals
Activities: Sightseeing train, 4D show
Recommended Visiting Time: 2-3 hours
Transportation: Guilin Bus Nos. 3 & 13/Taxi
Access: By foot
Opening hours: April to November: 7:30 to 18:00
December to March: 08:00 to 17:30 (4D show pauses from 12:30 to 13:30)
Location:

Reed Flute Road.(Ludi Road), Guilin, China.
How to Get There?

Take the Bus NO.3 , and get off at the Reed Flute Cave Bus Stop.
Ticket Price:

RMB$:120.00
Opening Hours:

8:00~5:30
More Tips:

1. There is a 500-meter-long U-shaped path with steps, which is damp and slippery. Please pay attention to safety and wear sneakers.
2. The cave has free guides. They will lead you the whole way and provide explanation service about the formations and histories.
3. As the cave is at the mountainside, tourists need to climb the stairs to the entrance. For those who have trouble climbing can take sightseeing train to the entrance. Steps are relatively even inside. Benches are available for resting.
4. There are lots of vendors selling food and souvenirs, like reed flutes at the entrance. They will tail after and ask you to buy things. If you are interested, you can inquire and bargain for a better price. If not, you can ignore and keep walking. They will back off when you show no interest. Please do not touch or take pictures of their products, unless you have bought it.
A few optional spots in the cave will cost a little extra money, such as the Turtles (an extra 5 yuan).
Our local experts are always ready to create you a hassle-free tour. Get an authentic experience by contacting one of our travel advisors.