The Yulong River originates within the boundary of Lingui county with a length of 42.5km. Sceneries between the Yulong Bridge and Qinger ferry crossing is the most charming. The scenic attractions include Rhinoceros Pool, shuier scenery, the Five-finger Hill, and many others.
A legend goes that a dragon from the East Sea traveled here and was attracted by the beautiful scenery and stayed. At first, he just came out at night to enjoy the beautiful but later, he couldn't help coming out in the daytime. So he was seen by the villagers. So the river was renamed Meeting Dragon River. Two ancient bridges over the river are especially attractive: Yulong ( Meeting Dragon Bridge) and Hefuli Bridge. Yulong bridge is grander than the Hefuli Bridge. it's a one-arch bridge. There are 28 big or small bridges over the river, the waterwheel, villages in the Banyan, old fishers, and children make picturesque scenery.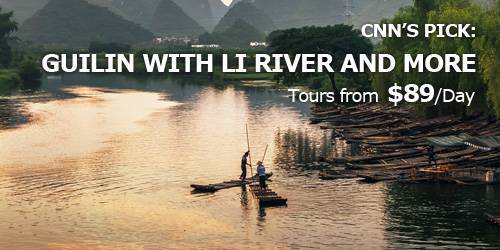 Drifting along Yulong River
Running through the county of Yangshuo in Guilin, Yulong River is the largest branch of Li River. Over 43 kilometers long and covering an area of 158 square kilometers, it is a popular attraction among locals and foreigners who enjoy natural activities such as biking and bamboo rafting. Endless farmlands, dramatic limestone peaks, ancient bridges, modern and ancient dams, bamboo groves and more create some fascinating scenery that leaves the visitor speechless. Although trekking and biking by the river's sides is free of charge drifting along the river on a bamboo raft is a must and is worth to pay for. TIP: Bring along a rain coat or a second pair of clothes because, even though the waters of Yulong River are really calm, with no rapid currents, there is always a small chance of getting wet, when on a raft.
During the ride one has the chance to enjoy gorgeous views of green limestone mountains, local farmers in their everyday activities, traditional villages and ancient bridges. Well known attractions like Guiyi Original Site, Fuli Bridge, Chuan Cave, Seven Stars (seven mountain peaks that seem to form the pattern of Big Dipper constellation), Rhinoceros' Deep Pool, Zhaoyang Camp, Zhus' Camp, Ancient City (ruins of 39 arches and the city's wall remainings) and more will also appear during the ride. TIP: Keep an eye for Dragon Bridge which appears in the film "The Painted Veil", which was filmed in Guilin.
Starting points for drifting activities are scattered along most of the river and the ride duration varies from half an hour to five hours.
If you drive a rental car you need to take the G65 Baomao Express entering from Guilin or Hezhou. Turning right at the Jinbao Road exit and driving for around one km will get you to Yulong Bridge.
However, the easiest and most inexpensive way to get to Yulong village is by riding a minibus from Yangshuo Station. The ticket costs 5 Yuan (0.79 US dollars) and it gets you straight to Yulong village or Jinglong Bridge where you can start your drift.
For those who feel fit enough biking from Yangshuo can be an option. It is a 70 minute ride up to Hongqui Dock. TIP: You can take your bike on the raft.
Other options are either hiring a taxi that will cost around 40 Yuan (6,30 US dollars) or taking a bus from Yangshuo station (ticket costs 3 Yuan-0.48 US dollars) to get to Jinbao crossing and then hiring a three wheeler or motorcycle taxi for a 20 minute drive to Yulong village.
Drift rates start from 140 Yuan (about 22 US dollars) and go up to 240 Yuan (around 44 US dollars) depending on the duration of the ride.
Drifting along Yulong River is avoided during winter time due to bad weather and the fact that the area becomes too quiet. The rest of the year (November to April) is a good time for visiting and drifting. However, in order to make the most out of your visit prefer either April, when the waters are crystal clear, the temperature is ideal, lush is at its peak and the fog around the mountains creates a mystical background, or during the summer months when you will be able to take a dive in the river. TIP: Avoid national holidays such as May Day (May 1st) and National Day (October 1st) since the tours tend to be overbooked and the river overcrowded.
Solo Adventure Tips:
Location:

In yangshuo
How to Get There?

The best way is to rent a bike in Yangshuo and cycle along the river to take in the pleasant countryside scenery.
Ticket Price:

150-240yuan for a bamboo raft, each raft can seat 2 persons.
Opening Hours:
All the day
More Tips:

Rafting route: Fuli Bridge- Gold Dragon Bridge- Qifeng Hill- Tianzuo Village- Yulong Bridge- Stone Dragon Villa- Eight Immortal Cave- Twin Lion - Lover Hill- Guiyi Ancient Town- Xiangui Bridge- Mushroom Hill- Bajie watching Moon- Chaoyang Ferry-tortoise race- flying red flag-Waterwheel Villa- Frog Jumping Over the River- Five Finger Hill- Camel crossing the River- the Moon Hill-Huge Flying Ra-Pan House-Gonglong Brigee.
Hiking along the river takes about 4.5 hours
Food: there are many restaurants along the river. The price is cheap mainly serving local vegetables and tea eggs and fruits .
Information accuracy:
We try to make the information on China Travel accurate when we write/edit it. If you find any outdated information, please inform us.