Guilin Transport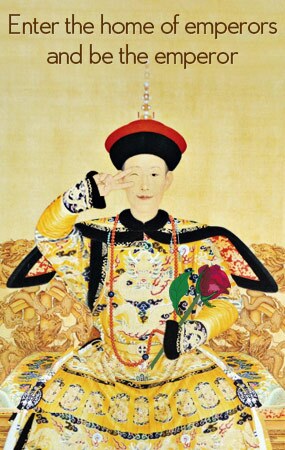 A large number of foreign travelers and Chinese people come to Guilin to enjoy the unforgettable landscape. The city Guilin provide visitors a convenient transport net consisted of flights, rails, buses, taxis, bikes, boats, etc. Guilin Liangjiang International Airport (KWL) has domestic flights to the major cities and a lot of international flights. The railway systems provide cheap, safe and fast trips to other cities in China.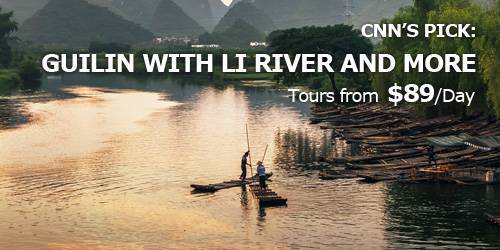 Guilin Air Transport
Guilin Liangjiang International Airport (Airport Code: KWL) is located in Liangjiang Town, Lingui District, which is about 28 km southwest of city center. The airport was built in 1993 and opened to public in 1996. It is equipped with navigation, communication, monitoring and logistics system, which could provide 24-hour service. The departure hall in Terminal 1 has two floors and covers an area of more than 50,000 square meters. There are 8 boarding bridges and baggage conveyor belts. There are also commercial catering and other rental service facilities, like bank, in the hall. Be regarded as an important transportation way, it logged over 5.8 million passengers in 2014, making it as the 33rd busiest airport in China. As tourism developed, Terminal 1 was overloading with passengers. In 2015, the construction of Terminal 2 was officially started.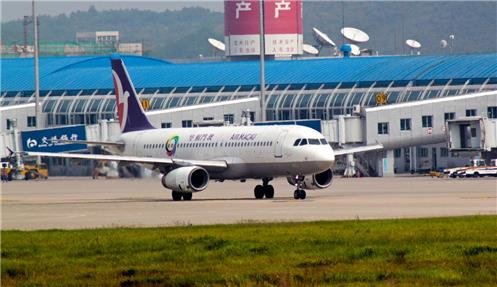 Guilin Liangjiang International Airport (KWL)
Guilin Liangjiang International Airport is the only airport in Guilin to offer about 50 airlines. It has domestic flights to the major cities and dozens of international flights such as the flights to Japan, Singapore, Korea, Macao and Hong Kong. The journey from the airport to Guilin city centre takes about 40 minutes and the price for a taxi is about 80 CNY. The airport shuttle bus with a price of 20 CNY runs between the airport and the CAAC (Civil Aviation Administration of China) building which is located at NO.18 Shanghai Road in Guilin. There will be an airport shuttle bus when a flight arrives at the airport. And the shuttle bus from city center leaves every 30 minutes from 6:30 am to 20:00 pm. The telephone for shuttle bus service is 0773-3843936/3808888. 
>> Book discount flights from/to Guilin
Guilin Train Transport
There are two railway stations - Guilin Railway Station and North Railway Station in Guilin. Situated at Zhongshan South Road of the city, Guilin Railway Station (South Station) offers railway tickets to major cities in China. Compared with the convenient location of Guilin Railway Station, North Railway Station is less used. Most passengers will get off at Guilin Railway Station rather than North Railway Station.
Tips: Passengers need to buy sleeper tickets 5 to 10 days in advance because Guilin usually is a mid-route stop in the whole journey.
>> Click here to book China train tickets
Guilin Coach/Bus Transport
Guilin Coach Station is the main bus station in the city. Situated at No.427 Zhongshan South Road, it only takes about 10 minutes to walk from Guilin Railway Station. Most coaches to the counties in Guilin and other Cities in China such as Naning, Kunming, Guangzhou, Shenzhen and Zhuhai are convenient. Most buses in the city centre are 1 CNY and 2 CNY is for a sightseeing bus or an air condition bus.
Tips: The coaches leave for Yangshuo in every 15-20 minutes from 7:00 am to 18:00 pm in Guilin Coach Station. The trip takes about 70 minutes with a price of 17 CNY per person (including 2 CNY for the insurance). 
Waterway Transport
Li River and Taohua River go through the whole Guilin, and there are 2 wharfs- Mopanshan Wharf and Zhujiang Wharf to take a cruise to Yangshuo along the Li River. This trip with amazing landscape attracts millions of traveler at home and abroad. 
Zhujiang Wharf offers an English tour service for foreign travelers. Foreign Travelers need to go to Zhujiang Wharf to take the cruise which cost about 210 CNY per person. The cruise ships usually leaves for Yangshuo at 9:00 and 9:30 in the morning and the whole journey takes 4 hours.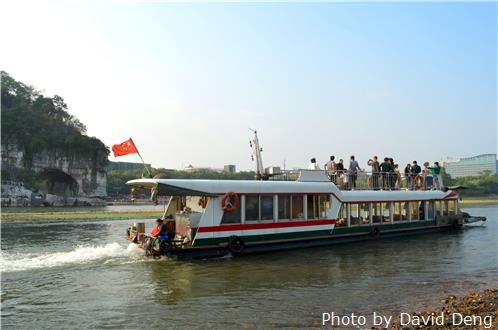 Li River Cruise
Travelers can buy the tickets in the Guilin Li River Sightseeing Dispatch and the Ticket Center .The Ticket Center is situated at No.38 Fuwang Garden near the South Gate Bridge and it can arrange a bus to pick up passengers with a price of 70 CNY. Visitors also can take a taxi to Zhujiang wharf because there are no buses to these wharfs. Travel agencies and hotels are other options to get the cruise ship tickets. Telephones for ticket service are: 0773-2825502, 0773-2826484
Other Transport Tool
Guilin Taxi drivers are friendly and helpful and they can bring passengers to any destinations they want. Taxi in Guilin is reasonable cheap with a basic fare of 7 CNY and a further price of 1.6 per kilometer and plus 1 or 2 CNY for fuel surcharge. The basic fare will be 7.8 CNY after 23:00 at night.
Guilin is a city filled with bikes and electric motors. Visitors can easily rent a bike or an electric motor to explore the new journey in Guilin, especially there are hundreds of bike rentals in Yangshuo with a truly cheap price.
Our local experts are always ready to create you a hassle-free tour. Get an authentic experience by contacting one of our travel advisors.