Guiyang Travel Guide
Last updated by fabiowzgogo at 2017/8/29
Guiyang Overview
Guiyang, capital of southwest China's Guizhou Province has been gradually thrust into tourist limelight as the best city in China to escape summer heat. Guiyang had the distinction of being chosen as the best summer destination in China. But the result does little justice to the city's pleasant summer weather condition and unique charm.
While the vast majority of China has very hot summers, Guiyang is an enclave of coolness where a thin quilt is even needed during the night time. The city is situated on the Yunnan-Guizhou highland with low latitude and the average temperature from June to August is approximately 23 centigrade degree.
Economical development and urbanization in some cities in China have been widely criticized for being at the cost of environment. In the large industrial cities of the north, pollution can be quite bad. Fortunately Guiyang has retained an environmentally-friendly atmosphere thanks to attitude and effort of the local government.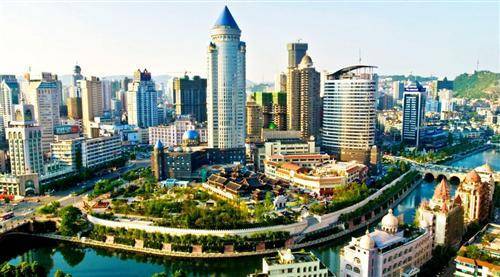 Guiyang City
Karst Landscape in Guiyang
Aside from its comfortable weather conditions, Guiyang lays claims to its unique karst landscape and colorful ethnic cultures in the region.
Unlike its neighboring region Guangxi, whose karst terrain is still under development, Guizhou's topography features a myriad of developed karst landscapes, epitomized by the numerous waterfalls, stone forests, caves, ravines, pinnacles, subterranean lakes and hot springs. The magnificent and thundering Huangguoshu Waterfall, the glittering Hongfeng Lake, outcroppings of the Fanjingshan Mountain are the highlights of the natural scenery.
Guizhou's natural scenery is very impressive but the patent ethnic savor steals the shows. China's west frontiers are nicknamed as the corridors of the nation's minority peoples as these regions are inhabited by China's largest ethnic population. Compared with other provinces in Southwest China, ethnic groups in Guizhou are more pristine, simple and mysterious. The strong exotic flavor is the nub of Guizhou's tourism resources and it's the various ethnic communities scattered throughout the region embellish the physical space and add more dynamics and vitality to nature.
Population in Guiyang
Guizhou is home to more than 10 ethnic groups, most of who live in the southeast realm bordering Guangxi and Hunan. Their pristine culture, tradition and lifestyle are well preserved and displayed. Those ethnic people still live in their aged houses, practice their centuries-old customs and adhere to their simple life.
A trip to Guizhou is inevitably a tour of spiritual neutralization for urban people, a trip to return to nature and a tour to experience the destinies of the region's ethnic people.