Hangzhou Zoo
Overview
The Hangzhou Zoo is the local zoo located in Hangzhou. Like many other scenic spots in the city, the zoo is encompassed by the West Lake Scenic Area. The zoo was founded back in 1968 and was rebuilt in October 1975. Currently, it spans a total area of 20 hectares. The zoo is worth a visit due to its unique mountain forest style.
It is designed specifically to integrate animal protection, scientific research, education, sightseeing, and popular science, making it an ideal destination for students on educational tours, for those who are in the field of animal studies, and for tourists who simply wish to enjoy seeing various kinds of animals. Most importantly, however, the animals in the zoo are kept in as natural environments as possible, so visitors can usually observe their natural behaviors. This is what makes the Hangzhou Zoo always a very popular destination for families with kids. 
In recent years, the Hangzhou Zoo has decreased in popularity, perhaps due to the growth of several other scenic areas in the region. Still, many tourists always add the zoo to their itineraries when touring Hangzhou, and many locals consider it an entertaining place to visit thanks to the animals' antics. 
Things to do
The Hangzhou Zoo has over 200 different kinds of animals kept there, so kids have plenty to see. The highlights include the Panda, which is China's national treasure, and a giraffe, which is the world's tallest animal. There is also an elephant, known as the biggest mammal on land, and the African ostrich, which is hailed as the biggest bird. A boa, the biggest serpent, is also part of the zoo's collection. Other animals include a golden monkey, a chimpanzee, a hylobates leucogenys, a lemur catta, a squirrel monkey, a Manchurian tiger, an African lion, and a Yangtze alligator, among many, many more. 
To further entertain guests, Hangzhou Zoo also offers various animal performances, which feature tigers, elephants, lions, monkeys, bears, sea lions, and many other types of animals performing stunts. The most popular are the bear boxing and the bear skiing shows. 
There is also a nice aquarium display that attracts many visitors especially due to its unusual and rare goldfish species, such as the Red Bubble, Purple Crown, Silver Lion Head, and Black Dragon Eyes. Many natives believe that the art of raising goldfish originated in Hangzhou. 
In recent years, there has also been a move to plant various types of fruit trees in large numbers in Hangzhou Zoo. This has helped make the zoo also an abundant garden that offers excellent walking paths and sightseeing views. 
Some structures are also built and scattered all over the zoo; these include the Pagoda of Six Harmonies, a picturesque pagoda that offers an excellent backdrop for photographs, and the Taiziwan Park. The zoo is also home to a Pupaomeng Spring and a Fish Wonder at Huagang Crook. From the zoo, guests can also enjoy a view of the Flying Clouds over Jade Emperor Hill. 
If you want a change from the gardens, parks, and mountains that surround most of Hangzhou and would instead like to see some animals, the zoo is a great place to visit. 
About visitors abused African lions at the Hangzhou Zoo on Jan.5th, 2013
Firstly, it makes us angry to hear that African lions in Hangzhou Zoon were attacked by visitors with snowballs. Thousands of Chinese feel angry and guilty about individual low-quality behaviors.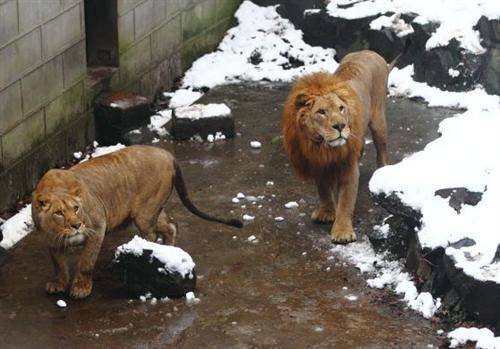 Hangzhou Zoo has appealed to visitors not to attack or make fun of animals and animals are our friends. They also appealed to visitors to love and protect the animals. Besides, Hangzhou Zoo has acknowledged their fault in this event. They will strengthen inspections in the zoo and remind visitors of loving and protecting animals by broadcast and brochures. Hopefully, animals in the zoo can get help through the event.
Location:

40 Hupao Lu
How to Get There?

Take bus no. K4, K808, K822, 822, 527, 315, 504, and 514. If you are driving, keep in mind that the zoo is just a couple of kilometers to the south of West Lake. 
Ticket Price:

RMB 20 for adults
RMB 10 for kids 
Free for children shorter than 1 meter
Opening Hours:

May 1 to October 7: 7:00—17:30
October 8 to April 30: 7:00—17:00
More Tips:

Telephone: 0571-8797-0657
Recommended Hangzhou Tours:
For an authentic travel experience, contact one of our travel advisors. Our local experts are always ready to create a hassle-free tour for you.