Hangzhou Shopping
Hangzhou Local Products:
Hangzhou is justly famous for tea and silk, but it's also a great place for freshwater pearls, local crafts, fans, antiques and souvenirs.
West Lake Lotus Root Powder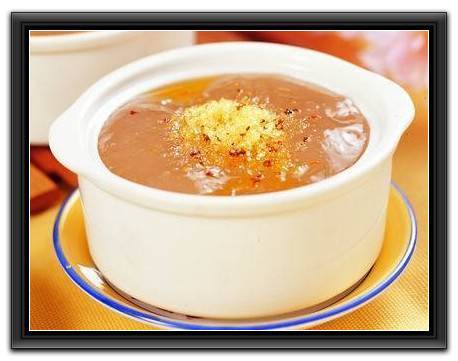 It is one of the famous specialties of Hangzhou. It has unique flavor and rich nutrition. The area from outside the Genshan Gate to the Yuhang County is the main place of origin of the West Lake lotus root powder. The lotus root powder produced in Tangqi Sanjia village is particularly famous. The village used to provide tribute powder for the loyal family. The lotus root is the stalk of lotus under the ground. The lotus root powder, which goes through special processing, is in the shape of flake, thin and smooth, with red amid white color.
Dujinsheng Brocade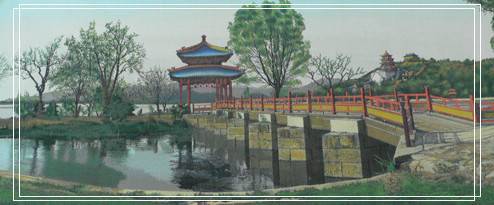 Brocade is a silk fabric with patterns. The end product is splendid, luxurious with gorgeous colors and distinct national characteristics. Bai Juyi, a great poet in the Tang Dynasty, praised it as getting the pattern from the heaven and weaving it in the earthly world. Dujinsheng Silk Weaving Mill, the largest brocade mill built in America in 1922, produces multi-colored silk fabric with Chinese painting pattern and multi-colored brocade with landscape pattern, which have won a golden prize as early as 1926 in the American Pilidelphia International Expo.
Tianzhu Chopsticks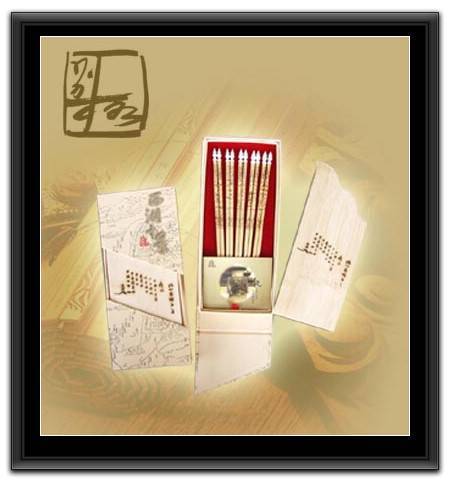 It is a local specialty of Hangzhou. The history of production can be traced back to the Guangxu period of the Qing Dynasty. At that time, there were many people who went on a pilgrimage to Tianzhu and took a tour. When the locals lended meals to them, they cut solid Shuixin bamboos into chopsticks. Some of the pilgrims and tourists took the chopsticks back as remembrance after having meals with them. As time passes, the name of the Tianzhu chopsticks spread and become a commodity. The Tianzhu chopsticks have many specifications. It can be divided into ten and a half inches, ten inches, nine and a half inches, nine inches, and nine point four inches according to the length. It can be divided into three kinds according to the thickness. It has many methods of decoration. It has Buddha, landscape and inscription according to the pattern. It has aluminum, iron and bone, etc, according to the cover and inlaying materials.
Dragon Well Tea Of The West Lake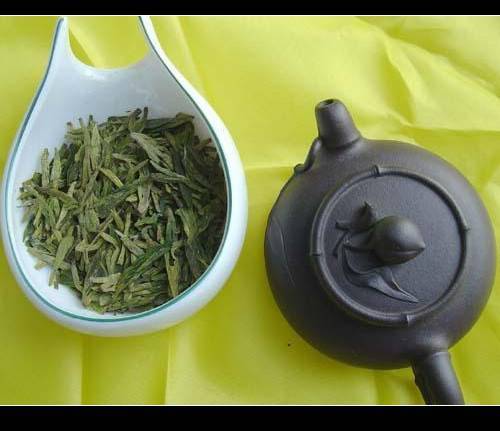 The Dragon Well Tea (Longjing Tea) of the West Lake has a history of more than 1200 years. The traditional Dragon Well Tea has divided into the varieties lion, dragon, cloud, and tiger. The Dragon Well Tea is made by picking tender tea leaves and stir-frying them. The picking time is very important and the tea leaves picked before the Qingming Festival (in April) are called Mingqian while those before the Grain Rain are called Yuqian. Both the Mingqian tea and the Yuqian tea are top grade, while leaves picked after them are ordinary tea leaves. The Dragon Well Tea has what is usually called the four wonders, namely, green color, thick fragrance, thick flavor and beautiful shape.
Hangzhou Silk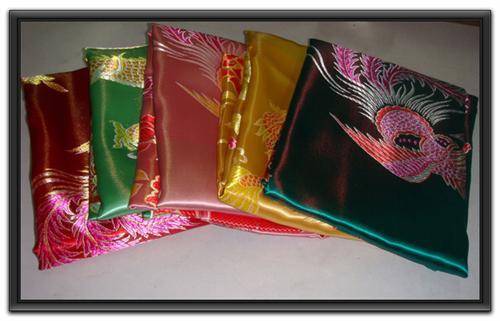 Hangzhou silk is light and soft with gorgeous colors. As early as the Han Dynasty, it had had an international market through the famous silk road. In modern times, it has developed into more than ten varieties, such as silk, satin, damask silk, gauze, brocade, spin, velvet, crepe and carbaso, etc.
Hangzhou White Crysanthemum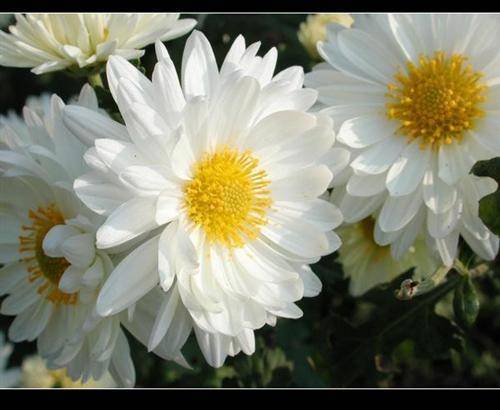 It is a perennial herb, also called Hang crysanthemum. It is one of the famous products in Hangzhou and ranks with Anhui Chu chrysanthemum and Deng chrysanthemum. Hang chrysanthemum has a long history of culvitation and used to serve as a tribute in ancient times. Tongxiang County is a main place of origin of Hang chrysanthemum. Hang chrysanthemum planted here has the best quality, with the varieties of Hu crysanthemum, Dayang crysanthemum, Xiaoyang crysanthemum, Dahu chrysanthemum, etc.
Wangxing Fan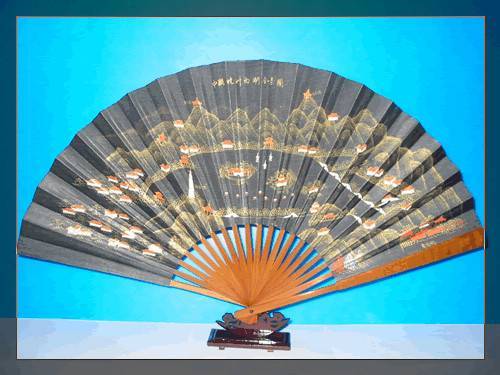 Wangxing Fan has enjoyed a reputation since the Song Dynasty, which was called Hangzhou elegant fan and was a tribute to the Court in old times. Wangxing Fan Factory produces ten categories of fans: folding fan of ink paper, sandalwood fan, carbaso fan with bamboo bone, ivory fan, feather fan, royal round fan, drama fan, dancing fan. There are more than 300 varieties with about 2000 designs.
Tianmu Dried Bamboo Shoots
It is a famous traditional specialty of Hangzhou. The Tianmu Mountain is within the borders of the Lin'an County under the jurisdiction of Hangzhou. It has a height of more than 1000 meters above sea level. It has subtropical monsoon humid climate with clear-cut four seasons, thus being most suitable for the growing of bamboos. The bamboo shoots produced there are featured by thin husk, thick flesh, tenderness and sweetness amid freshness.
Zhang Xiaoquan Scissors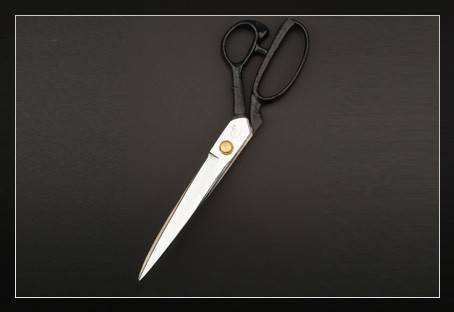 It is a famous product of Hangzhou, which was created in the second year of Kangxi' reign in the Qing Dynasty (1633). The founder is named Zhang Xijia, who wandered about destitute from Huizhou to Hangzhou. It was said that when Emperor Qianlong traveled southward, he bought the scissors and greatly praised them while walking in casual.
Changhua Chicken Blood Stone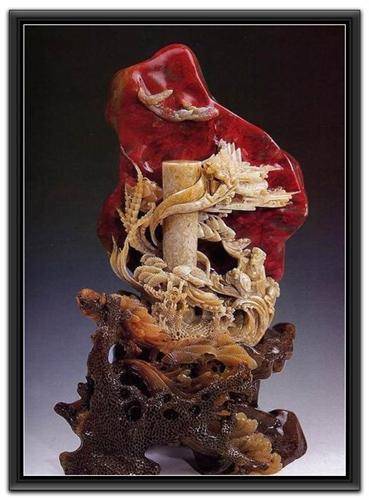 The place of origin of chicken-blood stone is Changhua of Lin'an. It is a precious stone uniquely owned by China. It is as red as chicken blood in color and extraordinarily gorgeous. It is like pretty jade with natural beauty. It is a treasure of seal stone in China.
Hangzhou Shops and Stores:
Hangzhou Chinese Silk Center is a good place for tourists fond of silk products, as is Hangzhou Urban Shopping Markets. Wulin Road and the stalls of the Sijiqing Clothing Market are also the frequent destination for tourists. Don't forget to bargain with the vendors.
Sijiqing Clothing Market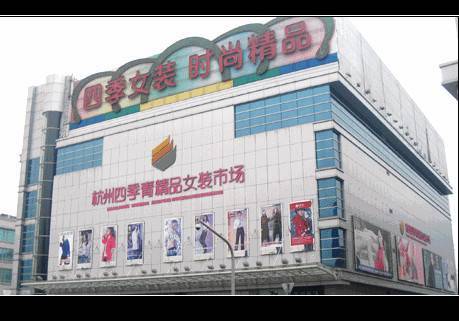 Sijiqing Clothing Market is predominated by wholesale. The price is absolutely low and the design follows closely in vogue. Many small special stores in Shanghai wholesale clothes from there. If you have a preference for wandering around small stores and searching for fancy clothes, you may pay a visit to Sijiqing and will surely come back with fruitful results.
Wulin Road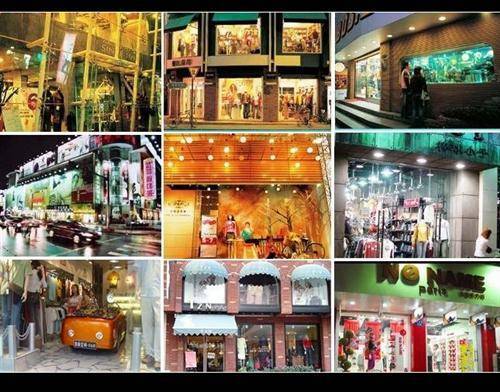 Wulin Road is to Hangzhou what the market on the Xiangyang Road is to Shanghai, as there are a great number of small special stores with multi-styles, which is ofthen frequented by smart set. Wulin Road is also called a gathering place for Hangzhou style women's clothing, because the reputed Hangzhou style women's clothing spread all over the country from here, of which are brands of Jiangnan Buyi and Qiushui Yiren, etc. The design of Hangzhou style women's clothing is graceful, unrestrained and efficacious glowing with rich intellectual and fair lady temperament, thus having won more and more attention.
Hangzhou Urban Shopping Markets
Yintai Department Store: No. 530 Yan'an Road Hangzhou Department Store Building: No. 260 Yan'an Road Hangzhou Mansion Shopping Center: No. 1 Wulin Square Yuanhua Commercial Center: Hubin First Park
Recommended Tours: