Zhongyang dajie, or Central Street, as it is called in English, is a 1400 meter long commercial avenue – featuring principally Russian and European style facades – that stretches from the flood-control memorial tower (the 'Fighting Against The Floods' Memorial Tower) situated on the southern bank of the Songhua River, southward to Xinyang Square.
Zhongyang dajie was dubbed Chinese Street (Kitaiskaya Ulitsa) in the early 1920s by the large contingent of Russians who lived in Harbin, the largest ethnic group in the city at the time – larger even than the combined ethnic groups of Chinese peoples living in Harbin at the time.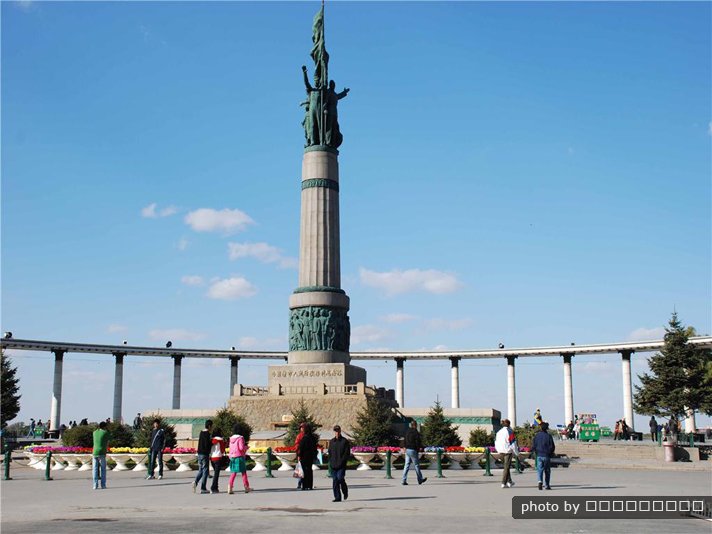 Highlights
Odd Stores
Restaurants and specialty shops that line the sides of Central Street, 71 of them are either in an original Russian or European style or in a mock-European or a mock-Russian style, reflecting a 16th century Renaissance, a 17th century Baroque, an 18th century Eclectic, or a Modern School influence, as the case may be. Of the original buildings, 13 of them enjoy state protection as priceless cultural-historical relics. Indeed, Central Street has been called an "Open-Air Architectural Art Gallery", not dissimilar from The Bund in Shanghai, albeit, on an incomparably more modest scale.
Most of the facades along Central Street have received a face-lift in recent years, partly in order to preserve them for posterity and partly in order to capitalize on this obvious gem of a tourist attraction, in the same way that city administrators everywhere are eager to restore whatever cultural-historical highlights that their respective cities have to offer, where the aim is to balance commercialism with historical integrity. Central Street was converted into a mall, or pedestrian street, in 1997, and this has had a transforming effect on the street and the city, since Central Street again became a popular dining and shopping street, overnight.
Prominent Buildings
Some of the street's more prominent buildings include: Jiaoyu ("Education") Bookstore, an excellent example of Baroque architecture and considered the hallmark of Central Street; the Mod-Er Hotel, formerly the Modern Hotel, built in 1906 in the Art Nouveau style (the name change being an imaginative way to conserve most of the letters of the original name – and note that while mod means nothing in Mandarin, er can mean anything from "son" to "stupid" to "ear" to "pastry" to "tree mushroom" to "jade (or pearl) earring" to "caviar" to "beard" to "hearse" – to name the more interesting examples – depending on how the pair of pinyin letters er is rendered in Mandarin); the Daoliqiulin Shop, also another Art Nouveau building, erected in 1919; and the Xiehe Bank, built in 1917 and now known as the Fuer ("Women and Children's") Shop.
Purchase
Some interesting items can be purchased in the various shops and stores along Central Street – besides a broad range of international and Chinese cuisine, of course. These include: Russian furs (think: mink stoles, mink capes, etc.); Russian leather products (everything from jackets to belts to sheaths to do-dads); British "woolens" (sweaters, vests, gloves, mittens, ear-muffs, etc., in everything from plain wool to merino to cashmere to synthetics); French perfumes and colognes (where you can find all of the non-French as well as the French brands, from Yves Saint-Laurent to David Beckham); Japanese cottons; Swiss timepieces; Indian gunny bags (and countless other Indian tote bags and indispensable accessories); American junk food (just kidding – who can live without the occasional burger, Kentucky-fried chicken or pizza, eh?); and of course the Germans would wish to be sensibly represented by their outstanding medicines, so should a headache or a tummy-ache develop after a night on the town, the nearest pharmacy can put you straight in a jiffy.
Actually, though they are not specifically sold as being German, the sausages of Harbin are said to taste more like European sausages – German Bratwurst or Polish Kielbasa – than the usual Chinese sausages; try them and decide for yourself!
Antique Shops
There are also lots of antique shops both along Central Street and in the Daoli Old Quarter where, with a bit of luck, you might very well run across a genuine Russian samovar or ukulele. Central Street is renowned as the most charming street in Harbin, and is at its most charming during winter, when you can take a sleigh ride along a slice of Central Street that is reserved just for this purpose. Harbiners say that if you dream of visiting Moscow, Paris and Rome all in one shot but can't afford it, you should consider their city as a viable alternative, since it offers a flavor of all three of these famous cities, under one roof, as it were, and considerably cheaper!
History
This demographic peculiarity was due partly to the fact that Russia, in "agreement" with the Qing government (this was part of the "Colonial Era" in China – aka the Unequal Treaties period – when trade and territorial concessions were forced upon China), had rerouted the Trans-Siberian Railway line between Moscow and Vladivostok, Tsarist Russia's easternmost port, so that it ran directly across Heilongjiang Province and the then Songjiang Province (formerly the eastern half of present-day Heilongjiang Province), whose capital was Harbin, and thus Harbin became an important link on the Trans-Siberian Railway line, with numerous Russian functionaries and attendant service personnel living in the city, as well as numerous Russian traders and others who preferred the relative obscurity of such a remote outpost.
The presence of so many Russians in Harbin as late as the early 1920s (the Russian influence, and thus the Russian presence, in Harbin waned after Russia was defeated in the Russo-Japanese War of 1904-05) is also partly due to the fact that the Russian Revolution caused vast numbers of so-called White Russians (as opposed to the "Red", or Communist, Russians) – including many Jews – to seek refuge in Harbin, though many White Russians, including a large contingent of Jews, fled to Shanghai during this period. But also other groups, be they ethnic or religious, who felt themselves persecuted – such as the Mennonites – found a welcome haven in the city of Harbin. And not only were Orthodox Christian churches erected in Harbin, Protestant missions also operated freely in this most tolerant of Chinese cities.
The street that would cause the city to be likened to Moscow (the "Moscow of the East") and to Paris ("Little Paris") came into being as a simple dirt path along which essential railway supplies, including locally grown foodstuffs, could be transported by cart from the outskirts of the then small village to the railway station. By 1924, "Chinese Street" had grown into a broad avenue, albeit, still of dirt (it is said that during the rainy season, wooden planks were placed across the street at the intersections since the cart traffic in the street itself would churn the dust to thick mud), lined on either side with burgeoning businesses that catered especially to the foreigners who had made Harbin their new home.
Therefore, the city's ruling fathers, in recognition of Harbin's bright prospects, decided to have the street paved with cobblestones, and accordingly employed the services of a local Russian engineer to design the layout, or pattern, of the street's cobblestone surface, the same surface that one sees today, give or take a few hundred repairs in the interim.
Solo Adventure Tips:
Location:

Daoli District, Harbin
How to Get There?

From the center of Harbin – or from anywhere you spot one of the following buses – climb on board either Bus No. 1, 2, 8, 12, 13 (Harbiners are apparently not so superstitious), 15, 16, 20, 23, 64, 85, 101, 102, 103, 113 (again!), or 114, and, depending on which bus it is, the stop you are looking for is either Central Street or Youyi Road (just tell your fellow passengers, or the bus driver, that you are looking for Central Street and the rest will come of itself).
Ticket Price:

free
Opening Hours:

All day. There are ice and snow sculptures from the late December to the February of the following year. Visitors have the opportunity to see the procedures of how to make an ice sculpture if they go to Harbin in December.
More Tips:

The best seasons to visit the street are September and October.
Information accuracy:
We try to make the information on China Travel accurate when we write/edit it. If you find any outdated information, please inform us.