Grand World of Ice and Snow had been built in 1999 on the banks of Songhua River. The event is organized each year and it attracts the elites of snow and ice art from all over the world. The event combines snow and ice with recreation, mass participation, artistic presentation and creative new ideas. It is known to be the Epic Picture of Snow and Ice and is held in a new location every year.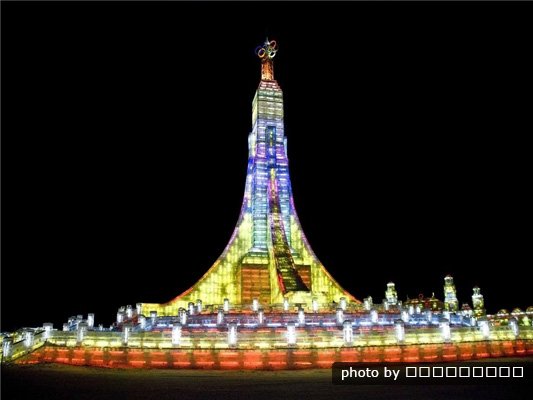 History
The Grand World of Ice and Snow first started in 1999 and it is considered today to be among the four biggest snow and ice festivals in the world along with Quebec, Norway and Sapporo.
The festival mainly attracted Chinese participants at first but it has turned into an international competition and festival in the last few years. Each year the size of ice architecture and snow sculpture keeps growing. The work that can be seen today in the festival is astounding with amazing beauty and size.
Highlights
The event is spread out over three different venues and walking through these venues visitors will find word record size sculptures that are often larger than two football fields. There are often ice statues, monuments, palaces and buildings that are 50 meters tall and visitors can slide on or walk through them.
The displays use regular lighting and computerized LED and are very technologically sophisticated to create stunning visual effects of ever changing designs and colors. There was once a Great Wall of China replica made from ice that visitors could slide on. Several ice architectures feature slides. Harbin is known as the Ice City since the winters are quite cold here.
Ice Lanterns
Ice lanterns were mainly made by the fishermen in the area for winters. The lanterns were invented so they could keep the lamps burning even in winters when they would go out on the lake. A container would be filled with water and would be frozen. Inside this ice they would put in a candle or a lamp. The first ever Ice Lantern Festival is believed to have been organized in 1963 in the Zhaolin Park district of the city. The festival had been suspended for a few years but has started again.
A Major Attraction
The Grand World of Ice and Snow is held in the Sun Island Park since 2001 near Songhua River. This provides a lot of space for the festival so dozens of large structures can be built and other competitions can be comfortably held during the festival. Today, the Grand World of Ice and Snow attracts thousands of people that come from all over the world and exhibit their craftsmanship in the three sites. The ice buildings created in Stalin Park are huge and the event features a lot of foreign entrants as well as local participants.
Solo Adventure Tips:
Location:

North bank of Songhua River, Songbei District, Harbin 150000, China
How to Get There?

taking bus No.126 at Flood Prevention Cenotaph Station on Youyi Road and getting off at Ice and Snow World Station, visitors can get to Ice and Snow World. It takes about 40 minutes' drive. Besides, visitors can bus No. 88, 119 and 125 and get off at Ice and Snow World Station as well.
Ticket Price:

(9:00-12:00) Adult's ticket: 150 yuan;: child over 1.2 meters and student's ticket: 120 yuan
(12:00-21:00)Adult's ticket: 300 yuan, child over 1.2 meters and student's tickets:160 yuan per person.
On New Year holiday, Spring Festival holiday and the 15th day of the first Chinese month:330 yuan per person.
Visitors over 70 years old and children under 1.2 meters: free
Every year, the ticket price adjusts a little.
Opening Hours:

9:00-21:00 from December 24 to the February of the following year
More Tips:

Close to the Grand World of Ice and Snow is the Siberian Tiger Park where visitors will find hundreds of lions, Siberian Tigers as well as large cats on exhibition.
Recommended visiting hours: 3 hours
After entering Ice and Snow world, keep the ticket. Visitors will use the ticket when they want to enjoy items. Some items may need some deposit.
Take on enough clothes and bring warm drinking water.
Information accuracy:
We try to make the information on China Travel accurate when we write/edit it. If you find any outdated information, please inform us.