Hetian Food
Last updated by lifeng at 2017/5/16
In the entire Hetian Prefecture, 96 percent of the population is Uyghur. So all typical cuisines of Xinjiang can be eaten in Hetian, such as Xinjiang Rice (a kind of food popular among believers in Islam), Hominysamp, Roasted Whole Lamb, Shish kebab, Toasted Baozi, Sanzi(a traditional festival food for guests among the Uyghurs and other nationalities ), Lagman (a kind of handmade noodles toped with stir-fried lamb and vegetables), yoghourt and Nang. Everybody likes the taste of the tender lamb with cumin seeds, red pepper flakes, and salt. Nang is very crispy and tasty. Breads there are baked with seasame seeds, butter, milk, vegetable oil, salt, and sugar to add its favor. Youtazi (steamed multilayer bread) are well-known in Hetian. Roasted eggs are a kind of Uyghur snack with unique flavor in Hetian, you can't miss it and you can't find it in other places any more.
Hetian Featured Food:
Nangkeng Flour Made Food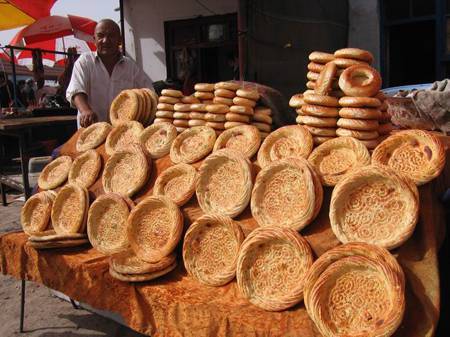 Characteristics: It is a kind of baked food, and is jointly called "Nang". "Nangkeng" is the cooking range to bake the food, and ordinarily they take on the shape of a truncated cone, i.e. the top entrance is small while the bottom body is large. It is made from saltpeter.
Greasy Tower Pie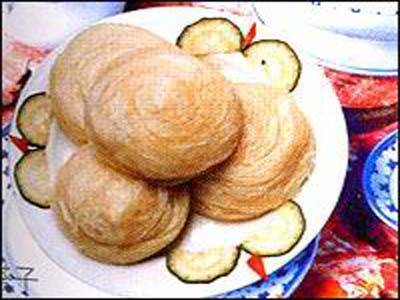 Characteristics: Since the food take the shape a tower, so it got the name "tower pie". It is also one of a favorite food of Uigur people. It is often eaten at breakfast with a kind of soup. The pie is white and greasy bright with many layers; each layer is as thin as a piece of paper. It is oily but not greasy, delicious and soft but not sticky, so it is suitable for the old as well as for the young.
Tender Corn Meal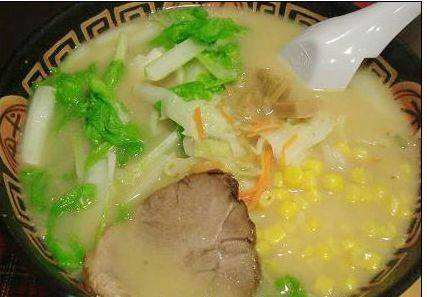 Characteristics: It is a kind of Uigur food with unique flavor. First, people cut tender corns from fresh corn cobs and put them in a wooden basin, then pound them with a stone until they become paste, pour the paste in a boiler, add some water, boil it for two or three hours with small fire, then add some sliced meat, cabbage, pumpkin, tomatoes, green capsicum and salt and boil it a little further longer.
Toasted Eggs
The egg white is tender, tasty and refreshing, while the vitellus takes on a slight delicious smell. The process is to put the egg into the ember of the firewood and turn it continuously; the most important point is to control the temperature of the ember.
Page 1 of 1 First Previous 1 Next Last