Hohhot Food
Last updated by cactus at 2017/4/26
In Hohhot, you will have a taste of typical Mongolian food and drinks, such as milk tea, toasted millet, boiled skim milk, cream, and tender finger mutton. People from Inner Mongolia eat almost every part of the lamb. Roasted lamb chop, fried mutton, parched lamb intestines, steamed lamb heart, mutton stuffed bun, and boiled lamb viscera soup are all authentic dishes worth trying. The most famous dish in town is undoubtedly the Mongolian hotpot, which can be found in most restaurants here. And wine is an essential part of the Mongolian dinner table. Every tourist will enjoy the food here.
Hohhot Featured Food:
Boiled Camel Paw And Gold Jiaozi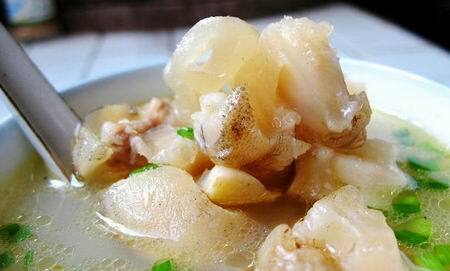 The basic way making this dish is like this: First boil and slice camel's paw, then hold it in a bowl and stream it with chicken soup until it becomes soft and tender, and then make jiaozi with egg wrappers and shrimp filling. After that, jiaozi will be placed around camel's paw in a dish and then caked with soup-stock. The nutritious dish tastes delicious, fragrant and to the taste of everybody.
Roasted Whole Lamb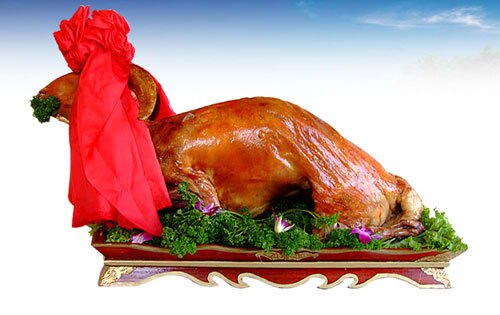 Roasted Whole Lamb is a Sherwood-Forest like tradition that was handed down by the Yuan (CE 1279-1368) Dynasty (it will be remembered that the first emperor of the Yuan Dynasty was none other than Kublai Khan, grandson to Genghis Khan). Later, during the Qing (CE 1644-1911) Dynasty, the royal court loved the idea so much that they made it into a feast, the "Zhama Feast" (meaning a feast with a whole roasted animal, i.e., with only the hair and entrails removed). The Mongolian maharajas of the Qing Dynasty regularly treated their honored guests to the Zhama Feast. Today, Roasted Whole Lamb is a traditional dish that Mongolians turn to for entertaining distinguished guests, and when holding important cerebrations. It is also a part of official government etiquette to entertain state guests with a Zhama Feast.

The standard animal for a Zhama Feast is a well-fattened sheep of about 20 kilograms. The roasting procedure requires a special oven, as animals this large cannot
Naked Oat Flour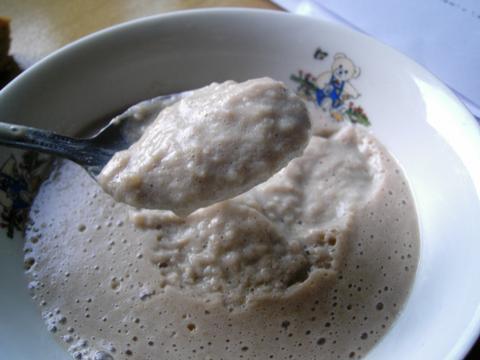 Naked oat is a kind of oat. Naked oat flour is processed out of naked oats. The naked oats, a cold-resisting, salt-alkali-resisting and low-yield crop with a short mature period, contain high protein, fat and many kinds of microelements, such as iron, calcium and phosphorus and so on.

The naked oat flour is often processed in a special way. After washing and drying by airing, the naked oats will be baked and then milled into flour. The flour can be made into noodles and some other kinds of food.
Genghis Khans Favourite Sizzling Meat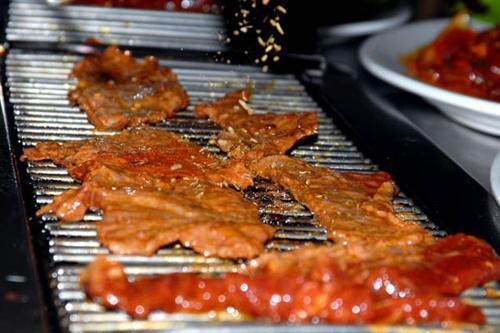 This dish is very popular in Central Asia, Southern Russian and other parts of the world. According to a saying, Genghis Han liked this dish very much, who had led his army to conquer other tribes and countries, thus this dish also got spread. The making of the dish is unique. Meat, like mutton, pork, beef, chicken and fish will be sliced firstly, then roast it on a heated iron plate, and then season it with sauce, pepper, mustard, ginger and mashed garlic when eating. It's delicious and fragrant with a special flavor.
Mongolian Mutton Fondue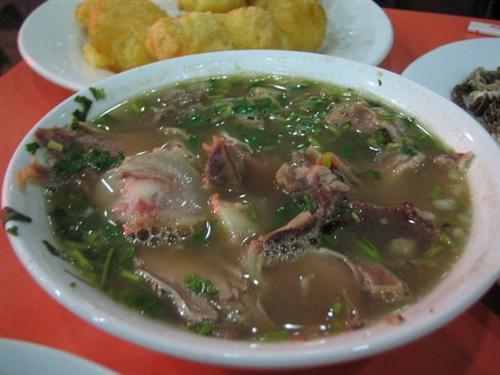 Mongolian Mutton Fondue is a dish that dates back to the Yuan (CE 1279-1368) Dynasty. While there are different ways of preparing the dish in different regions, the following simple recipe and preparation method stems from Inner Mongolia, specifically, the region around Hohhot.

The material for producing an ingenious make-shift fire pot for cooking Mongolian Mutton Fondue comes from the sheep itself: the skull, the back, the hind legs, and the tail. When cooking Mongolian Mutton Fondue, one slices up the freshly-slaughtered sheep immediately, then boils it in oil seasoned with salt, pepper and herbs. The dish is served with a fermented tofu (soyabean curd) and seasoned sauce, to which are added the flowers of freshly-plucked chives. Bon appetit!