Hohhot Shopping
Hohhot Local Products:
Special local products of Hohhot have strong ethnic characteristics, such as Cashmere. Cashmere of Hohhot isgather by iron wire, which is of much higher quality. There are three kinds of Cashmere: white cashmere, purple cashmere and blue cashmere. Besides, camel fur, horn products of Hohhot are very good gifts for family and friend.
Huhur (a Kind Of Snuff Bottle)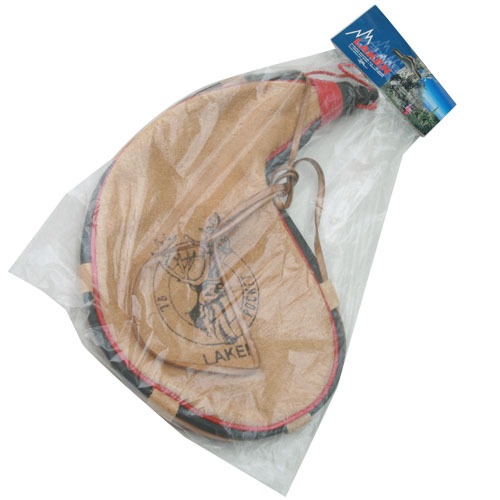 Huhur is the Mongolian herdsmans equivalent of a snuff box. It is a bottle for carrying snuff in, which is usually stuck into a belt, or sash, at the herdsman's waist, or hung onto a special hook on the belt/ sash. Huhur, or snuff, is used to quicken oneself when one is feeling tired. It is also believed to alleviate a stuffy nose. It is also widely used as an ice-breaker when encountering a stranger common courtesy requires that one always offers a stranger one's huhur. The snuff bottle comes in a variety of materials with varying levels of workmanship, from cheap, mass-produced examples to exquisitely crafted special works of art. The cheapest can be in the form of a wine pouch, but made of imitation leather, while the most expensive may be in the form of a flask, and may be made of silver, jade, or preferrably a combination of the two, and adorned with highly intricate and expensive artwork. They can of course be made of a number of other materials, from high quality leather
Mongolian Knifes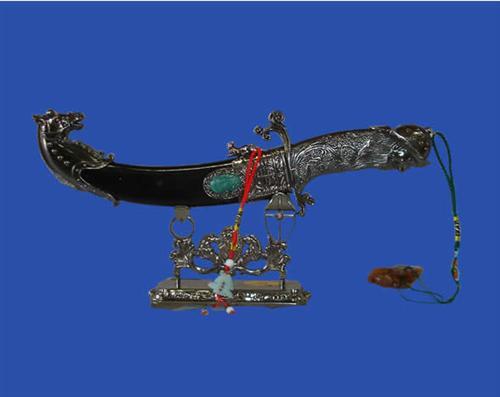 Mongolian knives are not only articles for daily use in the herdsman family but also their interior decorations. Mongolia knives are usually made manually with delicate carving on the body and sheath. Handle of a knife is often made of camel bone or ox horn, while the sheath carved from red birch wood. Mongolia knives possess strong and unique ethnic style.
Horn Products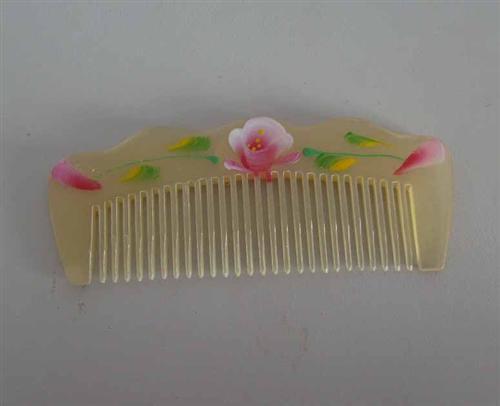 Mongolian has a habit of making or carving daily necessities out of Horn. There are various ox horn products which are durable and carved beautifully, including thimble, match box, cigarette case, handle of a knife, bugle and snuff bottle.
Camel Fur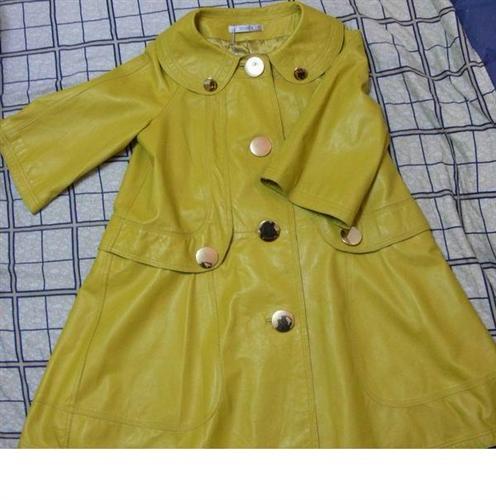 Hohhot is the collecting and distributing center of camel's fur in the Inner Mongolia Autonomous Region. Camel's fur from Alashan League has the best quality with features like strong ability to keep out the cold and long durability.
Hohhot Shops and Stores:
Zhongshan Road located in the center of Hohhot is the main shopping area in Hohhot.
Tianyuan Commercial Hall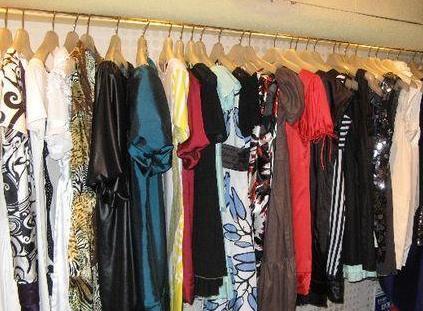 Located in Zhongshan West Road of Hohhot, Tianyuan Commercial Hall is the shopping paradise in Inner Mongolia. On the 1F, top brand fashion clothing and accessories come from over 20 countries can be seen, which bring consumers the high rank with joy and value. The 2F is a paradise for women with fashion barbershops, delicate salons and sweet wedding dress shops. The 3F is the most fashionable dressing design center. Many cloths boutiques can be found in the 4F. Sport and leisure are the main theme on the 5F. The 6F is the Early Learning Centre. All children products are sold here. The 7F is the cate center. There are different kinds of main theme restaurants and Chinese cate paradise here and you can enjoy many delicious dishes that come from all over the world.
Double Trees Shopping Street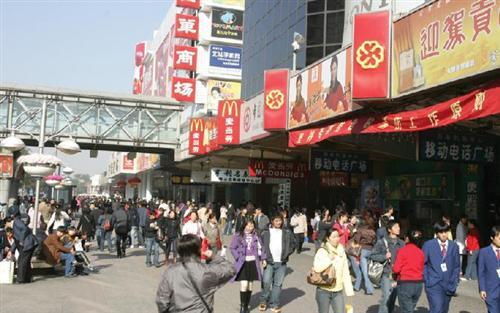 The Double Trees Shopping Street is located in the Saihan area of Hohhot. This street is a handicraft market with special features and deals mainly the classic handicrafts including velvet antler, Mongolian silverware, Inner Mongolia carpet, Mongolia knife, muskiness and others. It is a center of shopping, tourism, cultural sites, food and amusement. The products are not very expensive. Many delicious famous Inner Mongolia dishes and snacks are sold here. Try it, and you won' t feel disappointed. Double Trees Shopping Street is one of the most beautiful shopping streets in Hohhot. It is also one of the favorite shopping sites of the tourists and locals.
Zhongshan Road Business Street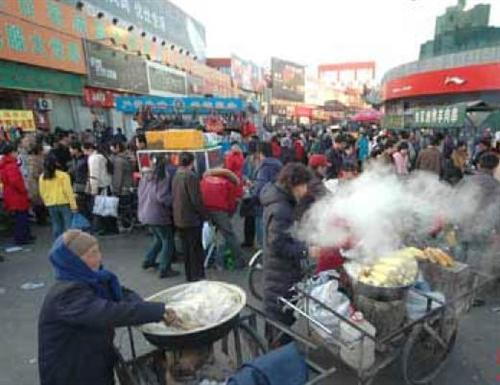 After 20 years development, Zhongshan Road Business Street has become the business center of Hohhot, the capital of Inner Mongolia. Zhongshan Road is also the center of Hohhot. Zhongshan Road Business Street is the Shopping Paradise in Hohhot. The main markets of Hohhot are all located in this road, like Minsu Market, Weiduoli Shopping Hall, Tianyuan Commercial Hall, etc. The beautifully paved street, modern buildings surrounding it and the lively commercial promotions and performances make the street an attractive place to go shopping. It deals thousands of kinds of goods. It is the longest street which receives the largest number of customers and registers the highest business volume in the city. This street plays a decisive role in the local people' s lives.