Lantau Island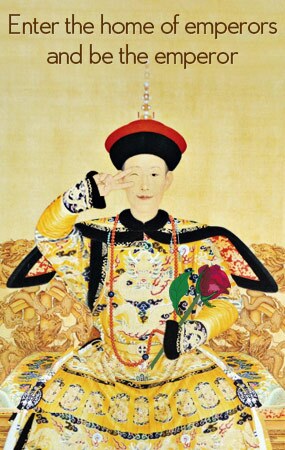 Separated by roughly 10 kilometers of open sea from - and lying due west of - Hong Kong Island, the island of Lantau is the largest of the 260 islands surrounding Hong Kong's Kowloon Peninsula, and which all belong to greater Hong Kong. Lantau Island is roughly twice as large as Hong Kong Island, and lies on a southwest-northeast axis (whereas Hong Kong Island lies on a strictly east-west axis). Apart from the noise generated by Hong Kong International Airport (HKG) on adjacent Chek Lap Kok Island (much of Chek Lap Kok Island is so-called reclaimed land, i.e., "reclaimed from the sea", or land that is created by hauling in and depositing massive amounts of earth, rock, sand and other fill material in order to build up low-lying areas, or even to create "terra firma" atop slightly submerged land), located just north of Lantau Island, the overall mood of the island is one of tranquility.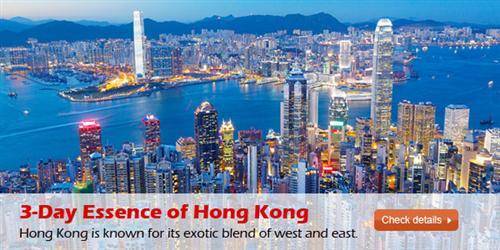 Lantau Island's coastline reveals a number of coves, some with quaint old fishing villages separated by long stretches of white, sandy beach, while its interior consists of abundant, pristine forests laced with streams, brooks, lakes and ponds, but with little in the way of urban build-up, prompting the island's nickname "the lungs of Hong Kong". The southwestern part of the island is mountainous, with relatively high peaks (Lantau's main peak, Mount Lantau, lies at an altitude of 935 meters above sea level, making it Hong Kong's second-highest peak, after the slightly higher Tai Mo Shan (Mount Tai Mo), at 957 meters). Hong Kong's third highest peak, Sunset Peak, is also located on southwestern Lantau Island. In fact, most of the island is hilly to mountainous, with only a small section that is low and flat at the northeastern end of the island.
There are some built-up areas on Lantau, though a comparison of the population of Lantau Island (45,000) with that of Hong Kong Island (1.4 million), which is half the land mass of Lantau Island, confirms that Lantau Island can hardly be described as a built-up urban area. There are three main built-up areas on Lantau Island: the southwestern end of the island (specifically, the populous village of Tai O); the northernwestern coast adjacent to Chek Lap Kok Island (as indicated, home to Hong Kong International Airport); and the northeastern tip of the island around Discovery Bay, where a thriving community of expats live.
The first area to be urbanized on Lantau Island was the village of Tai O. This was in response to "weekend-tourist" pressure from Hong Kongers who traditionally used Lantau Island as a weekend get-away, being drawn to the island's pristine natural environment, especially its southwestern, mountainous area. Hotels, restaurants and cafés would ultimately follow, and with them, the rest of the ingredients of village life needed to support a tourist town.
Tai O
Tai O, a harbor town, is the island's largest settlement, having sprouted up around its original old fishing village. The harbor area of Tai O is crisscrossed with canals, providing an abundance of mooring space for the small boats of the local fishermen, some of whom live on houses on stilts out in the harbor itself. The area northwest of Lantau Island is the famous Pearl River Estuary, while south of Lantau Island lies the South China Sea, both areas being ideal fishing waters. Not surprisingly, fish is a staple of the diet of the local populace, with salted fish as its specialty. With its many canals, Tai O has been called the "Venice of the Orient".
Nearby Wild Countryside Park, a large (some 80 square kilometers) area set aside for recreational purposes, offers swimming, sunbathing, camping, hiking, and - of course - fishing. One of the most popular tourist activities on the southwestern end of Lantau Island, besides those offered by Wild Countryside Park (where you can also enjoy a barbecue), is to climb Mount Lantau at night, such that one arrives at the peak in time to observe the morning sun as it rises over the Pacific Ocean.
Other Urban Areas
The other two main urban areas on Lantau Island are of a more recent age. For example, urbanization of the northwestern coastal area adjacent to the new airport occurred simultaneously with the construction of the airport itself, which first opened in 1998, while urban development of the Discovery Bay area occurred much earlier: the first housing units were put up for sale in 1982. Discovery Bay, which accounts for 1/3 of Lantau Island's total population, is in fact a privately owned, or strictly commercial, residential complex.
Just north of Discovery Bay, on reclaimed land in and around Penny's Bay, lies Hong Kong's newest Disneyland attraction, with promenades that cross the bay, one of which leads to a special attraction situated in the center of the bay. Disneyland needs no introduction, of course - it is a theme park concept that speaks for itself!
Attraction Yet to Know
There are many other, less touristy sightseeing attractions on Lantau Island, among which are: Ngong Ping ("Big Buddha"), which sits outside Po Lin Monastery; Ng Yuen, a privately owned classical Chinese scholar garden, replete with a goldfish pond and a viewing pavilion - and laced with enchanting footpaths, though it is not always open; Tung Chung Fort, originally a Song (CE 960-1279) Dynasty fishing village that was fortified in order to protect it against pirates - it is rumored to have been used as late as during the first quarter of the 19th century to attack British opium shipments (this trade would eventually lead to two wars (the First and Second Opium Wars, 1839-1842 and 1856-1860) between Great Britain and the government of the Qing (CE 1644-1911) Dynasty); and a Trappist (Roman Catholic) monastery near the village of Tai Shui Hang (the Trappists are a sect who observe silence).
But the main attraction of Lantau Island is the unassuming, simple charms of the island itself, such as the small hamlets and fishing villages distributed near the coastline, broken here and there by bleached-white sandy beaches. And then there's the island's interior, which, in the mountainous area to the southwest, is so lushly beautiful and so hauntingly quiet as to resemble an unknown, uninhabited-by-man planet; no wonder, then, that the locals make offerings to tree- and rock spirits.
How to Travel on the Island
The best way to enjoy the charms of Lantau Island is to rent a car and just take to the road, especially the small coastal roads, letting yourself be drawn by your whims, or, "with no particular place to go", as the refrain of an old song goes.
Solo Adventure Tips:
Location:

How to Get There?

By Subway/ Bus - Take the Tung Chung subway line at the Kowloon Subway Station. Get off either at Olympic Station and catch Bus No. E21, or get off at Tsuen Wan Station and take Bus No. 31.
By Sea - From the Star Ferry Pier in the Central District (aka Central) of "mainland" (Kowloon) Hong Kong, take Ferry No. 6 to the port of Mui Wo on Lantau Island's southern coast, just northeast of the peninsula that divides the island into two, roughly equal halves, then take any bus from there (the reason why the ferry docks on the less-handy southern side of the island is that the water is too shallow on the northern side, no doubt as a result of aeons of silting by the Pearl River). The ferry runs daily between the hours of 00:30 and 23:30 on weekends and holidays; from 00:30 - 23:50 weekdays.
During the weekend, there are ferries that run between Kowloon's southernmost point, Tsim Sha Tsui (the cape on the tip of Kowloon Peninsula, just east of Victoria Harbor - the Star Ferry Pier is located on the southern extremity of Tsim Sha Tsui) and Mui Wo, on Lantau Island (note that Mui Wo's main beach area is called Silver Mine Bay).
Ticket Price:

Opening Hours:

More Tips:

Our local experts are always ready to create you a hassle-free tour. Get an authentic experience by contacting one of our travel advisors.