Noah Ark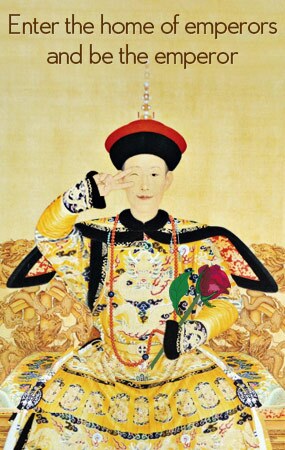 Noah's Ark theme park is constructed imitating the ancient Noah Ark recorded in the Bible. It is 5 storeys high, located in the beautiful Ma Wan Island, embracing the vast sea. Tourists can not only appreciate the magnificent Noah's Ark similar to that in the legend, but also participate various amazing activities and experience interesting facilities in the ark. The recreational facilities in the ark aim to educating children well with the form of entertainment, providing a relaxing environment for parents and children. Noah's Ark consists of 2-Head Castle, Ark Expo Hall B (Ark Theatre), Ark Expo Hall C, Treasure House, Noah's Adventure land, Ark Life Education House, Ark Garden and Ark Expo. It opens from 10:00 to 18:00 every day except the first and third Wednesday every month. Noah's Ark is available during public holidays. Tourists can purchase tickets from 9:45 to 17:30 at the main gate of Noah's Ark.

Attractions
Noah's Adventure land
Noah's Adventure land is constructed along the coast, enjoying favorable geographic location and tranquil surroundings. A number of adventurous travelers are attracted by their various characteristic activities, such as its 8-meter-high swing. All the breathtaking facilities are beyond people's imagination. It's a unique venue for experiencing adventure and excitement.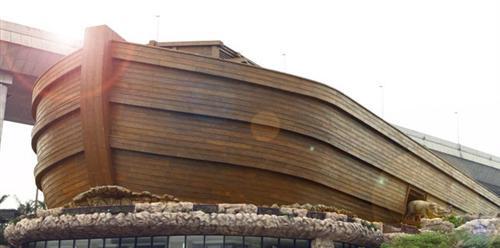 Treasure House
Treasure House consists of 15 exhibition areas, offering interesting interactive learning activities. With different exhibition themes in practical activities, it helps children aging from 3 to 15 develop skill of active learning and lifelong learning.
Ark Expo Hall C
In Ark Expo Hall C, there are a number of precious exhibits on display, such as antique Bibles, characteristic cultural photographs and other religious treasures. Under the guide of professional advisor, tourists can visit six exhibition zones, including Graces in History gathering bibles from all over the world, the "Ancient Tabernacle", Path in Eden and 3D-theater, providing unique and vivid visual experience and helping visitors to learn more about history and religious culture.
Opening Hours: 12:00 to 18:00 in ordinary days; 11:00 to 18:00 on Saturdays, Sundays and public holidays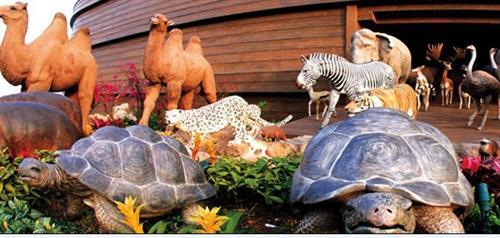 Ark Theater
Ark Theater is equipped with 3D stereoscopic animation, including the classic "Living Water" that is created by a famous animator, helping people to understand the real treasure in their lives.
Opening Hours: 12:00 to 18:00 in ordinary days; 11:00 to 18:00 on Saturdays, Sundays and public holidays
Two-headed Castle
There are a number of bizarre and precious animals, such as two-headed turtles, single-eyed fish, the world's longest snaked-necked turtle and conjoined twin fish. All these animals make us feel their love and struggle for life, arousing people's love for life and nature.
Opening Hours: 12:00 to18:00 in ordinary days; 11:00 to 18:00 on Saturdays, Sundays and public holidays
Ark Life Education Center
Life Education Center is the only exhibition hall with the theme of life education in Hong Kong. There are a series of experiential activities on the basis of life education, helping visitors to feel and ponder different life education themes. The activities consist of three parts, namely briefing, experience and debriefing. Children can learn and introspect life through games. After that, they can be reminded of their joyous memory in the past, and learn to respect life.

Ark Multi-Media Expo
Ark Multi-Media Expo integrates entertainment and knowledge. It helps people to learn about the profound mystery that Noah's Ark has brings to human history and the future, experiencing a discovery journey. In the 180° Loopback Theater, visitors can experience personally the power of flood via various ark models from all over the world, beholding the common memories for blood. Meanwhile, the largest meteorites in Hong Kong and microscopic precious animals are on display. Via 4D theater, people may be enlightened that the world is facing challenges and nature contains great power. It opens from 10:00 to 18:00 every day.
Ark Garden
On the way to the ark, there are 67 pairs of various huge lifelike wild animal sculptures, and some are rare and endangered animal sculptures. While strolling in ark garden, in the fairyland of ponds and waterfalls, people will be reminded of animals and nature.
Noah Resort Hotel
Noah Resort Hotel is located on the top storey of Noah's Ark. It has a wide open space with quiet environment, offering visitors an ideal venue for escaping from the hustles and bustles of city lives.
Nature Park
Nature Park is located near Noah's Ark, with the theme of nature, education, art and love. In the park, there are thousands of primitive trees and historical site museum where precious unearthed relics are protected. Besides, there is also a renewable energy base, promoting environmental protection education.
Solo Adventure Tips:
Location:

How to Get There?

Ticket Price:

Opening Hours:
10:00 to 18:00
More Tips:

Our local experts are always ready to create you a hassle-free tour. Get an authentic experience by contacting one of our travel advisors.