Po Lin (Precious Lotus) Monastery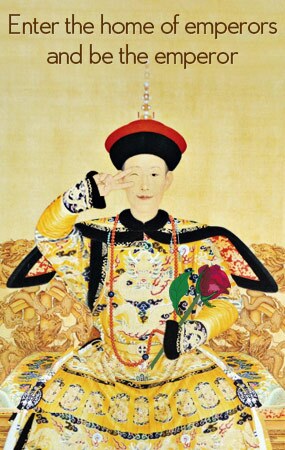 Po Lin Monastery lies on a high plateau in the middle of Lantau Island, which is by far Hong Kong's largest. Starting its history as a small thatched hut deep in the jungle accessible only by expiring hike, the monastery has seen numerous expansions, is now home to about one hundred Buddhist monks and is considered a preeminent monastery in China.
In fact, its incredibly ornate buildings and interiors seem to belie its simple history little over a century ago. Despite its growth however, its serenity, and quiet surroundings of mist-enshrouded peaks have remained the same throughout its tenure.
Layout
The overall layout of the monastery is symmetrical, with major halls lying on a main axis and smaller buildings along their wings. The layout is interwoven with beautiful courtyards, gardens and lotus ponds providing a free-flowing feel alongside its careful order. Major buildings include the Main Hall, the Hall of Skanda Bodhisattva and the recently-build Hall of Ten Thousand Buddhas, which is set to open in 2014. Ornate and intricate designs abound throughout the monastery complex, whether it be paintings, pillars, lamps or screen art.  
You will also see various smaller structures including a bell tower and drum tower, along with the 34-meter Tian Tan Buddha not far away, which was build out of 202 separate pieces of bronze and was once the largest of its kind in the world. Po Lin also houses a vegetarian restaurant, which is in line with Buddhist tradition, and has received many positive reviews.
Scenery
The natural surroundings of Po Lin are a powerful draw to visitors, who include all variety of travelers along with many pious Buddhists from the region. Stunning views of the nearby peaks, such as Lotus, Lei Nak and Lion's Head along with views of the shimmering South China Sea greet monastery visitors and hikers in the surrounding trails.
A hike of one or two kilometers will take travelers to towering Launtau peak, which at 934 meters is the second highest in Hong Kong. The monastery's own major gardens, which include bauhinia, orchid and red nanmu trees along with a nearby tea farm, only enhance the beautiful embrace between the mountain greenery and man-raised structures.
Spacious Lantau Island itself, with all its lush forests and folded emerald hill country, contains various other places of interest both ancient and modern, including Tai O fishing village, a Catholic Trappist monastery, a fort from the 19th century and the newly-opened Hong Kong Disneyland. Nearby smaller islands dot the surrounding seas.
Ways to Go
For visitors desiring easy accessibility, an airport lies along the sea alongside the town of Tung Chung, and a cable car reaches into the heart of the island, including up to Po Lin Monastery. Po Lin may not be secluded as it was an age ago, but many visitors still manage to find some serenity.
Solo Adventure Tips:
Location:

The Po Lin Monastery is located in the Ngong Ping Plateau of Lantau Island, between the Phoenix Mountain and the Nei Lak Mountain.
How to Get There?

Cable Car
Take Metro Tung Chung Line, get off at "Tung Chung" station exit B, head Northwest at "Tat Tung Road", after 600 ft. the "Tung Chung Cable Car Terminal" is on right. Take the cable car and get off at "Ngong Ping Cable Car Terminal". Head Southeast at Po Ngong Drive, after 550 ft. turn left at Ngong Ping road, after about 650 ft. there is a circle, pass that circle keep straight continue on Ngong Ping road, after about 700 ft. turn left at fork, after about 300 ft. the Po Lin Monastery is on right.
Bus
Take buses No. 1R, No. 2, No.21, No.23 to "Ngong Ping Bus Terminal". Head south on Po Ngong Road toward Ngong Ping Road, turn left at Ngong Ping Road, about 450 ft. there is a circle, pass that circle, keep straight, continue on Ngong Ping Road, after about 700 ft. turn left at fork, after about 300 ft. the Po Lin Monastery is on right.
Ticket Price:

Visitor don't need to pay for the Big Buddha but have to buy the ticket for vegetable diet at a cost of HK$28 for the three-storied exhibition house under it.
Opening Hours:

Monastery: 8 am – 6 pm Monday to Friday, including public holidays
Big Buddha: 10 am – 5:30 pm Monday to Friday, including public holidays 
More Tips:

1.The vegetable diet in the Po Lin (Precious Lotus) Monastery is the most characteristic food on Lantau Island.
2. Recommended time for tourists: Visitors can go to view the sunrise and return at noon. 
Contact Ways
Telephone: (852)2985-5248 Fax: (852)2985-5600 E-mail: info@plm.org.hk
Our local experts are always ready to create you a hassle-free tour. Get an authentic experience by contacting one of our travel advisors.