Hong Kong Food
Last updated by samshen at 2017/4/25
Hong Kong, as the crossroads of eastern and western cultures, has developed a blend of eating habits incorporating Chinese, notably Cantonese, and western cuisines.
Hong Kong Featured Food:
Tea Dessert
Hong Kong People are particular over tea in their daily life and it is needful either in quiet tea café or in busy restaurants. Tea dessert is different from the dessert we usually think in that it not only refers to the sweet cakes but also refers to the daily snacks like fresh shrimp dumplings, steamed bum with roast pork, shao-mai with crab spawn, pearl chicken with scallop, salty dumpling, fresh shrimp rolls, steamed turnip cake, rolled beef with mangosteen, dumpling stuffed with sharp fin, fresh shrimp rice roll, fried bum with meat and vegetable, steamed bean curd sheet roll with oyster sauce, steamed chicken feet with black bean sauce, sago paste, mini egg tart, mango pudding and so on. They are various, tasty and cheap.
You can find these delicious tea desserts almost everywhere, including restaurants, shopping centers, busy streets, and Canton food restaurants in residential area. Usually, at the gate of the restaurants have words like "tea fair" ,"mo
Beijing Food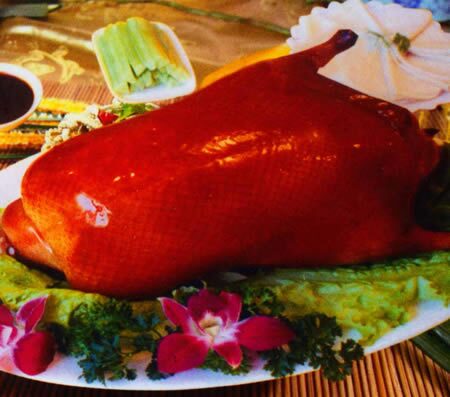 Beijing food in Hong Kong is developed from the combination of Manchu, Shandong, Mongolian, Yangzhou and other styles. With meat as the main rawmaterial and the quick-fried as the main cooking method, its flavor is heavy and strong.
Recommended dishes: Recommended dishes:Beijing roasted duck, quick-fried mutton with scallion, quick-fried diced chicken with walnut and scallion, Beijing fried stripe noodles.
Recommended Restaurants:
Other Recommended Restaurants:
Name

Address

Telephone

Spring Deer Restaurant

1/F, 42, Mody Road

23664012

Fengze Tower Restaurant

1-3/F, 34-36, Granville Road
Drinks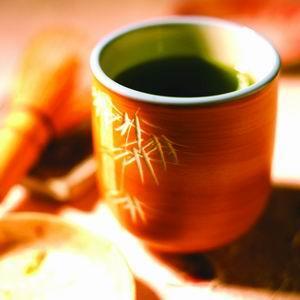 The most special drink in Hong Kong is still tea. On the street, you can buy a bow of herb tea at the sidewalk herb tea café when you feel thirsty. And there are various choices for you, like twenty-four flavors tea, five flower tea, Kot Choi Sheung herb tea, hemp seed tea and mulberry mistletoe powder tea, which are good for human body and at the same time helpful to quench thirst. Another popular drink in Hong Kong is coffee which is light and sweet with sugar. In the old coffee café, some special drinks are served, such as the Lover's Tea (coffee black tea) and Lemon Tea (a drinking chocolate with lemon). And still some coffee cafes and tea houses are elegantly decoration, thus they are ideal place for friends' chat and lovers' date.
Recommended shops:

Luk Yu Tea House
Soup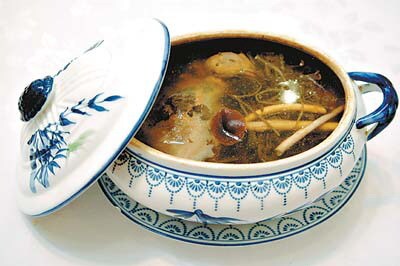 Hong Kong people greatly value health and soup is a needful part of their daily diet. Every family cooks tonic soup three or four times a week. The material includes Chinese herb, meat, bone, vegetable, seafood and so on, and the control of time is very important for good soup. Normally, the bone and meat are stewed with Chinese herbs for a long time. Soup made in this way is thick and contains much nutrition.
As the pace of modern life becomes quicker and quicker, lots of people have no time to cook. Those smart businessmen have sieved the chance to open soup restaurants to serve this need. Some of them have developed chain stores, like Tai Woo Soup Restaurant, Ah Yee Soup Restaurant and Ah Tai Restaurant.