Hong Kong Shopping
Hong Kong Local Products:
Hong Kong is perhaps the best shopping place in the world with reasonable prices, various types and best service. In Hong Kong, Shopping is not only the act of buying staff but a form of recreation, a way of life. Visitors can contently enjoy the shopping environment and experience the fashion tide. In fact, shopping in Hong Kong is regarded as one of Top 10 Things to Do in China for tourists. Generally speaking, the first three buys are clothes, cosmetics and electrical appliances.
Photography And Electrical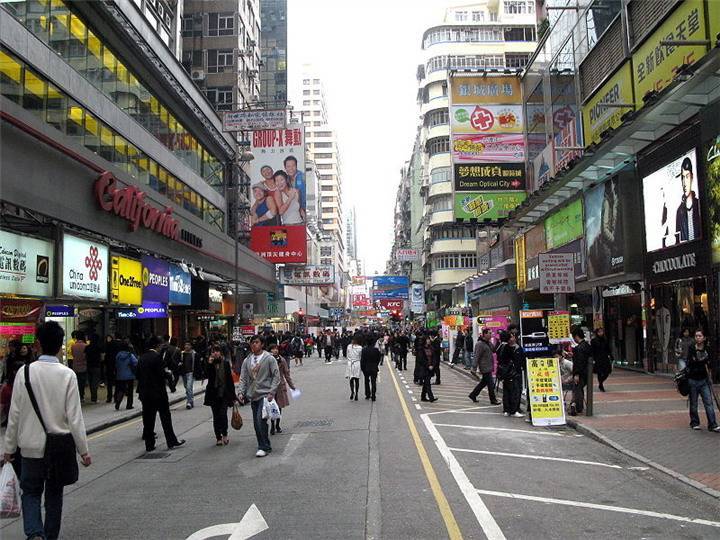 As the world famous shopping paradise, Hong Kong also boasts a large abundance of photographic equipments and electronic products with up-to-date designs, various levels, high quality and reasonable price. Hong Kong is selected as the operations headquarter of Asia Pacific by a large number of global multinational IT corporations. When the worlds latest electronic products appear on the market, Hong Kong is always the first city to receive the latest photographic and electronic products in Asia doubtlessly. Thus, you can get those scarce and costly electronic products at a reasonable price in Hong Kong. For purchasing photographic equipments, you can go to Sai Yeung Choi Street South (西洋菜南街), Sim City(星际城市) and those computer markets. For buying electrical equipments, you can go to Apliu Street which is Hong Kongs famous electronic product street offering products with relatively low price, Sin Tat Plaza which offers IT products of all levels, Fortress (丰泽电器) and Broadway which offe
Electronics
Hong Kong has always been known as a great place to shop for state-of-the-art electronics. Whatever you're looking for, you'll be able to pick it up in Hong Kong. Plugs, cables and jacks for just about anywhere in the world are readily available, but remember to check your home country voltage and broadcast requirements before buying. TV and video equipment which is available in both PAL and NTSC formats. Prices do differ so it's worth shopping around. Check the receipt lists all the prices for all accessories to fulfill the warranty specifications.
Computers
Hong Kong is a wired city and its consumers demand the very latest and best. The combination of lively competitive retailers and demanding, knowledgeable consumers means the very latest hardware and software is always available. Whether it's a desktop computer, notebook, printer or scanner or even a humble mouse, Hong Kong is the only place to find it. Windsor House shopping centre in Causeway Bay on Hong Kong Island and Star House in Kowloon's Tsim Sha Tsui have several floors devoted to hardware, software and accessories.
Communications Equipment
Hong Kong has some of the most competitive prices and widest range of communication technology to be found anywhere in the World. The very latest technology in mobile phones and personal digital assistants are widely available at the most reasonable prices anywhere. The equipment available in Hong Kong's electrical stores reflects the increasing influence of multimedia tools in communication, such as video-conferencing equipment. The shops in Mong Kok, Tsim Sha Tsui and Causeway Bay offer the most competitive prices for communications equipment.
Watches
Whether you're looking for a classic timepiece or latest fashion watch, Hong Kong has it all. Many Hong Kong people have a watch to match different occasions. Enjoy the chance to pick up a watch at duty free prices, from children's models for only a few dollars, bejewelled numbers costing as much as a small car or an antique. When buying an expensive brand-name watch, check that the manufacturer's guarantee offers international coverage and ensure the serial number is written correctly on the receipt as well as the guarantee.
Hong Kong Shops and Stores:
Tung Choi Street(ladies Street)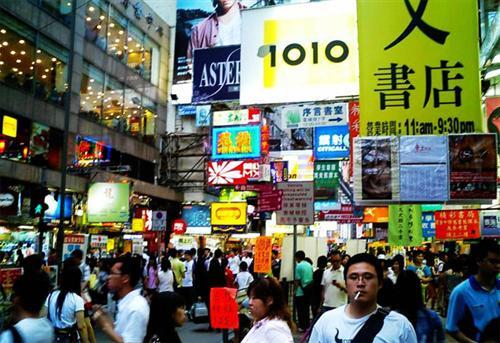 Ladies Street is at the south side of the Tung Choi Street. Tha name of the street doesn't make any sense because the goods here are not only for women but also for men, young and old people. Most of the goods here are at low prices, including clothes, handbags, feather shoes, clocks and watches. Haggle hard for a good deal.
Causeway Bay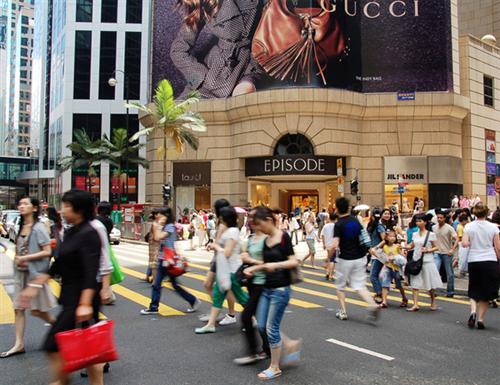 As a paradise of the latest fashion in Hong Kong, Causeway Bay in Hong Kong(香港铜锣湾) is the worlds third expensive section, second only to the Fifth Avenue of America and Champs Elysees of Paris. Causeway Bay integrates the luxury of Paris, the elegance of Milan, the classics of London and the minimalist style of New York. Causeway Bay, used to be Times Square of Tram Depel, has become one of top 10 scenic spots in Hong Kong. Its full of beautiful things in eyes, showing the enchantment of metropolis. Causeway Bay consists of a 13-storey Japanese department store Sogo and Times Square, an indoor shopping complex. In Fashion Walk, there are small and exquisite streets, small sculpture fountains and seats and delicate coffee shops with outdoor seats full of continental romance. Causeway Bay is filled with brand-name stores, such as World Trade Center, Windsor House, Fashion Walk, Hang Lung Center, Fashion Island and Lee Gardens. In Lane Crawford and Sogo, there are branch stores of a great
Temple Street Market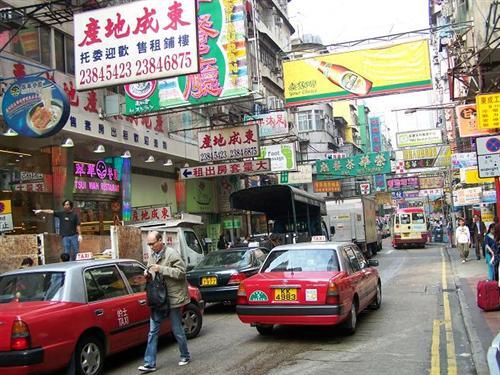 Under the pale luminosity of thousand of lights, locals and tourists form a dense crowd among the stalls along the narrow alleyways of Temple Street located in the areas of Jordan and Yau Ma Tei in Kowloon, Hong Kong. The Temple Street Night Market is sometimes named Mens Street in distinction with the Ladies Market in Tung Choi Street, Mong Kok since it is very popular for mens fashion. You can find everything there: clothes, shoes, accessories, lighters, mobile phones, luggage and watches; cheap second hand goods such as CD or video tapes. Low-priced merchandise is general in the night market and if prices are sometimes a little more higher than in the other markets less known in the city, Temple Street, with its unique atmosphere, remains inescapable. Clothes In the middle of old-fashioned clothes, you can find T-shirts at meaninglessly low prices, attractive silk pieces, pearl tops and cotton dresses. It is even possible to have pant cut in four days! Leather If
Tsim Sha Tsui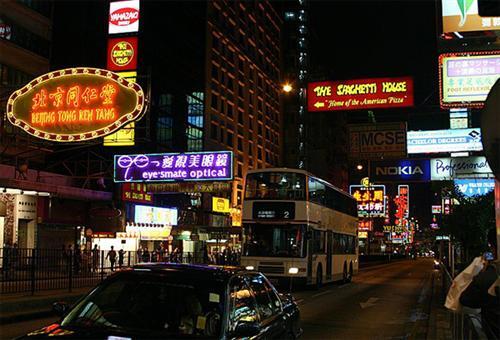 Tsim Sha Tsui is a prosperous high-ranking shopping and recreational area. The famous Harbor City is the biggest mall in Hong Kong; the Toys Я Us has a branch in the region; the Park Lane Shopper's Boulevard of 200 meters is the favorite shopping place for women where you are able to buy the fashion clothes at medium price; the modern Ming Chueng Shops is on the basement and it contains not only clothes at medium price like G2000、U2、Color 18、Esprit but also elegant brands like Episode、Jessica、Crocodile; Canton Road and Beijing Road are the places for lots of chain stores of various famous brands; and Granville Road is for cosmetics and exported finished clothes.
Central
Situated on Hong Kong Island, Central is the business and economic center of Hong Kong. Obviously, Shanghai and Hong Kong Bank Building and Bank of China Buliding are the two most outstanding landmarks. Top boutiques and large shopping malls are elegant and luxury in this district. The Landmark Square has three floors and sells the elegant top brands like Gucci, Versace and LV, and youth brands like Versus、O.Z.O.C、DG as well as popular brands like Esprit、U2; The Pacific Place mainly sells leather clothes, which has high quality and price, including LV, Channel, Tiffany and Levin; the Galleria Square is a heaven for top Italian brands, thus almost all of the shops sell Italian clothes; and Peddar Building leads the trend of restoration.
Mong Kok
At present, Hong Kong's another crowded area is Mong Kok which is always busy and energetic because most small malls and streets intended for the young generation. In the area, electrical appliances are sold on Sai Yeung Choi Street South and golden ornaments on Nathan Road.What's more, Mong Kok has many featured streets like Sport Shoes Street (Garden Street), Women's Street (Tung Choi Street), Golden Fish Street (Tung Choi Street), Flower's Fair and Bird's Garden.
Stanley Market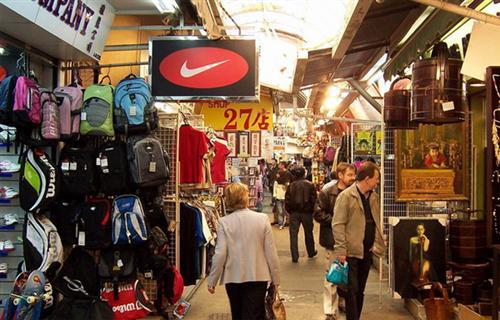 Stanley Market is a famous shopping place in Stanley. Though it is only a small lane on Stanley Avenue, there are more than a hundred shops selling a great variety of goods including those you see in Mong Kok and souvenirs such as oil paintings silk products, Chinese calligraphy. Opening time: From 09:00 to 18:00
Admiralty
This is a small business and shopping area between Central and Wan Chai. The district sells adult clothing including some big brands. In the same area, there are malls like Admiralty Corridor and Pacific Place caterring to middle and upper class shoppers. Admiralty Corridor Admiralty Corridor is a smaller mall built in the shape of a corridor above Admiralty Subway Station, which mainly sells mid and high-quality goods. Address: No.93 on Admiralty Road, Admiralty District  Opening time: From 10:30 to 20:30 How to get there: Exit C1 of Admiralty Subway Station Pacific Place As one of the top shopping malls in Hong Kong, Pacific Place is very large and is elegantly decorated and arranged. It is a great pleasure to shop here. Most shops are housed in the three middle floors. The first floor sells mainly fashionable clothes for young shoppers. The second floor sells clothes for middle-aged customers and the third floor sells clothing, arts, household fittings and feather products
Apliu Street
Apliu Street is a famous electronic street in Hong Kong, which sells all kinds of electronically products, ranging from battery, wireless apparatus, wireless phone, radio, electronic watch, sound system, and even old VINYL RECORD LP. How to get there: Exit D2 of Sham Shui Po Underground Station 
Tung Choi Street(golden Fish Street)
Golden Fish Street is the northern section of the well-known Tung Choi Street. Besides golden fishes, there are other tropical fishes as well as acquatic equipment and special marine organisms like mastfed shrimp, crab, and whelk and so on.
Sports Shoes Street(fa Yuen Street)
Shops selling sports shoes and sports accessories can be seen everywhere. And all the sports shoes here are of the latest styles. Many shoes of rare and special edition from different places are available.
Bird Street(yuen Po Street Bird Garden)
Bird' Street is a gathering place for shops selling birds. The Chinese garden design attracts numerous bird lovers and there are above 70 shops providing various birds, birdcages and bird's feed.
Flower Market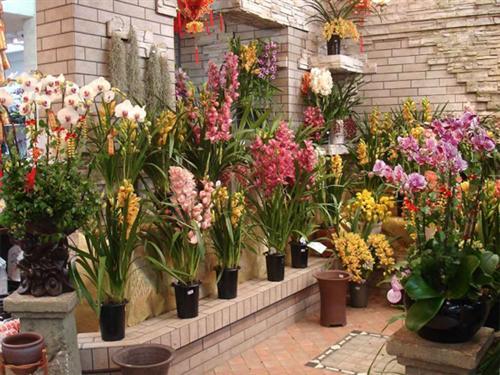 THis market is a great place for flower lovers. There are many flower shops and gardening shops selling flowers and potted plants imported from different countries.
Hollywood Road
Hollywood Road is a famous antique street in Hong Kong. On the road stand many antique shops of all sorts. Items on sale including old books and magazines, Chinese propaganda posters, badges from the Cultural Revolution. Walk along the road to the west, visitors can arrive at Man Mo Temple in Shueng Huan and antique market on Moluo Street.
Recommended Tours: