Danyun Valley is the typical valley landscape, which is located about 18 kilometers from Huanglong Scenic Spot. It's a peculiar valley landscape that features cloud, mist, peculiar peaks, various fantastic rocks, towering cliffs, rushing torrents, waterfalls, flowing springs hanging upside down, waterspout and forests inside it. Danyun Valley covers the overall length of 35 kilometers and the Fujiang River runs though it. There is cloud and mist that rise from the forests almost every day, which creates a fairyland. Danyun Valley also abounds with varieties of trees, shrubs, flowers and plants, which is a paradise for plant enthusiasts.

Danyun Valley boasts different landscapes in four seasons. There is a sea of verdant forests in summer, and the valley is carpeted with azalea blossoms in spring. In autumn, the whole valley is covered with fiery and flaming maple leaves, which looks like the flaming cloud at sunset dropping from the sky. Danyun Valley got its name because of its flaming autumn landscape. In winter, Danyun Valley becomes a snow-white world with ice pillars standing in great numbers. The famous scenic spits inside Danyun Valley Scenic Area include Huajiao Valley, Yusun Peak, Zaokong Cave, Lingbing Rock, Bailongxia waterfalls and Yixiantian waterfalls.

Featured Landscapes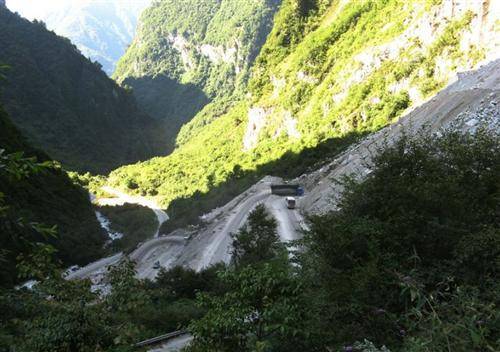 Danyun Valley
Huajiao (prickly ash) Valley: As the first landscape of Danyun Valley, Huajiao (prickly ash) Valley got its name as the valley is filled with prickly ash trees. In the valley, dense forests on both sides, wild flowers in full bloom in bushes and rattan, ivy and romaine lettuces twining round the rocks and trees will come into view, which is just like three-dimensional plant sculpture group.

Mount Bijia (penholder): In the valley, an enormous inartificial penholder-shaped mountain comes into view, which is composed of numerous edgy hills. It looks like a huge penholder while seen from distance and various kinds of small penholders while seen at close quarters.

Yusun Peak: Yusun Peak is located at the upper entrance of Danyun Valley, 17 kilometers from Fuyuan Bridge. It stands signally among numerous peaks which resemble bamboo shoots. A number of grotesque pines and cypresses and straight spruces stand proudly on Yusun Peak.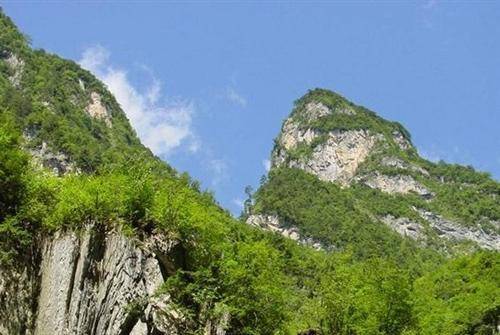 Danyun Valley
Xiaohe Ancient Town: Located in Xiaohe Village of Songpan County, Xiaohe Ancient Town can date back to the Ming Dynasty with the history of over 600 years. The walls of the ancient town are 680 meters wide from east to west and 765 meters long from south to north, with the height of 4.5 meters.

Bailong Valley: As the Fujiang River runs through the luxuriant forests and has an abrupt drop here, the water splashes down at enormous speed from the cliffs with the height of dozens of meters, which looks just like a white dragon dropping from the sky. It's the most magnificent and spectacular waterfall in the valley. Walking along a plank road built along the face of a cliff, you will arrive at the lookout pavilion at the valley bottom. Standing at the lookout pavilion, the waterfall is near at hand.

Longdishui Valley: As a branch valley of Danyun Valley, Longdishui Valley is characterized by undulate and zigzag mountains. The cliff is densely covered with numerous mountain springs. There are also secluded karst caves, overhanging stalactites, stalagmites standing in great numbers.
Customize a Tour to Danyun Valley
If you'd like to visit Danyun Valley of Huanglong City while traveling to China, China Travel can customize a tour to Danyun Valley for you, which can save your time and money and trouble-free. Please feel free to tell us your idea!
Information accuracy:
We try to make the information on China Travel accurate when we write/edit it. If you find any outdated information, please inform us.